Second wave of storms rolls toward Las Vegas Valley — PHOTOS
Updated July 25, 2017 - 9:56 am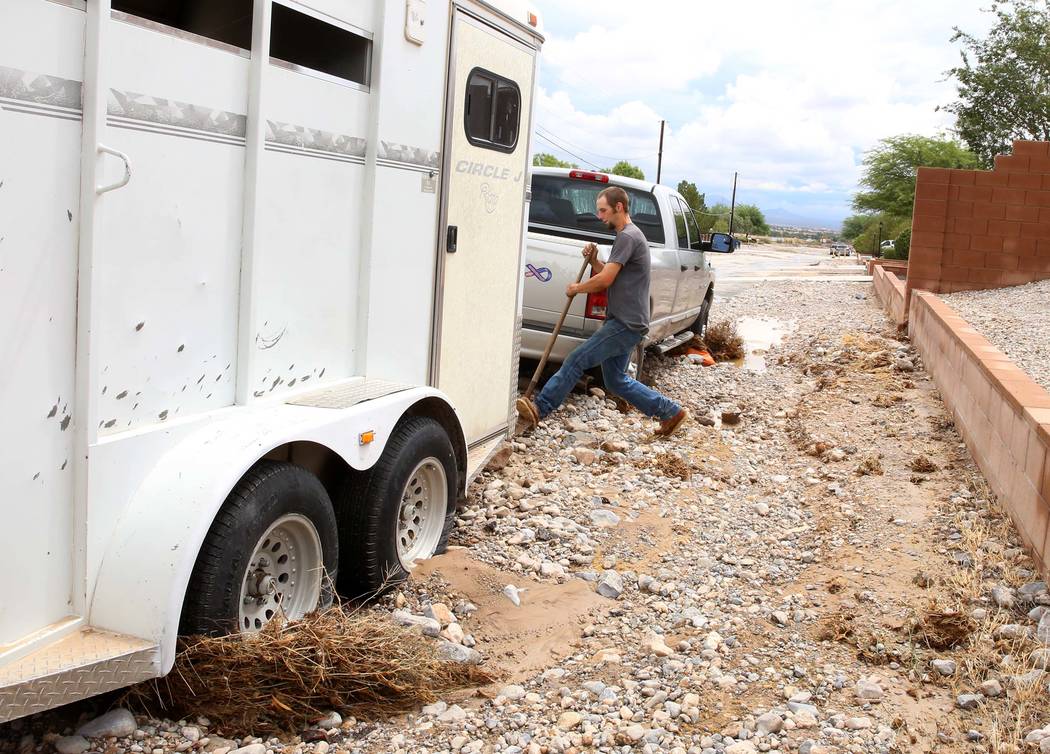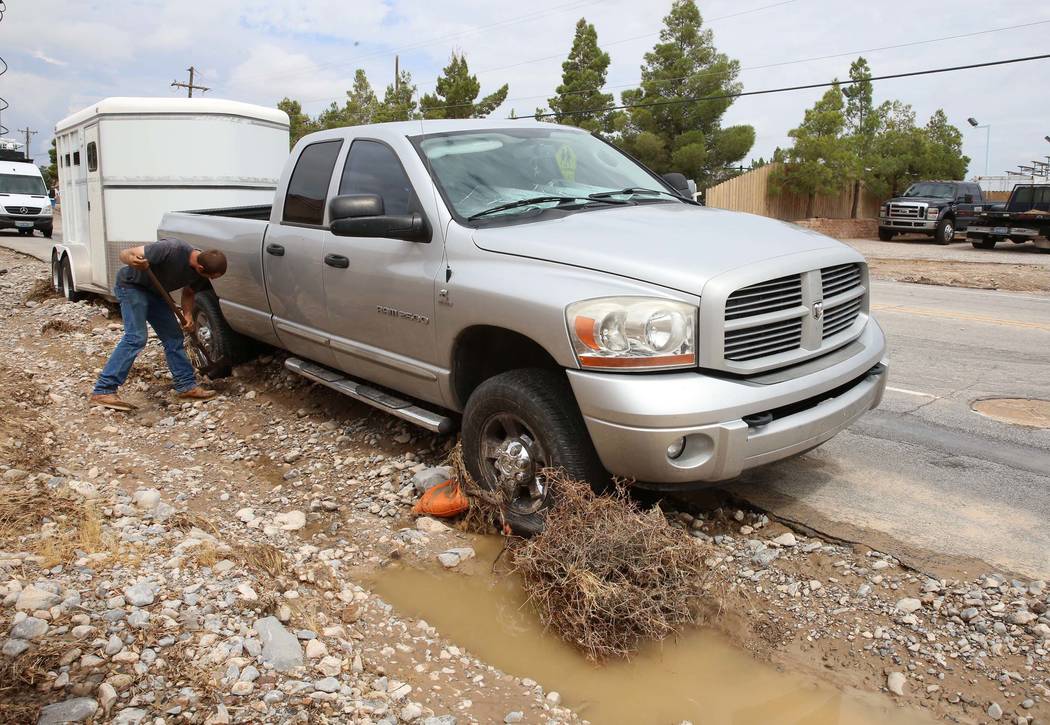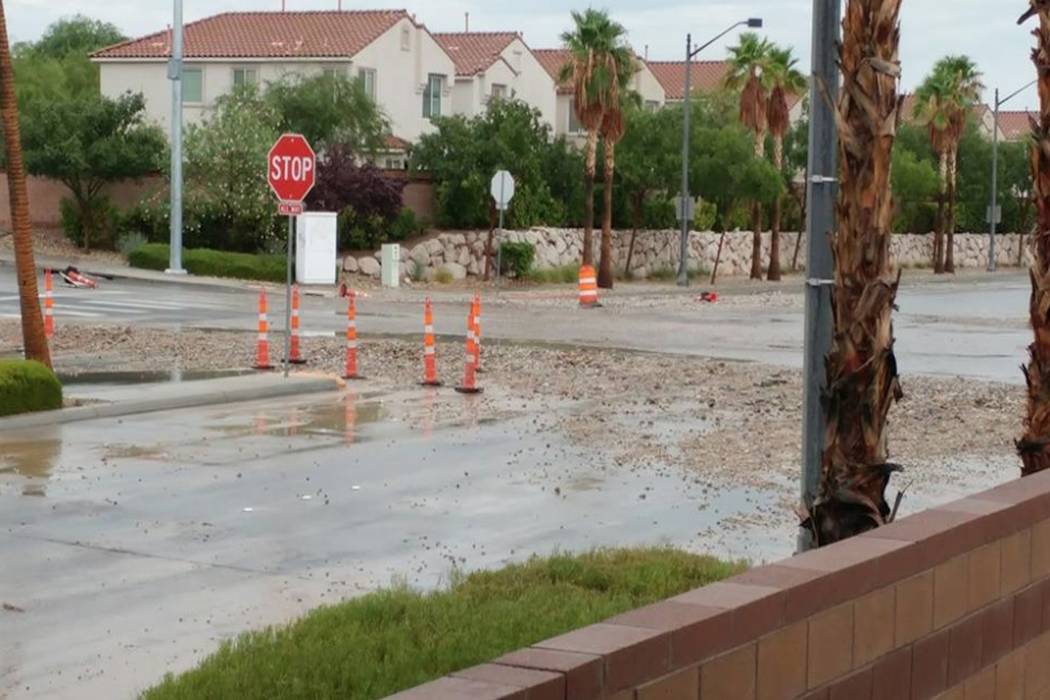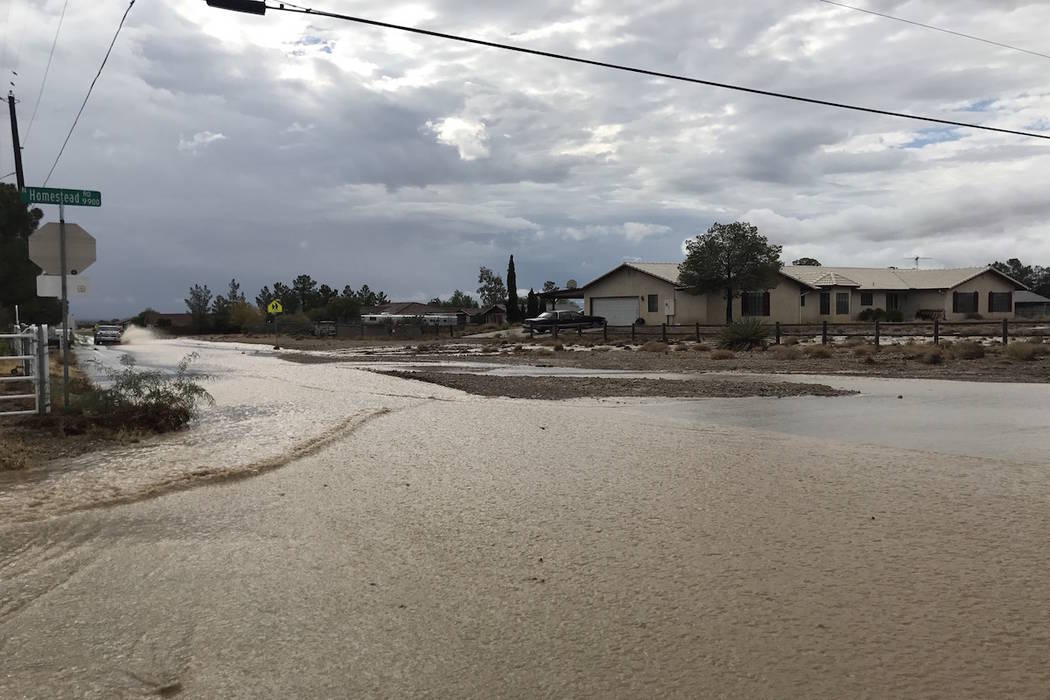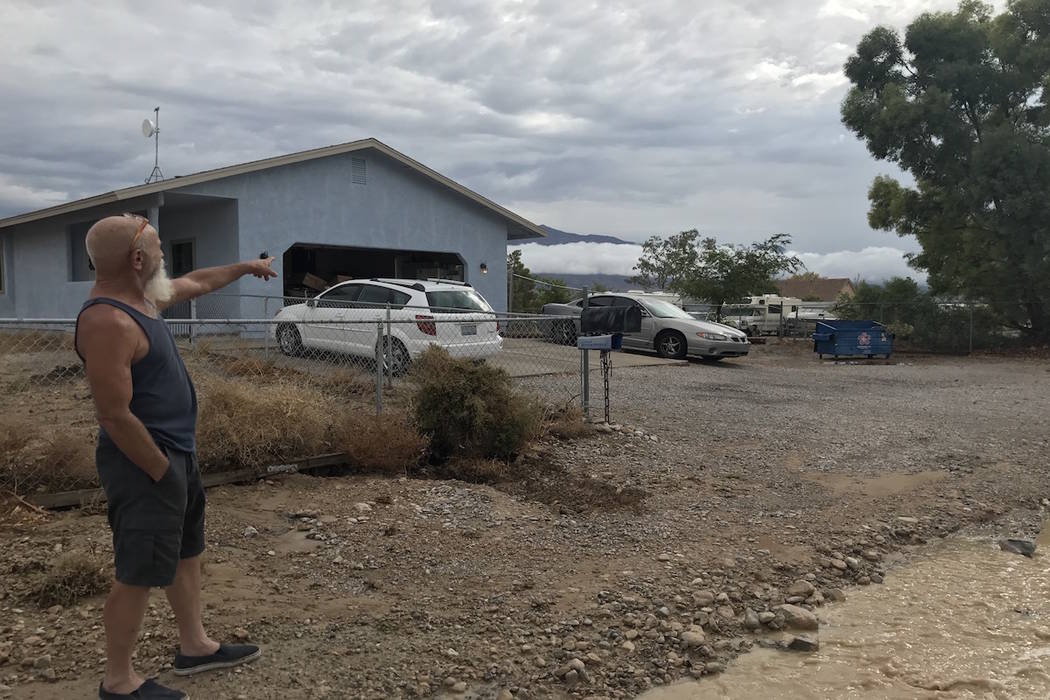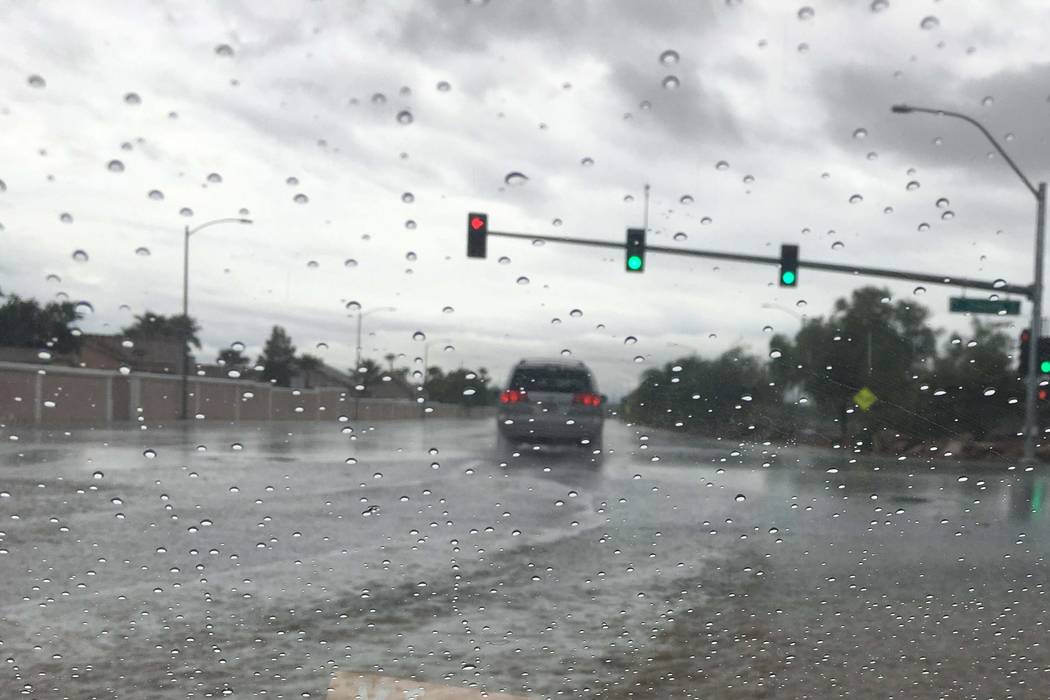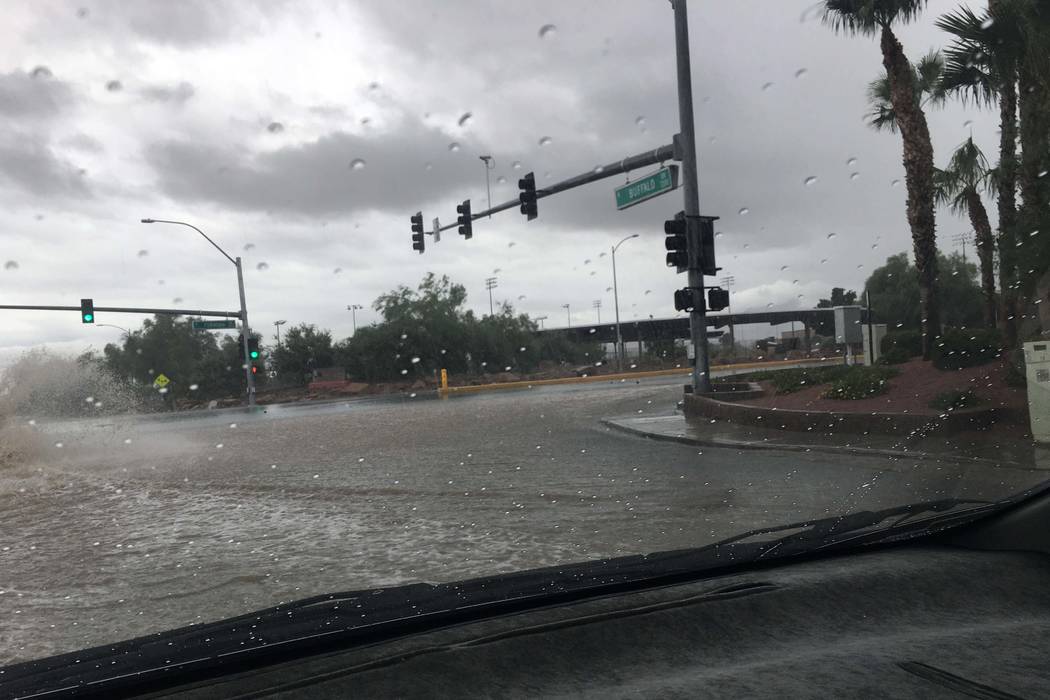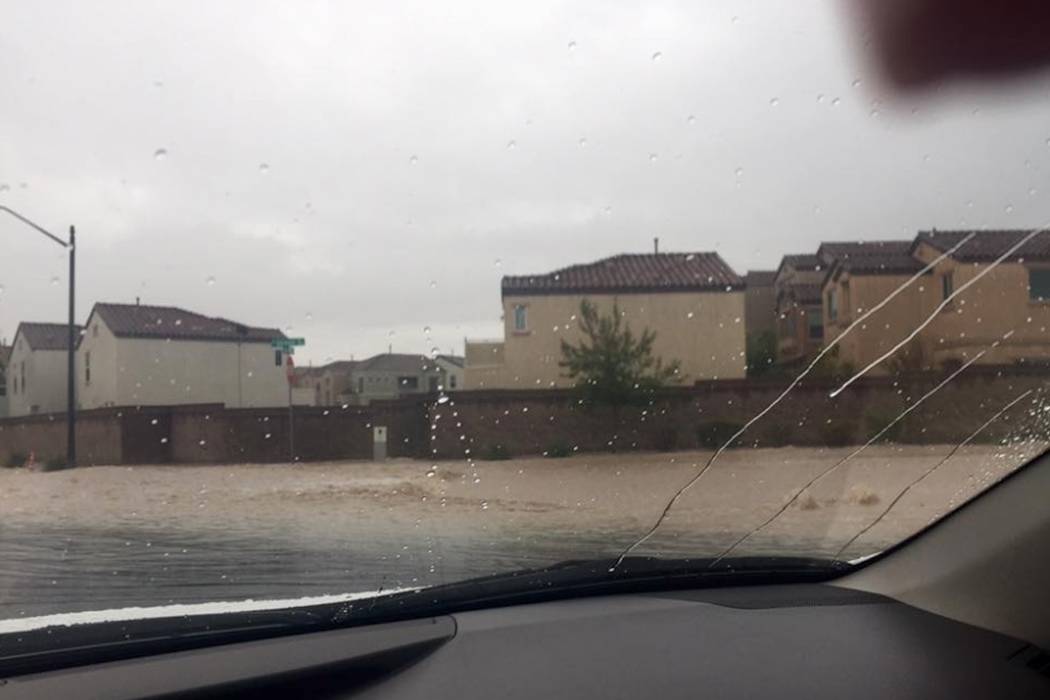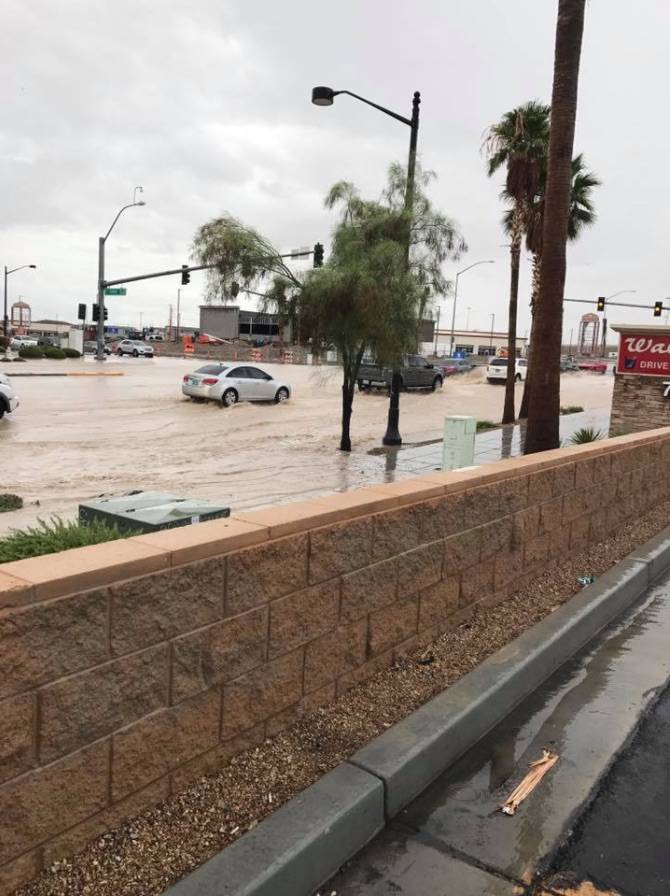 A wave of storms that hit the northwest Las Vegas Valley early Tuesday spurred widespread but short-lived flooding and closed roads.
Maintenance crews from the Nevada Department of Transportation quickly responded to closed roads and intersections after the heaviest rains, having front loaders and street sweepers clear debris and mud. NDOT has 250 maintenance workers and 2,000 pieces of heavy equipment for Southern Nevada, spokesman Tony Illia said.
"They've been through this before," he said of the road crews. "Things could be worse, and I've seen them worse."
Las Vegas should be drier starting Wednesday, although the National Weather Service says valley will see a 30 percent chance of rain most of the day. That chance drops to 10 percent at 6 p.m., where it will hold steady through Sunday afternoon.
Rapid rise in drainage ponds
Mount Charleston was hammered by rain that unleashed a 20-foot-wide wall of sludge. Large rocks and debris were carried into northwest valley neighborhoods and clogged roads even after the water had receded.
It takes time for newer developments, including those in Skye Canyon and Elkridge, to connect to the flood control network of basins and flood channels, and the district knows there is more work to do to improve drainage in those areas, Neff said.
One basin in the area had collected 12.3 feet of water, about 9.6 million gallons, Tuesday morning, Neff said.
But the heavy flow of water showed how well mitigation work is holding up.
Upgrades to Grand Teton Drive, costing about $20 million, largely prevented flooding on that street, which has had serious issues in previous years.
"We're happy that system is working now," Regional Flood Control District spokeswoman Erin Neff said.
The flood control district just started a $4.3 million drainage project near Floyd Lamb Park. Workers are installing 3,000 feet of eight-by-six concrete boxes in culverts under Brent Lane. Floyd Lamb Park was temporarily closed due to flooding Tuesday.
Joe Nieznanski stood outside his mother's home at Homestead Road and O'Hare Avenue in northwest Las Vegas, watching the flowing waters chew away gravel and leaving a 3-foot-deep pothole at the foot of her driveway.
"It happens whenever it monsoons like this," Nieznanski said, adding it has taken the county several months to fix similar damage in the past.
Key closures
The Centennial Hills area saw 1.61 inches of rain, according to the National Weather Service, which led to temporary closures of surface streets and major arteries.
Those included: Southbound U.S. Highway 95, from Kyle Canyon Road to Skye Canyon Drive; northbound lanes of the 215 Beltway at South Hualapai Way in southwest Las Vegas; Interstate 15 at the Hidden Valley Road exit, south of Las Vegas.
Lake Mead National Recreational Area spokeswoman Christie Vanover said Tuesday's flooding closed Willow Beach, Temple Bar, Cottonwood and Northshore access roads. She advised people not to take backcountry roads because they could be washed out.
The access road to Willow Beach was closed early Tuesday morning after the area saw 4.72 inches of rain in a 24-hour period, according to a news release. About 20 visitors, employees and visitors had to be evacuated from the area. The road is closed until further notice.
A 28-passenger bus was stuck in the area of Pearce Ferry Road due to running water. The passengers onboard were evacuated in a high-clearance vehicle.
Contact Isabelle Delgado at idelgado@reviewjournal.com or 702-383-0381. Follow @izzydd_ on Twitter. Contact Wesley Juhl at wjuhl@reviewjournal.com or 702-383-0391. Follow @WesJuhl on Twitter.
Review-Journal staff writers Mike Shoro, Jessie Bekker and Blake Apgar contributed to this report.