Thunderstorms roll out of Las Vegas Valley
August 24, 2016 - 7:08 pm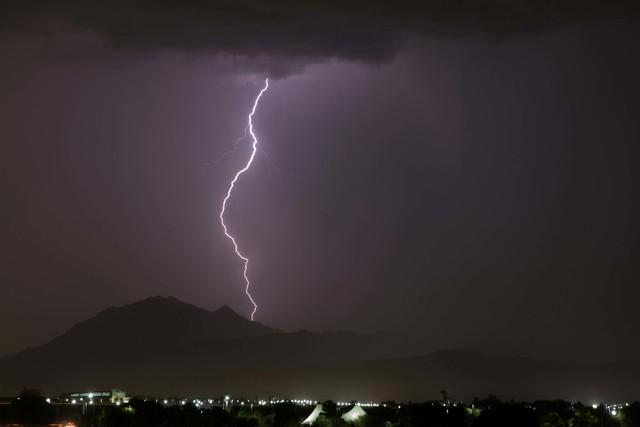 The Las Vegas Valley saw rain, wind, hail and a lot of lightning Tuesday night, but that may have been the last thunderstorm for a while.
The National Weather Service had issued a severe thunderstorm warning for the valley about 10:45 p.m. until 11:45 p.m. Tuesday. Summerlin received the most rain in the valley with 0.47 inches, and winds reached 49 mph in the Green Valley area, according to the weather service.
"We had a fun light show last night," weather service meteorologist Reid Wolcott said.
Lightning caused three palm trees to catch fire, according to the Las Vegas Fire Department.
Temperatures are expected to be near normal through the weekend after a high of 102 degrees Wednesday and low of 80 degrees, according to the weather service.
Thursday will see a high of 101 degrees, and conditions in the valley are expected to dry out.
"There isn't any rain for the valley in the foreseeable future," Wolcott said.
Friday and Saturday is forecast to cool slightly with highs of 98 and 97, respectively. Sunday's high is expected to be 100 degrees, according to the weather service.
Contact Lawren Linehan at llinehan@reviewjournal.com or at 702-383-0381. Find @lawrenlinehan on Twitter.