Warm weather continuing in Las Vegas Valley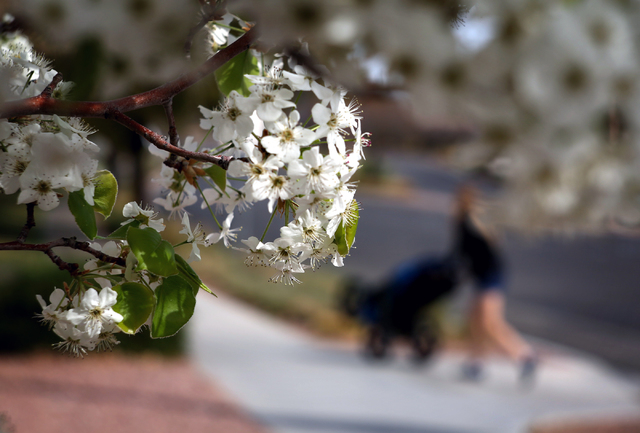 Though the valley experienced record high temperatures Monday, this week's warm weather will wane Sunday when a storm system moves into the valley, the National Weather Service said.
Leap day had a record high temperature of 82 degrees, breaking the 1972 record of 76 degrees, meteorologist Nathan Foster said. And with a forecast high of 82 degrees Wednesday, the day's weather could tie or even break March 2's record-high temp — also 82.
Regardless of records, weather this week will have clear skies and calm winds. Lows will be in the mid to upper 50s and Thursday, Friday and Saturday will see a high of 82, 80 and 78 degrees, respectively.
But Sunday's forecast high will slip to 74 degrees before nosediving Monday with an expected high of 63, meteorologist Mike Paddock said. He added that Monday will be cloudy with a good chance of rain.
Looking back, 2016 had the third-hottest February on record with an average temperature of 57.7 degrees, which is 4.8 degrees above normal, according to the weather service. These temperatures follow the second-hottest valley February with an average of 58.6 degrees set in 1995 and the hottest on record with 60 degrees set in 2015, Foster said.
Contact Lawren Linehan at llinehan@reviewjournal.com or at 702-383-0381. Find her on Twitter: @lawrenlinehan