Foothill drops host Arbor View in 5-set thriller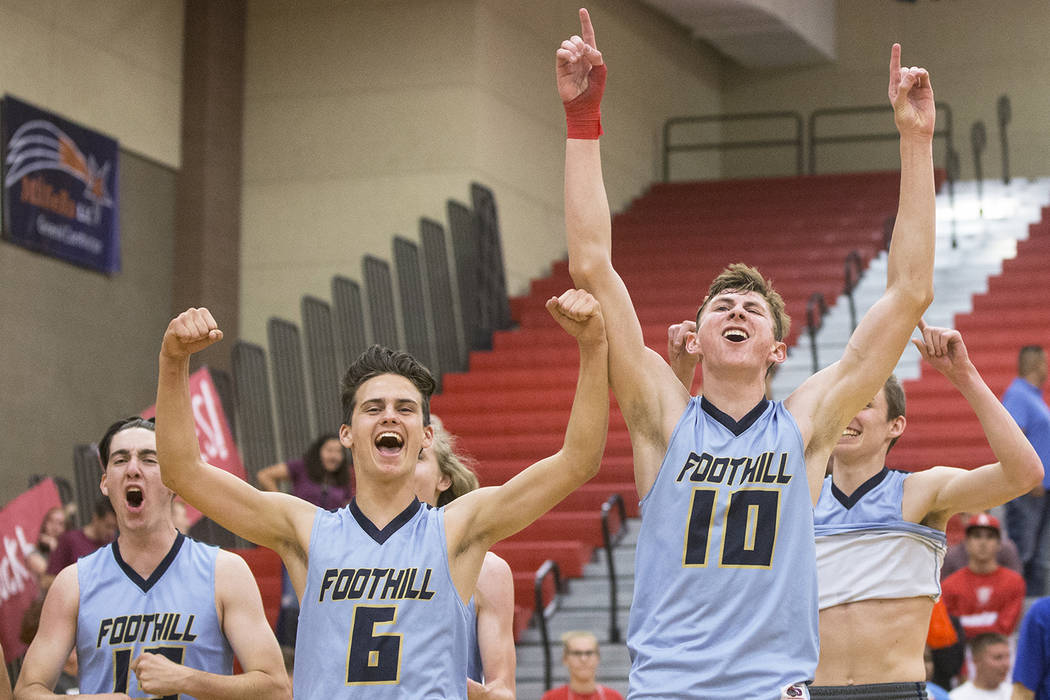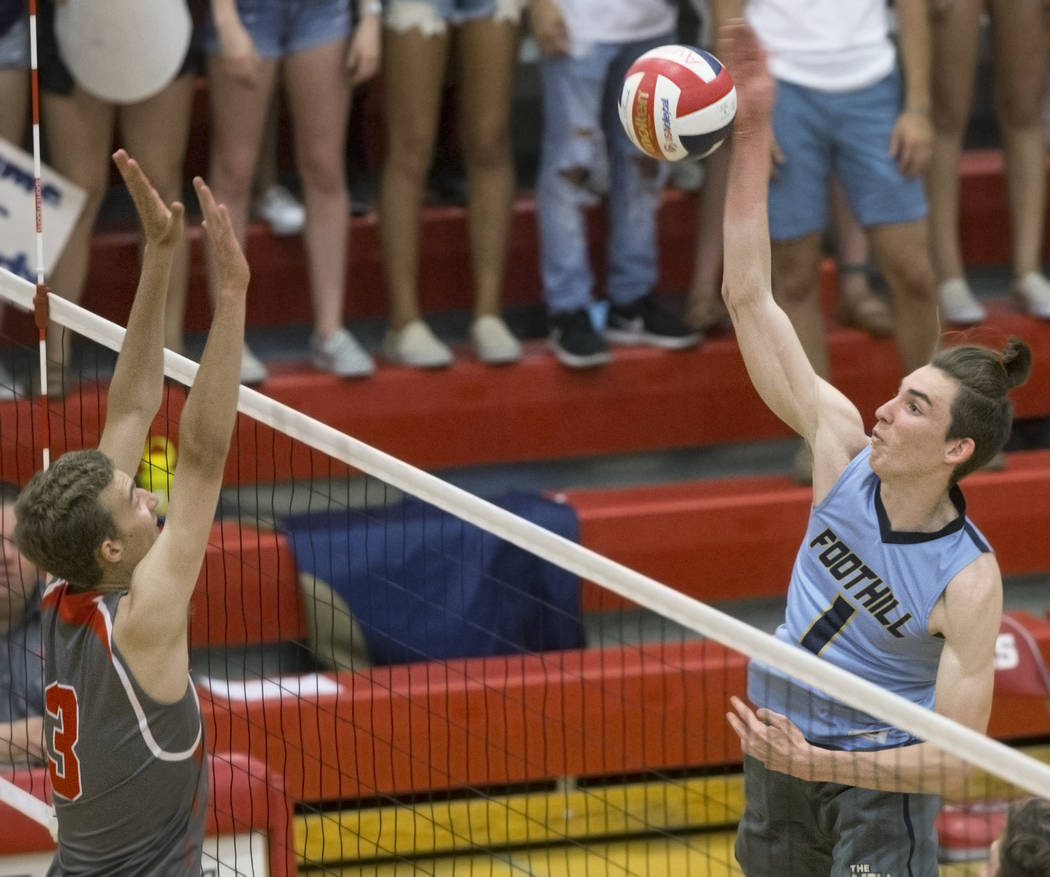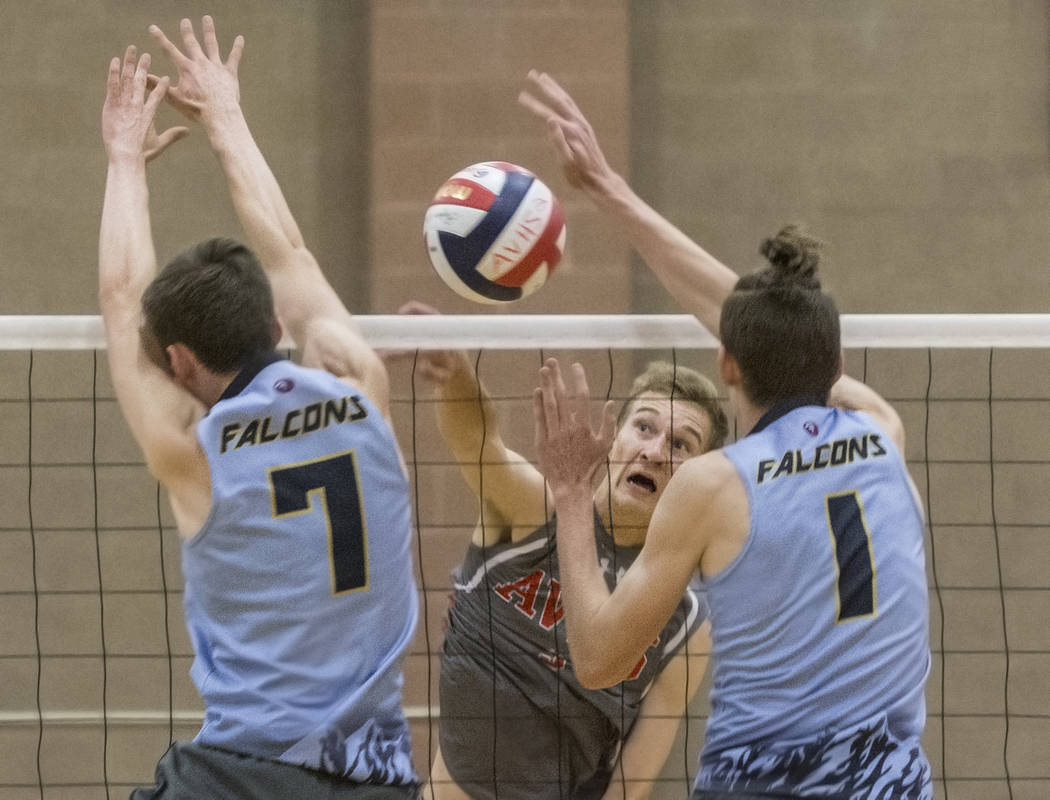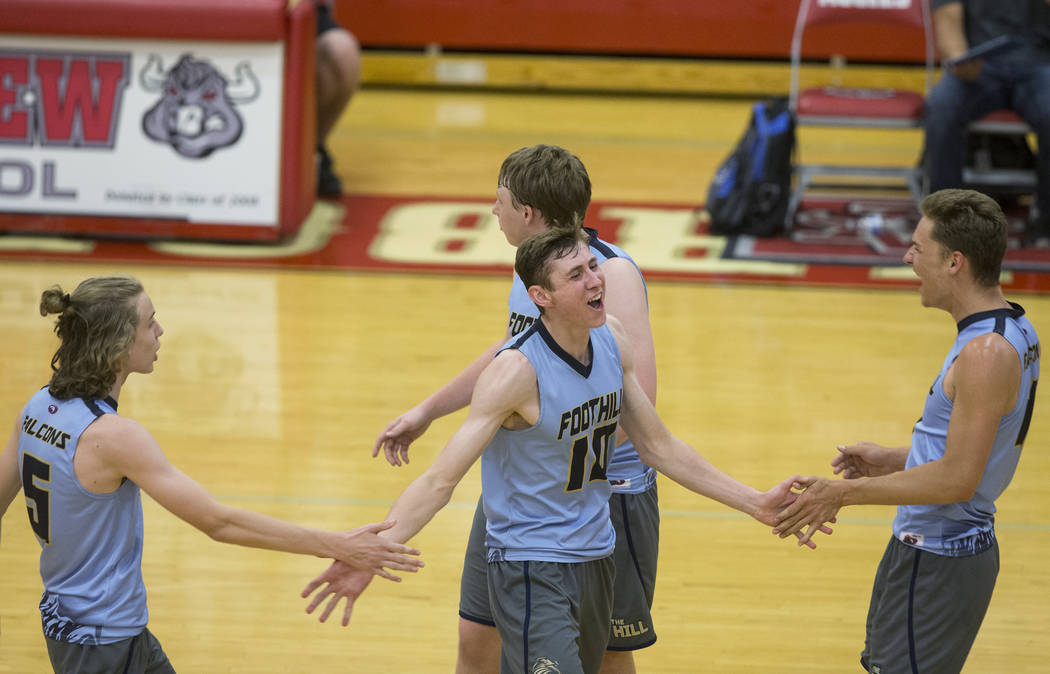 Foothill boys volleyball coach Lewis Miranda was speechless Tuesday night. And when he finally figured out what to say, Falcons students screamed over him, drowning out his verbal euphoria.
"I'm just on this crazy high," he said as his players celebrated a five-set victory over Arbor View in the Class 4A state semifinals. "It's just amazing. It's crazy."
Just like the atmosphere.
Just like the match.
The Falcons (32-11) followed their first Sunrise Region championship with a grueling 26-24, 23-25, 24-26, 25-21, 15-13 win over host Arbor View (29-10).
They'll play Centennial on Thursday night seeking the school's first state championship in any sport.
"It's insane," Foothill junior setter Caleb Stearman said. "We're doing what a lot of teams can't do."
Stearman led the charge with 24 kills, 21 assists and 12 digs. He sprawled across the court, using his 6-foot-5 inch frame to block, deflect and guide his team to a first-set victory.
The Aggies are pretty good, too, though — they upset Sunset Region favorite last week — and relied on hitters Jake Reid and Jaylen Harris to seize a 2-1 lead after three sets.
Reid finished with 23 kills, Harris had 23 kills and Sam Belnap facilitated Arbor View's offense en route to 47 assists. But the Falcons won the fourth set and relied on timely kills and service errors to take control of the fifth set.
Stearman ended the two-hour ordeal with a violent spike, Foothill's student section stormed the floor and Miranda started to float emotionally amid the hysteria.
"I don't even know how to explain it right now," he said with a satisfied smile. "These guys know that we've got something special."
Centennial sweeps
There was no such drama in the other Class 4A semifinal.
Centennial (39-5) rolled through Coronado (24-20) for a 26-24, 25-15, 25-15 victory to clinch a bid in the title game.
Bulldogs middle blocker Teon Taylor posted 13 kills and seven blocks, and Farries Gardner added 10 kills, four blocks and two aces.
Ben Bloss had 14 kills for the Cougars, who battled throughout the first set, but struggled to compete in the second and third sets.
Contact reporter Sam Gordon at sgordon@reviewjournal.com. Follow @BySamGordon on Twitter.
Class 3A state tournament
— Mojave's Daronde McKinney had 12 kills, four digs and two aces as the Rattlers advanced to their fifth consecutive state title match with a 25-19, 25-21, 27-25 victory over Del Sol in the Class 3A state semifinals at Cheyenne.
— Sky Pointe's Jaegen Driscoll had 27 kills in a 25-19, 25-20, 25-21 sweep over host Cheyenne in the other Class 3A state semifinal.
Review-Journal