Looking ahead at the week in high school sports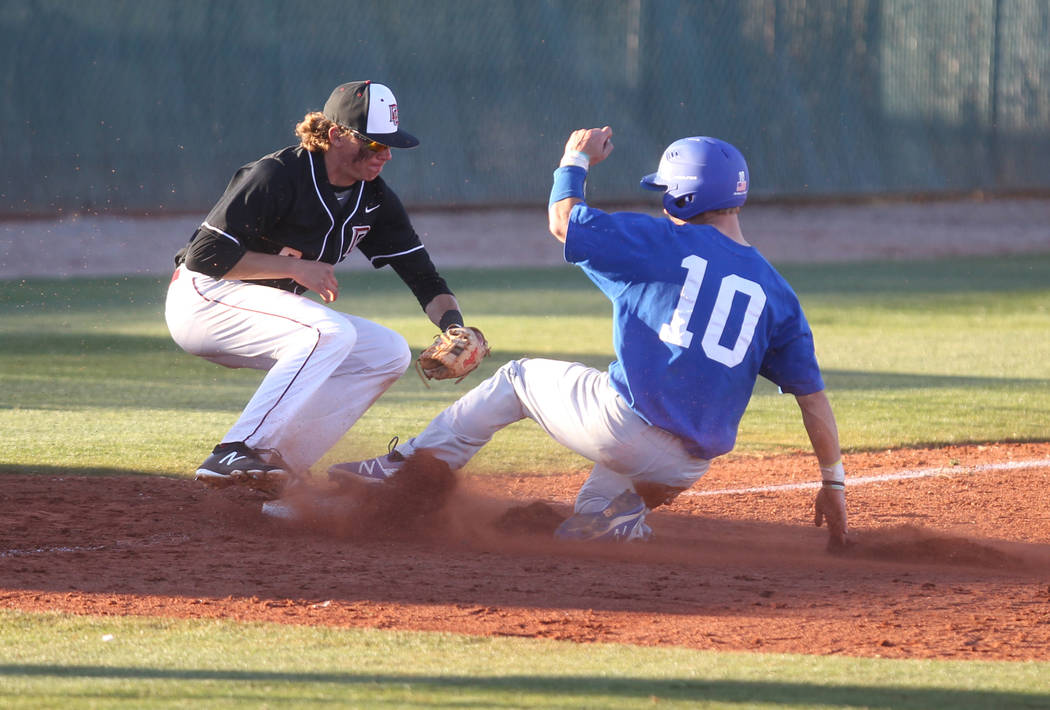 Here is a look at some of the week's top high school sports events.
BASEBALL
Monday, Tuesday, Thursday — Bishop Gorman vs. Desert Oasis
Two of the area's top teams battle it out for supremecy in the Southwest League. Top-ranked Desert Oasis hosts the No. 3 Gaels on Monday, with the series moving to Gorman on Tuesday and Thursday.
Tuesday — Foothill at Coronado, 3:30 p.m.
Both teams are coming off tough Sunrise League losses over the weekend, and will need to improve offensively. The Falcons allowed just one hit against Silverado, but managed to lose 1-0. Coronado's lone run against Rancho came on a solo homer in a 5-1 loss.
SOFTBALL
Tuesday, Wednesday, Friday — Centennial vs. Shadow Ridge, 3:30 p.m.
Both have an outside shot at the Northwest League title, but in all likelihood this series will determine second place and a home playoff game. Tuesday is at Shadow Ridge, and Wednesday and Friday are at Centennial.
Friday — Basic at Coronado, 3:30 p.m.
The Wolves got the better of Coronado in their last meeting, but they'll have to go on the road this time. A win by Basic would go a long way in securing a league title.
Thursday — Rancho at Foothill, 3:30 p.m.
In a large Sunrise League, both teams figure to make the playoffs, and could even meet in the first round. But winning this one may help determine home-field advantage.
Friday — Boulder City at Moapa Valley
Moapa Valley dealt the Eagles their first league loss earlier this year, and Boulder City will be looking for revenge as they travel to Overton.
SWIMMING AND DIVING
Saturday — Shadow Ridge vs. Centennial at Pavilion, 8 a.m.
The final regular-season meets are this week, and this showdown between Northwest rivals should prove interesting.
TRACK AND FIELD
Friday — Sunrise FAST Classic, Green Valley, 3:30 p.m.
An early look at some of the Sunrise Region's future stars as the top freshmen and sophomores square off.
Saturday — Sunset FAST Classic, Centennial, 9 a.m.
Freshmen and sophomore athletes from 13 Sunset Region schools will congregate at Centennial for one of the season's final regular-season meets.
BOYS VOLLEYBALL
Thursday — Centennial at Durango, 6 p.m.
The Bulldogs are eyeing a state championship, and are firing on all cylinders as the season draws to a close. The Trailblazers, meanwhile, need a win to stay in the playoff race.