Looking ahead at the week in high school sports
September 10, 2017 - 2:47 pm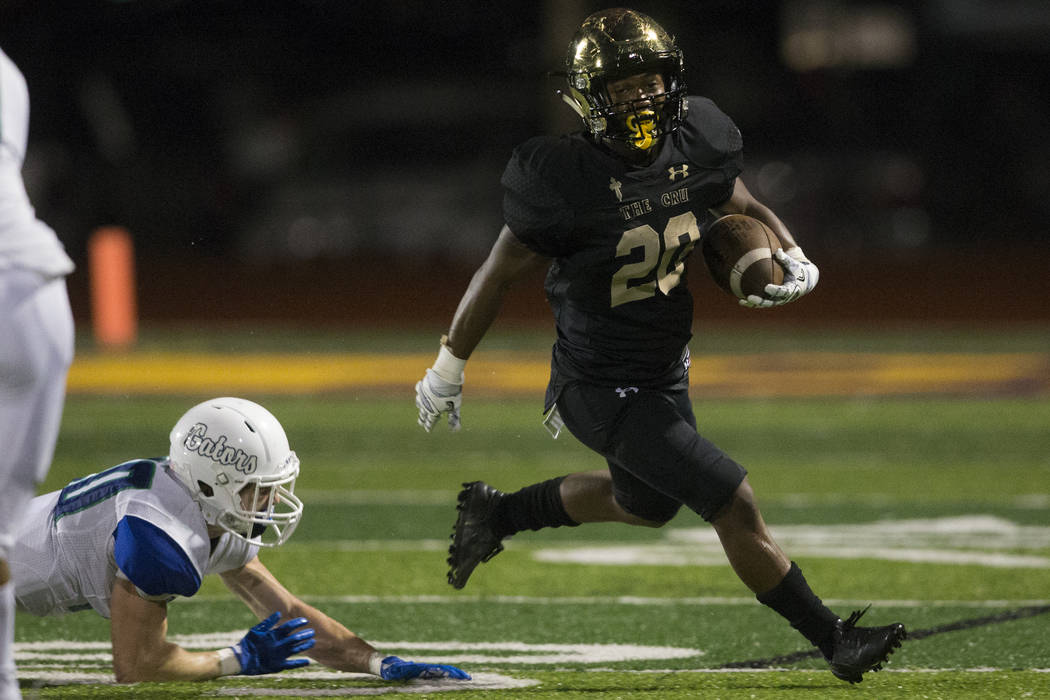 Here is a look at some of this week's top high school sports events.
CROSS COUNTRY
Saturday — Moapa Valley Invitational at Clark County Fairgrounds, 8 a.m.
Pahrump Valley and Faith Lutheran highlight the field for the lone local invitational of the week. The meet begins with 1.6-mile middle school races at 7:30 a.m., followed by 3.1-mile varsity races at 8 a.m.
FOOTBALL
Monday — Legacy at Palo Verde, 7 p.m.
Lightning and rain washed out this Northwest League matchup on Friday night, so we get a rare Monday night high school game.
Friday — Canyon Springs at Basic, 7 p.m.
The Wolves will be looking for a little revenge after Canyon Springs' 33-30 overtime win last season.
Friday — Faith Lutheran at Arbor View, 7 p.m.
The Northwest League opener for both schools. The Crusaders are off to an 0-2 start after falling in overtime to Green Valley, and will try to rebound against the defending league champs.
Saturday — De La Salle (California) at Bishop Gorman, 7 p.m.
The Spartans are ranked No. 6 by USA Today and will try to hand the Gaels a third consecutive loss.
GIRLS GOLF
Monday — Northwest League match at Painted Desert, 11 a.m.
Centennial freshman McKenzi Hall has been one of the valley's most impressive golfers this season. She will lead the Bulldogs against six teams, including perennial powers Faith Lutheran and Palo Verde.
BOYS SOCCER
Thursday — Palo Verde at Coronado, 3:30 p.m.
Two of the best teams in Southern Nevada meet when the top-ranked Panthers visit the No. 3 Cougars.
Friday — Cimarron-Memorial at Chaparral, 3 p.m.
This matchup features the No. 4 Spartans in a road game against a Cowboys team playing their eighth game in eight days.
GIRLS SOCCER
Monday — Pahrump Valley at Western, 3 p.m.
There are no Class 3A teams ranked in the coaches poll, but the Trojans might find their way in if they can knock off the defending state runners-up.
Wednesday — Arbor View at Faith Lutheran, 5:30 p.m.
The surprisingly sub-.500 Aggies look to right the ship in a Northwest League game against the No. 4 Crusaders, who will be looking to pounce on the five-time state champions.
GIRLS VOLLEYBALL
Monday — Faith Lutheran at Centennial, 6 p.m.
Sydney Washington and the Crusaders travel to Centennial for a key Sunset League matchup. The Bulldogs will look to senior Siara Roberts, who has been one of the valley's top setters early this season.
Wednesday — Legacy at Cimarron-Memorial, 6 p.m.
Both teams have been impressive to start the season, and this matchup could be crucial for playoff seeding down the road. With five returning starters, the Longhorns enter with a 12-2 record, including wins over Centennial, Green Valley and Silverado.
Friday-Saturday — Durango Fall Classic
The Trailblazers again will be host to one of the country's most prestigious volleyball tournaments. Teams from all over the country will match up against some of the valley's top teams.
Friday-Saturday — Boulder City Invitational at Boulder City High
Class 4A schools Bonanza, Legacy and Liberty will travel south to take on Moapa Valley, Virgin Valley and Boulder City — top Class 3A teams.