Cimarron baseball's big inning flattens Gorman
April 29, 2013 - 10:26 pm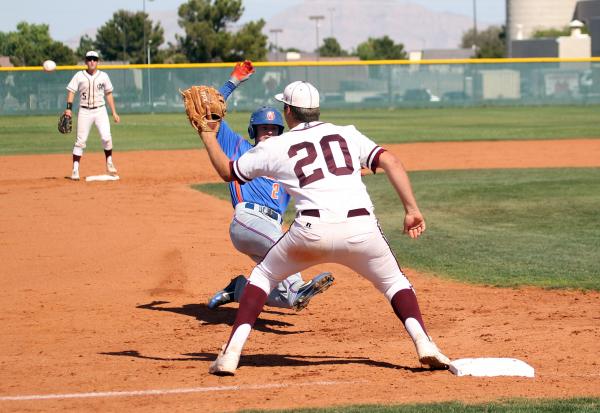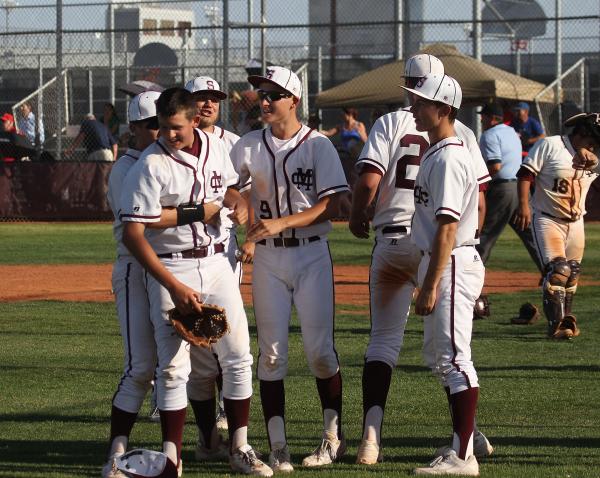 Local teams haven't had much success against Bishop Gorman's baseball team in recent years, winning only six games by a combined total of 18 runs since the start of the 2009 season.
Cimarron-Memorial left little doubt in handing the Gaels loss No. 7 on Monday, scoring 10 runs in the second inning on the way to a 14-1 home win.
"We've got some kids that can come out and play with anybody," said Spartans coach Mike Hubel, whose team last beat Gorman on May 16, 2009. "I don't care who's on the other side, that's what we try to do — play the game of baseball."
Cimarron certainly did that Monday, playing an errorless game and exploiting numerous Gorman miscues. The Gaels made five errors and had a couple of other misplays during the Spartans' big inning.
"They had four or five errors in that one inning and that hurt them, and we did take advantage of it," Hubel said. "We didn't hit the ball overly hard in all those at-bats, but the ones we did hit found some holes and that's the name of the game."
Niko Decolati started the inning by lining the ball toward the left-center-field gap. Left fielder Matt Hudgins was unable to cut the ball off, and Decolati ended up at second with a double.
Jayson Hicks then lifted a high popup to shallow right. Second baseman Kai Domingo appeared to lose the ball in the sun, and it dropped for a hit.
That was only the beginning. Along with the errors, the Gaels also missed a tag during a rundown, and Cimarron had some luck, getting a pair of infield hits.
"Tip your hat to these guys," Gorman coach Nick Day said. "They were ready to play, they hit some balls hard. They put pressure on us, and that inning when we were having a hard time making a play, the kept forcing us to do it. They made us play like this."
While Cimarron (21-6, 7-2 Southwest League) looked ready to go from the start, Gorman (24-5-1, 7-2) clearly wasn't. The Gaels had two baserunning mistakes in the top of the first inning to help keep them from scoring early.
"We weren't (sharp)," Day said. "And the frustrating thing is in my opinion this was our biggest game of the season to this point. And I expected the opposite. I expected us to show up on all cylinders ready to go."
Gerald Robins went 2-for-4 with a triple and two RBIs, and Nick Borowski and Hicks each went 2-for-3 with a double for the Spartans, who can lock up the Southwest title with a win over Bonanza on Wednesday. Cimarron holds all of the tiebreakers over Gorman, which plays Centennial in the final league game Wednesday.
Day said he hopes Monday's loss ends up motivating his team.
"It can do two things," he said. "It can trickle down just like that second inning did and we can fall apart. Or we can take it as a wake-up call, sharpen up and play better. I think we'll take the latter. I think we'll learn from it."