Gorman starter takes line drive off shin, but toughs out win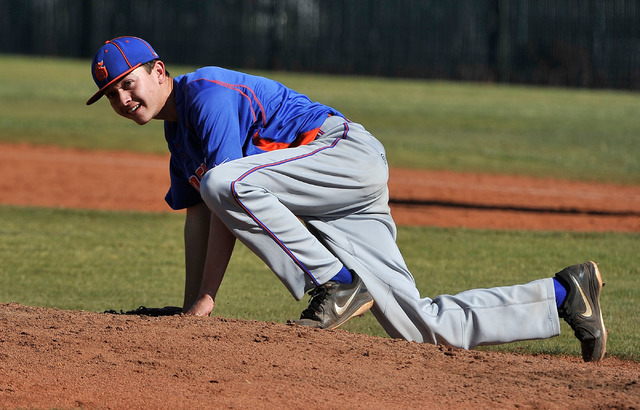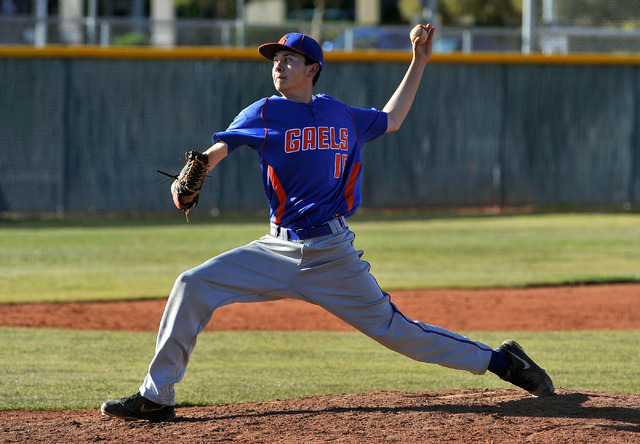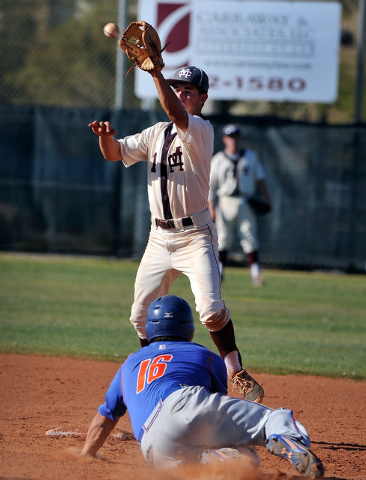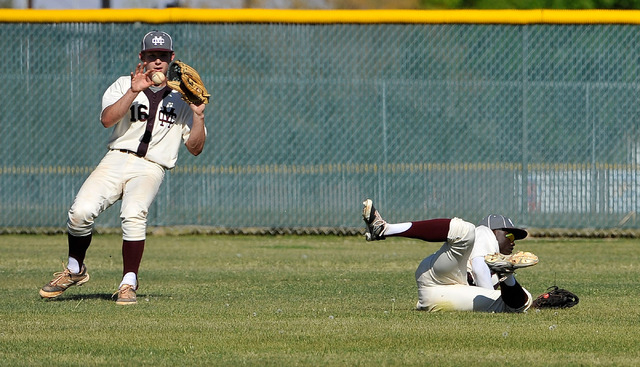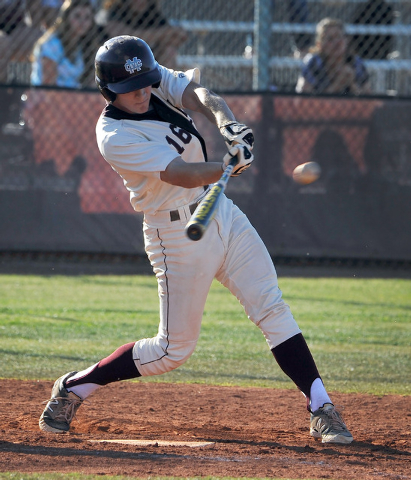 It looked like Matt Mitchell's day might be over after one batter on Monday.
Gorman's starting pitcher took a shot off his right shin to start the game, but after a few moments on the ground, proved he was far from done.
The freshman left-hander bounced back to throw six strong innings, allowing an unearned run on five hits, as the Gaels earned a 4-1 road win over Cimarron-Memorial.
"Matty's a tough kid," Gorman coach Nick Day said. "He's just a freshman, but one of our best arms, so it was definitely scary to see him get hit there. I didn't know if he was going to be able to go, but he gutted it out."
Cimarron's Logan Bottrell lined a 1-0 pitch off Mitchell's shin for an infield single leading off the bottom of the first. But the freshman picked himself up, and got out of the inning without incident, getting a fly-ball out and a double-play grounder to end the inning.
Mitchell was in control throughout. He threw just 63 pitches, 40 for strikes. He threw first-pitch strikes to 20 of the 26 batters he faced.
"His pitch count was low," Day said. "He's very efficient, and they're also a really free-swinging team. But he throws strikes and comes after guys."
Mitchell left after walking Tyler Giovinco to lead off the bottom of the seventh. Cadyn Grenier came on and got Alexander Marco to ground into a 3-6-1 double play, and retired Bottrell on a grounder to first to end the game.
"He's the guy we want at the end of the game," Day said of Grenier. "I'm trying to get him in sooner instead of waiting until the bases loaded or we're in a jam and letting him pitch a little easier."
Top-ranked Gorman (13-2, 3-0 Southwest League) jumped on Cimarron starter Larry Quaney for two runs in the top of the first without getting a hit that left the infield.
Matt Hudgins hit an infield single off Quaney's glove to start the rally, and a balk and two wild pitches brought Hudgins home with the game's first run. Quaney, a second-team all-state pick last season, walked three in the inning, and Drew Newson drove in the second run with a sacrifice fly.
"It was real nice," Day said of the early runs." Especially because we've struggled in this ballpark the last couple years. They had a good arm on the mound, and we didn't do a whole lot to deserve the runs, but it was nice to get them, especially off a pitcher like that."
No. 4 Cimarron (10-6, 1-2) cut the lead in half with an unearned run in the third when Marco reached on an error and scored on Bottrell's bloop single to center.
But the Gaels scored two unearned runs of their own in the fourth to push the lead back to three runs.
"Cimarron's always tough to beat, and you're always going to be in a fight, especially in this ballpark," Day said. "It's definitely one of the games on the calendar that you just hope you can get a win any way you can."
Bottrell went 3-for-4 and was the only player on either team with more than one hit.
Contact prep sports editor Damon Seiters at dseiters@reviewjournal.com or 702-380-4587. Follow him on Twitter: @DamonSeiters.
Box score:
Bishop Gorman 4, Cimarron-Memorial 1