SUNRISE BASEBALL: Wieger throws four-hitter, Rams top visiting Cougars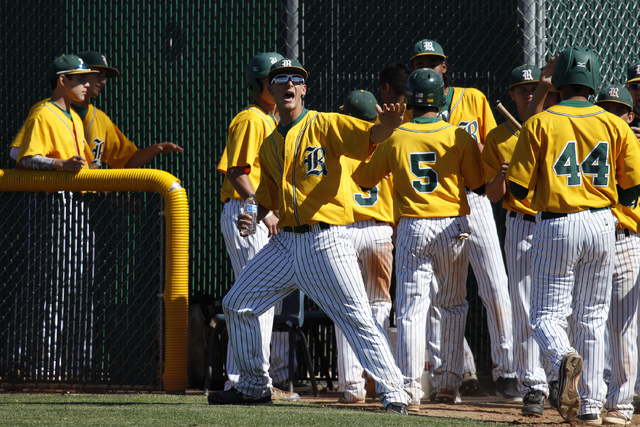 One can't overstate the importance of winning the opener in a double-elimination baseball tournament.
Rancho's Andrew Wieger made sure the Rams got off on the right foot on Tuesday.
Wieger fired a four-hitter, and the Rams held off visiting Coronado 4-1 in the opening round of the Sunrise Region baseball tournament.
"Any time you come into the first round, you have to win the first one," Rancho coach Tom Pletsch said. "Andrew did a great job today on the mound. We got some timely hitting, and it's nice to get the first one off the ground."
Wieger struck out six and didn't walk a batter. He threw first-pitch strikes to 22 of the 26 batters he faced.
"He worked ahead with the hitters," Pletsch said. "I think he had six strikeouts, but more importantly, he pounded the zone and made them put the ball in play. We played solid defense today. If we can continue to do that, maybe good things will happen."
The Rams plated three runs in the bottom of the first against the defending Division I state champs to give Wieger an early advantage.
Bryce Harrell led off with a walk and stole second. He advanced to third after the throw hit him and got away.
One out later, Jose Verdugo hit a come-backer to the mound. Jackson Cofer fielded it and caught Harrell leaning toward the plate.
Cofer fired to third as Harrell broke for home, but third baseman Caden Spilsbury dropped the ball on the exchange to the plate, allowing Harrell to score.
David Modler was hit by a pitch, and Kavion Kealoha walked to load the bases.
Zach Barnhart then lined a two-run single to right field to put the Rams ahead, 3-0.
"They've got a younger team this year," Pletsch said. "Being in the playoffs, it's kind of tough that first inning or two. They made a couple errors, booted it around a little bit and got behind. It kind of cost them."
The Cougars cut the lead to 3-1 in the third when they got a two-out, RBI double from Jacen Yergensen.
Wieger, a 6-foot-5-inch, 250-pound junior, was in control from there, allowing just two singles the rest of the way to improve his record to 7-1.
Rancho (23-8) plays at Liberty (25-4) at 3:30 p.m. Wednesday.
"We have three different people that we think can be our No. 1 on a given day," Pletsch said. "Andrew stepped up today. We threw him today because with his big body, he can come back on Saturday and give us another seven (innings). He's just a junior, and he's like a big pup as far as we're concerned."
Josh Mill added a pinch-hit, RBI single in the fourth for Rancho to push the lead back to three.
"The one thing that we have to get is timely hitting," Pletsch said. "If we get the timely hitting, we're going to be a force to reckon with before it's over."
Coronado (19-11) hosts Las Vegas (12-18) at 3:30 p.m. Wednesday.
Liberty 3, Las Vegas 2 — At Liberty, Nick Rush was 1-for-3 with a run and an RBI as the Patriots held off the Wildcats.
Trevor Mullaney tossed three scoreless innings of relief, including striking out the side in the sixth inning, for Liberty.
Antonio Gaxiola and Jamie Solis each had two hits for Las Vegas.
Green Valley 3, Foothill 1 — At Green Valley, Anthony Hatch and Keaton Smith each went 1-for-3 with an RBI and the Gators scored three runs in the bottom of the sixth to beat the Falcons.
Green Valley (24-7) scored on a fielder's choice, a squeeze bunt and a throwing error.
Keola Paragas went the distance, allowing just four hits, to get the win. The Gators host Basic (24-9) at 3:30 p.m. Wednesday.
Collin Dobrolecki had a home run in the first inning for Foothill (16-14), which plays at Silverado (14-16) in an elimination game at 3:30 p.m. Wednesday.
Basic 5, Silverado 3 — At Basic, Ryne Nelson went 2-for-2 with a double and two RBIs, and Ali Deolarte was 2-for-3 as the Wolves beat the Skyhawks.
Logan Green hit a double, and Skylar Mahoney had two hits and scored a run for Basic.
Mikey York struck out nine in six innings and picked up the win, and Josh McLean earned the save for the Wolves.
Vincent Taormina had a double for Silverado.
Box scores: