Sunset Region: Palo Verde topples Bishop Gorman to clinch berth in championship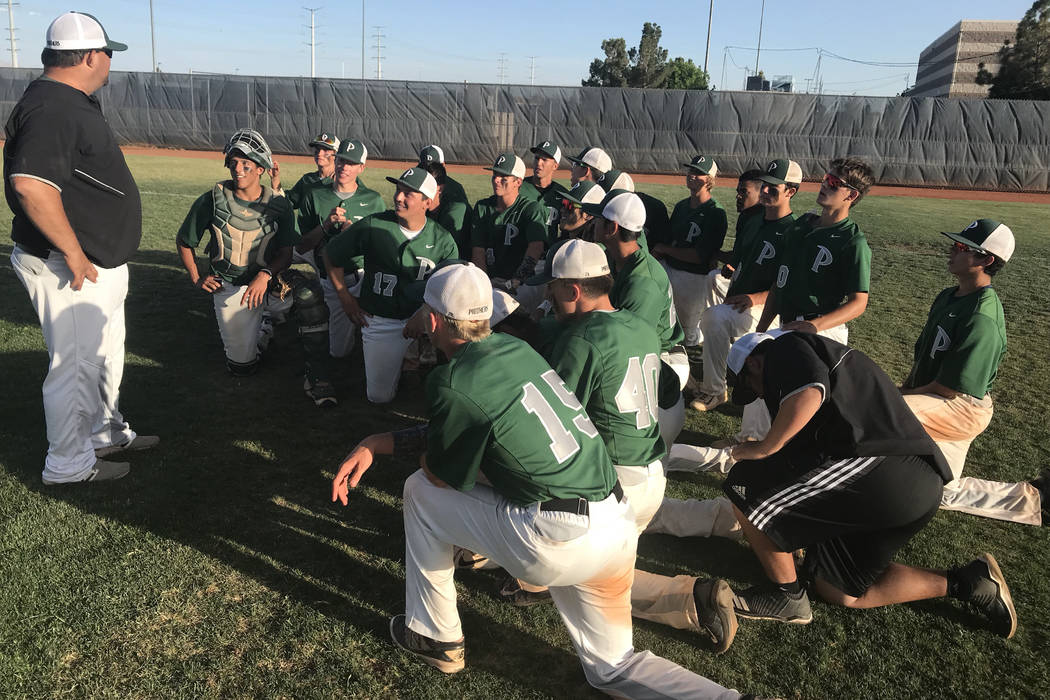 Palo Verde senior pitcher Nick Zuppas also played quarterback for the Panthers this year, and ended his high school football career with a not-so-memorable 59-0 loss to Bishop Gorman.
He had the ball in his hand once again, though, versus the Gaels on Friday afternoon — this time with his high school baseball career on the line.
So he repaid the favor.
Zuppas allowed two runs to one of the state's most potent lineup over five innings, and helped Palo Verde clinch a 6-4 victory over Gorman at Shadow Ridge in the Sunset Region tournament.
"I was trying to stay confident, make sure I trusted my pitches," said Zuppas, who, as Palo Verde's valedictorian will attend the Air Force Academy. "It was a lot of fun. My teammates hyped me up. That was the best part about the whole thing."
The Panthers (26-9) advance to the region championship game on Saturday opposite Centennial, which they will need to beat twice to advance to the Class 4A state tournament in Reno.
The Gaels were the No. 3 team, nationally, in Perfect Game's preseason poll.
They conclude with a 26-9 record.
Jacob Godman and Bryce Robison staked the Panthers to a 5-0 lead with home runs in the first and second innings, respectively.
Zuppas pounded the strike zone and mixed in his off-speed stuff to keep Gorman's hitters off-balance. He worked out of a pair of early jams, surrendering two runs in the third inning.
"He was hitting his spots," Panthers coach Joe Hallead said. "We were only looking for three innings out of him today. He gave us five."
Palo Verde tacked on an insurance run in the fifth inning, and withstood a two-run double from Gaels' star Austin Wells. Gorman loaded the bases with two outs in the seventh inning, but Jaret Godman induced a harmless flyout to end the game.
And Gorman's season.
"They're loaded … That team is so talented over there, and we're humbled by the fact that we came in today, and put a gameplan together," Panthers coach Joe Hallead said. "I'm excited for our guys, I'm excited for our staff and I'm excited for our school."
Bishop Gorman 16, Cimarron-Memorial 15 — At Shadow Ridge, Dutch Landis homered three times and drove in six runs to set up Gorman's meeting with Palo Verde.
Wells went 4-for-4 with a home run, two triples and four RBIs, and John Gaughan hit a home run and drove in three runs for the Gaels.
Seth Hoffman went 3-for-5 with a home run and six RBIs for Cimarron-Memorial, which led 9-2 at one point.
Trevor Doyle was 4-for-4 with a triple, double and three RBIs.
Contact reporter Sam Gordon at sgordon@reviewjournal.com. Follow @BySamGordon on Twitter.
Box Scores:
Bishop Gorman 16, Cimarron-Memorial 15