2A BOYS: Adelson School drills 3-pointer in overtime to advance to state title game
February 24, 2017 - 9:59 pm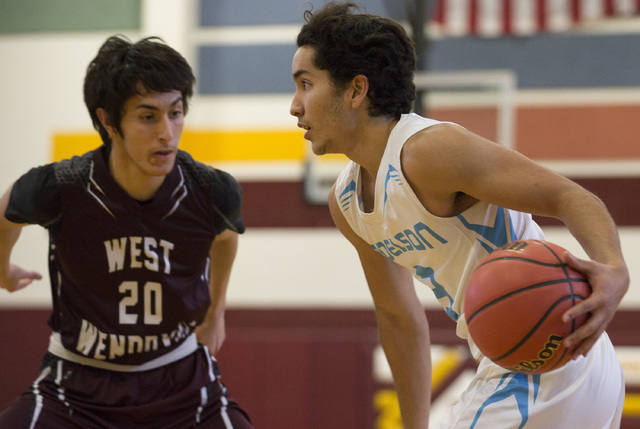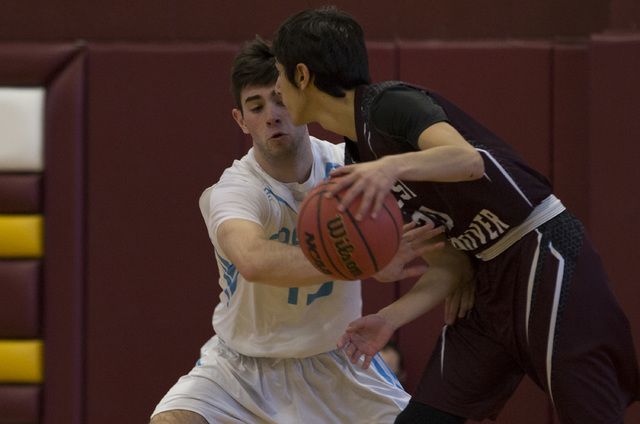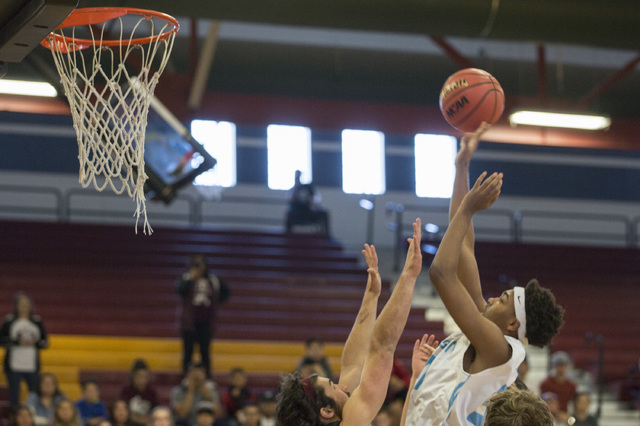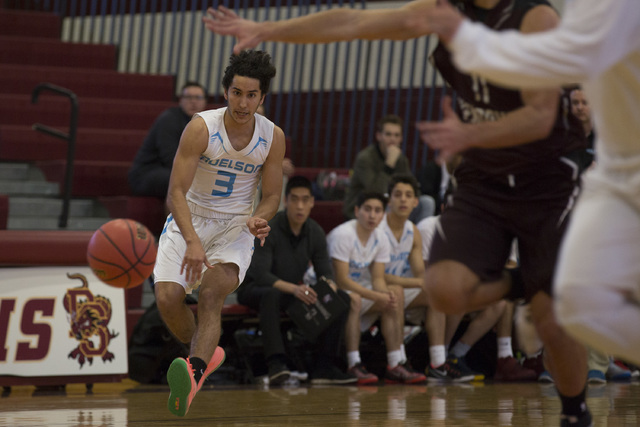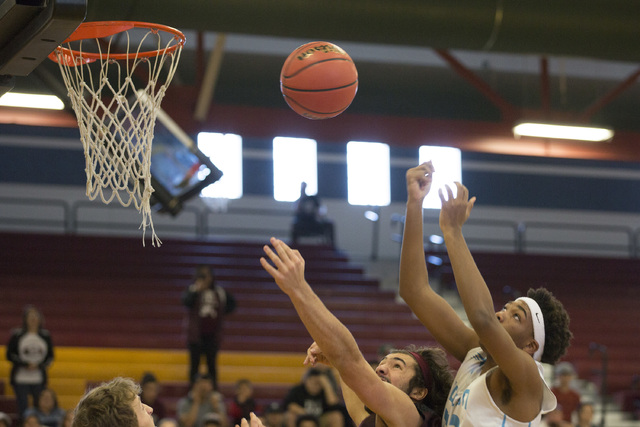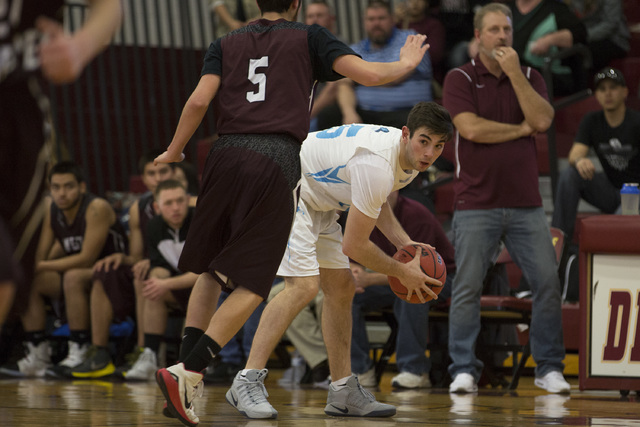 Jake Buchman is the leading scorer in Adelson School boys basketball history. Ben Elharrar is 5 feet, 7 inches tall. Both facts are important to end of Friday's Class 2A state semifinal.
Elharrar, the undersized junior, collected the two most important rebounds of the season, and Buchman, the decorated senior, nailed the game-winning 3-pointer in overtime that lifted the Lions to a 57-56 win over West Wendover at Del Sol.
"As soon as he released it, I saw it was going in," Elharrar said. "That's what he does, he comes in clutch for us."
Adelson School (21-4) will play Agassi Prep (21-5) in the state title game at 4:30 p.m. Saturday at Cox Pavilion, the first championship game in Lions history.
The final play didn't develop the way the Lions would have hoped.
WIth the team trailing 56-54, the game-winning 3-pointer was designed to go to Jacob Elharrar, but when he missed, Adelson School needed to improvise.
Ben Elharrar rushed in from the far corner and collected the missed shot. After a scramble that looked like it would end with him stepping out of bounds or getting fouled, he floated an under-handed lob to Buchman in the corner.
With 7.5 seconds left, Buchman drove a dagger through the hearts of the Wolverines (19-9).
"I think he's been waiting for this moment for four years now," Adelson School coach Kurt McGinnis said. "In any game when we're in a funk or not hitting shots or someone is cold, he just puts us on his back and says 'Follow me guys, I'll get us home.'"
Less than minute earlier, Ben Elharrar collected a rebound on another missed 3-pointer that kept the Lions in the game. Adelson School's Niv Shahmoon, who led the team with 14 points, shot from deep that would have tied the game, and Elharrar was there for the stick-back basket.
They were the only two rebounds of the game for Elharrar.
"It's just heart, all heart," McGinnis said. "That kid shows a lot of the other kids that were sitting in the stands from our school watching tonight that you don't have to be 6-2 to succeed in this game."
Buchman said before the playoffs started it would be a dream come true to end his senior year with a state title. This is Buchman's third trip to the state tournament, and Friday was his first victory in the tournament.
"We're going to go in (Saturday) and finish it off and end senior year right," Buchman said. "I'm trying to keep it all in now but when that buzzer sounds and we're state champions – years and years of hard work going back to fifth grade playing middle school basketball for Adelson – it will all be worth it."
Agassi Prep 71, Pershing County 39 — In the other semifinal, Najeeb Muhammad and Allen Merritt led the Stars with 18 points apiece as they routed the Mustangs.
The Stars stormed to a 17-6 lead after the first quarter, then proceeded to roll over the Mustangs (27-3) in the second half, outscoring them 37-16.
Merritt had 14 points and eight rebounds in the second half, finishing with 10 boards for a double-double. On a night when top scorer Akeemis Williams was held to 10 points and just one 3-point field goal, Agassi Prep coach Trevor Diggs said it was big for Merritt to step up.
"We know how athletic he is, but when he attacks it, we're a different team," Diggs said. "We need the same energy (Saturday)."
The win sets up the third state title game in four years for the Stars, who won it all in 2014 and 2015. It also sets up the fourth game of the season against Adelson School. The squads split the regular season matchups, and the Lions took the Southern League tournament title last weekend in a game that came down to the final shot. The total margin of victory in the three games was just seven points.
"You couldn't have drawn it up any better," Diggs said. "That's who we want to play.
"Our job is one game. We have to be better than them (Saturday). That's all."
Box scores:
Adelson School 57, West Wendover 56
Agassi Prep 71, Pershing County 39