2A GIRLS: Agassi Prep falls to Needles in state final
February 25, 2017 - 10:51 pm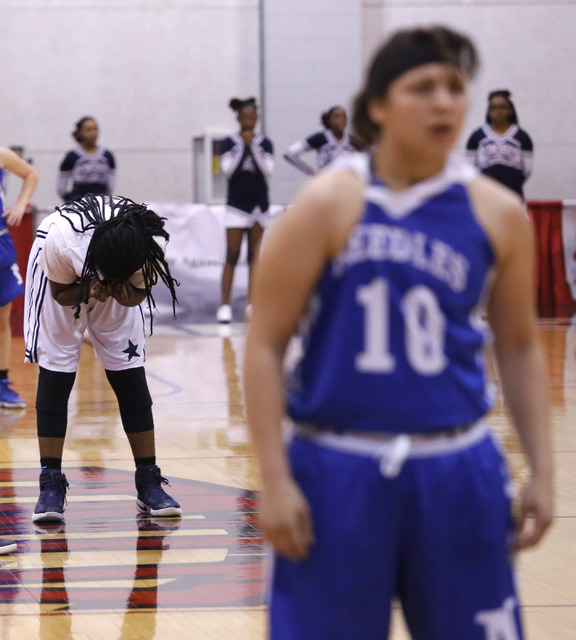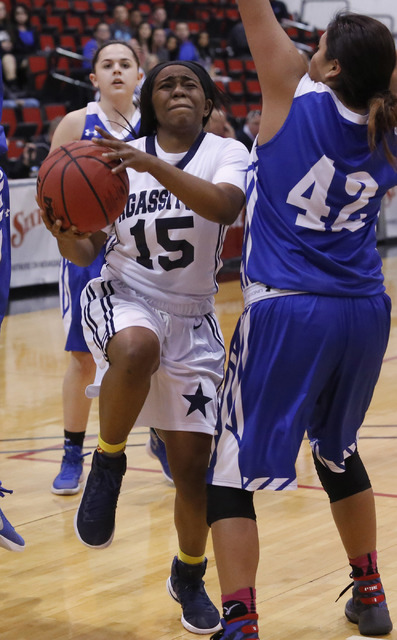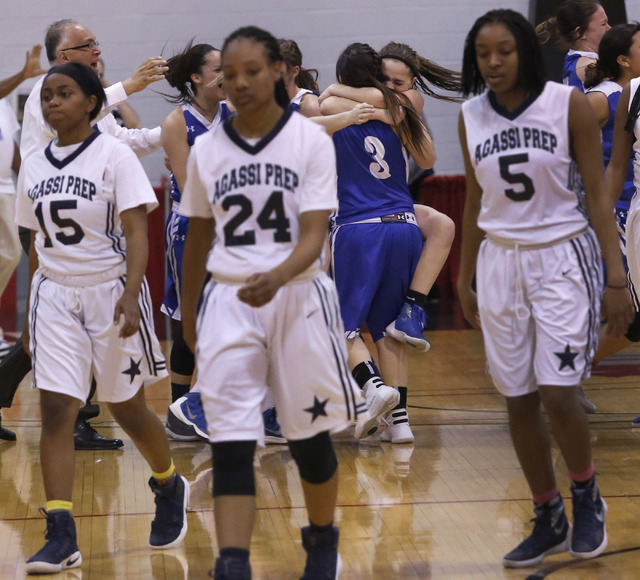 In the final minutes of its state championship game against Needles, short-handed Agassi Prep was forced to play a soft defense.
The Stars' three best players were in foul trouble, making it hard to stop Needles from completing its comeback to win the Class 2A girls basketball title with a 64-54 victory Saturday at Cox Pavilion.
"It was tough," Agassi Prep coach Wendell West said. "We didn't really have anybody to put in for them, either."
Agassi led 18-8 after the first quarter and by four at halftime.
But sophomore Sharmayne Finley, junior Destiny Rover and senior Lovely Glinton played with four fouls in the fourth quarter, allowing Needles to score 22 points in the quarter.
"We wanted to keep pushing the ball hard at them (in the second half)," Needles coach Manuel Calderon said. "We knew Finley had three fouls at half, and we just said at halftime to stay attacking and attacking."
Finley led the Stars with 21 points, but fouled out in the final minute. Rover scored 15 and senior Raylene Thomas 10.
Senior Brenna Chavez scored 22 to lead Needles.
"I'm so pumped right now I don't even know how to feel," Chavez said. "This was my last chance to make it all worth something, and we definitely did as a team."
Every Mustang was emotional after winning the school's third state championship.
"What can I say? It's been a long season," Calderon said. "This is a great group of girls that have worked tremendously hard all season. I've just never been more proud of a group of individual girls in my life."
Calderon credited his two seniors — Chavez and Jayne Antone — for not only carrying the team throughout the season but also for something else.
"It's been quite a year for me with a couple of health situations, wasn't even sure if I wanted to coach," he said. "But Brenna Chavez and Jayne Antone talked me into coming back for this season for their senior year."
Despite the loss, West thinks Agassi Prep has a bright future.
"This is my first year coaching them, so it was new system for them," he said. "I'm definitely excited."
Contact reporter Bill Slane at bslane@reviewjournal.com or 702-380-4559. Follow @bill_slane on Twitter.
Box score: