3A Girls: Pirates switch defenses, win region title
February 25, 2019 - 7:33 pm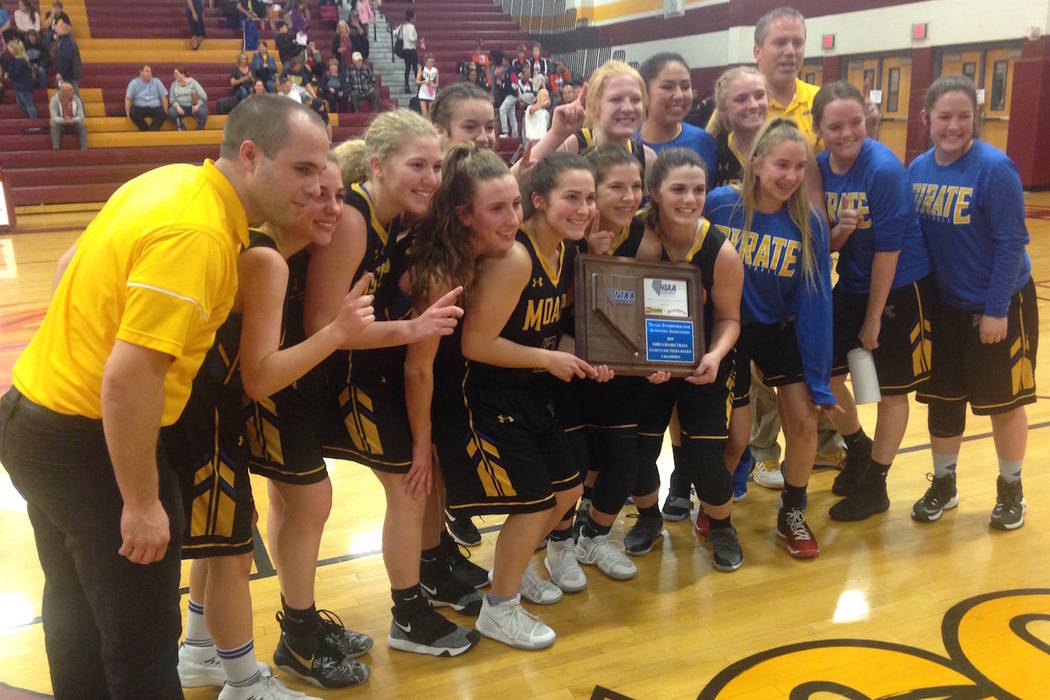 Moapa Valley's girls basketball team had only about 30 minutes to completely switch its defense.
After winning a Class 3A Southern Region semifinal Saturday, the Pirates couldn't practice Sunday and had only a short walk-through before facing Boulder City on Monday.
Talk about a quick study.
Moapa Valley played an aggressive, helping man-to-man defense to near perfection and topped the Eagles, 50-44 in the region final at Del Sol. Both teams advance to the state tournament, which begins Friday at Orleans Arena.
"I knew if I had another chance at them, I was just going to play man," said Moapa Valley coach Brandon Jones, whose team lost twice to the Eagles in Sunrise League play. "Even though we weren't able to practice, we went through all of their offense, and the girls just played their butts off on the defensive end."
The Pirates (20-9) played mostly a zone defense in their win over Pahrump Valley on Saturday, and because state rules prohibit Sunday practices, Moapa Valley had little time to work through the defensive change.
Still, the Pirates forced 14 turnovers in the first three quarters and turned those into 12 points. They limited Boulder City 6-foot center Ellie Howard to just seven shots and still managed to disrupt the Eagles' perimeter shooters.
"We knew that we needed to step up," said Moapa Valley junior Kaitlyn Anderson. "We just ran our hearts out and played as hard as we could. I was tired of Boulder beating us."
Anderson was fantastic on both ends of the floor, scoring 16 of her 22 points in the second half and grabbing eight rebounds. Her drive to the basket with 2:30 left in the fourth quarter halted a 5-0 Boulder City run and upped the Pirates' lead to 42-37.
"Kaitlyn is amazing," Jones said. "She does everything for us. She's our best defender, and she made it difficult for them to start their offense."
Lainey Cornwall's driving hoop 40 seconds later had the Pirates starting to celebrate. Cornwall finished with 13 points.
Moapa Valley will face Lowry (17-10) in the state semifinals at 2:30 p.m. Friday.
"This was very important," Anderson said. "Now we're the top seed, and we know the northern teams are really good. This gives us a better chance of playing on Saturday."
Madison Manns led Boulder City with 11 points. Keely Alexander had nine points for the Eagles (21-8), who will meet Northern Region champion Churchill County (24-2) in the semifinals at 11 a.m. Friday.
Box score:
Moapa Valley 50, Boulder City 44