Alaysia Reed sinks shot at buzzer to help Arbor View stun Cimarron
January 31, 2018 - 9:44 pm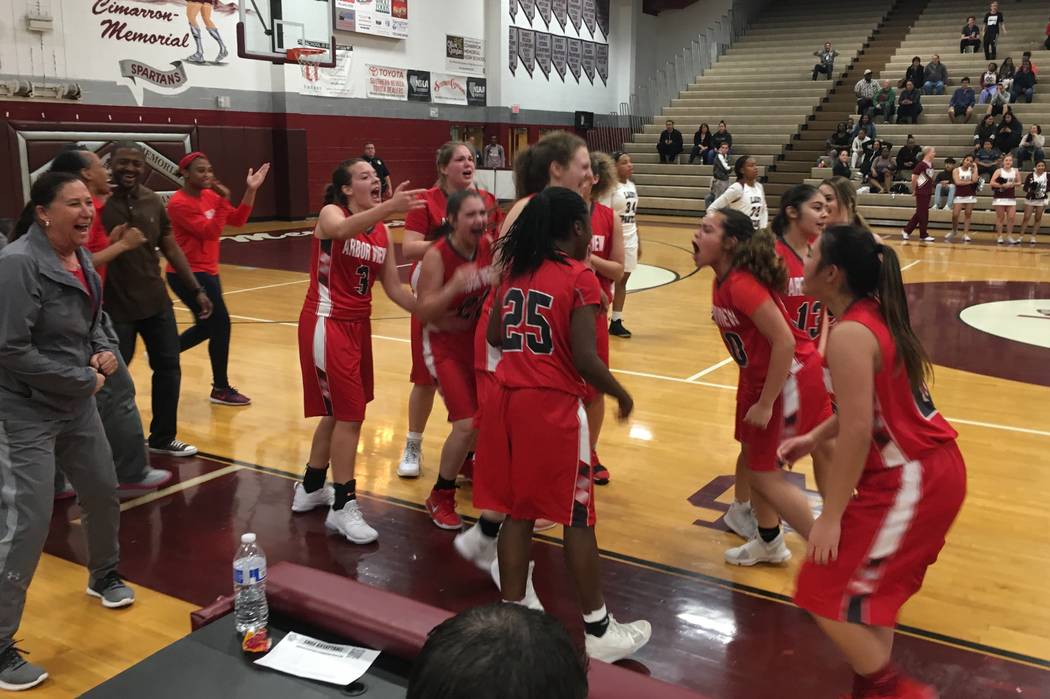 It's funny how fast things can change in a basketball game.
With seven seconds left, the Arbor View girls gave up the lead they had worked nearly all game to get. With three seconds left, the Aggies called a timeout to set up their final play.
And as time expired, senior Alaysia Reed's shot went in as the Aggies escaped Cimarron-Memorial with a 50-49 road victory Wednesday night.
"We gave all we had," Reed said. "We just came together as a team. We fought as a team and we won."
Reed was everywhere for the Aggies (12-10, 6-3 Northwest League), who grabbed sole possession of second place. She finished with a game-high 16 points, as well as 10 rebounds and five assists.
"Alaysia deserves it," Arbor View coach Annette Turley said.
Cimarron (18-7, 6-4) jumped out to a 14-3 lead in the opening minutes and built its advantage to as many as 13 points in the first half. But it was the last 20 seconds of the game that had everyone in the gym on their feet.
Cimarron's Amoura Whitney took the inbounds pass out of the timeout and drove the lane to give the Spartans a 49-48 lead with seven seconds left.
Madison Cvijanovich called a timeout with 3.3 seconds left for the Aggies, and they set up the play. Cvijanovich inbounded to Reed, who was stuffed in the lane and had to get creative. She heaved a shot from nearly under the basket at the buzzer, and somehow it went in.
"They had her stopped. She just found a way to go in and make that shot," Turley said. "They were all on her. I don't know how she did it."
The first half did not go as smoothly for Arbor View. The Aggies shot 33 percent (8-for-24) as a team from the floor, but trailed just 30-23 at halftime. And after not hitting a 3-pointer in the first two quarters, they were 4-for-9 in the second half to claw back, including Cvijanovich's trey to give Arbor View its first lead of the game with 4:41 left in the fourth.
Cvijanovich finished with 14 points for the Aggies and teammate Autumn Westmoreland scored 12.
Whitney led Cimarron with 13 point, and Tasia Moore had 12 points and 11 rebounds.
Contact Justin Emerson at jemerson@reviewjournal.com or (702) 387-2944. Follow @J15Emerson on Twitter.
Box score:
Arbor View 50, Cimarron-Memorial 49