Basics key in Green Valley win
December 9, 2013 - 11:03 pm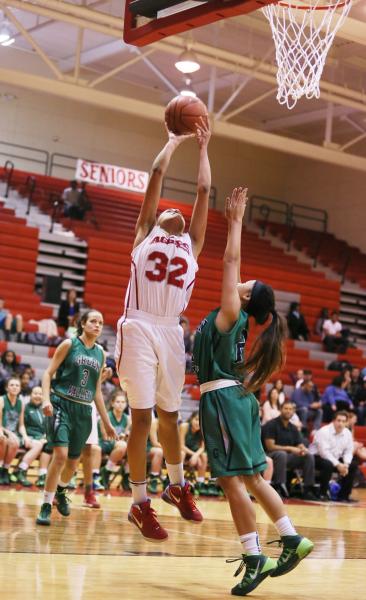 Green Valley girls basketball coach Eric Johnston devotes large portions of his practices to two simple skills: making layups and sinking free throws.
The two came in handy Monday.
The Gators cashed in on five second-half transition layups and shot well from the free-throw line to outlast host Arbor View, 61-54.
"Every practice we spend 20 minutes on layups and 20 minutes on free throws because if we want to play at the speed we do, we know we have to finish," Johnston said. "And we know when we get to the line, we've got to make them count.
"We do try to make that a focus."
In a game cluttered by 49 fouls and 49 turnovers, the Gators (3-0) made 22 of 29 free throws, including 12 of 15 in the second half. Arbor View, meanwhile shot a paltry 6 of 25 from the line.
Brooke Haney was 8-for-8 from the line, and Maggie Manwarren made 9 of 11 free throws for Green Valley, which trailed 26-23 at the half before switching from a man-to-man defense to a zone press.
The switch paid early dividends as the Gators used a 12-2 run at the start of the half to take the lead for good.
"We've been trying to be a man (to man) team, but we're still a ways from that," Johnston said. "We thought the zone press would work a little better, and we told the girls that they needed more energy. They're a big team, and we're not."
Green Valley bumped the lead to 47-38 early in the fourth quarter before Arbor View finally found holes in the zone.
The Aggies (4-3) closed to within 52-50 on Janae Strode's basket in the paint with 2:37 left and had three shots to tie the game before Green Valley iced the game.
Consecutive baskets by Haney and Alexxus Johnson off Arbor View turnovers extended the lead to 56-50, and after an Arbor View basket, a combined 5-for-6 effort from the line by Haney and Manwarren in the final 30 seconds secured the win.
"You can learn a lot about the toughness of your team and really set a tone for your season by playing games like these," Johnston said. "It's great for our younger kids. It shows them that if we get in spots like this, we know how to finish the game."
Manwarren had 15 points, and Ellee Barton added 11 points and 12 rebounds for Green Valley. Rianna Rudolph and Haney each added 10 points.
Strode, who made all five of her field goal attempts in the fourth quarter, finished with 18 points to lead Arbor View. Dana Lewis added eight points and 15 rebounds, and Ariona Gill and Jasmine Jordan scored eight points apiece for the Aggies.
Box score:
Green Valley 61, Arbor View 54