Centennial girls blow out Coronado to win 8th straight state title — PHOTOS
Updated February 25, 2023 - 6:43 pm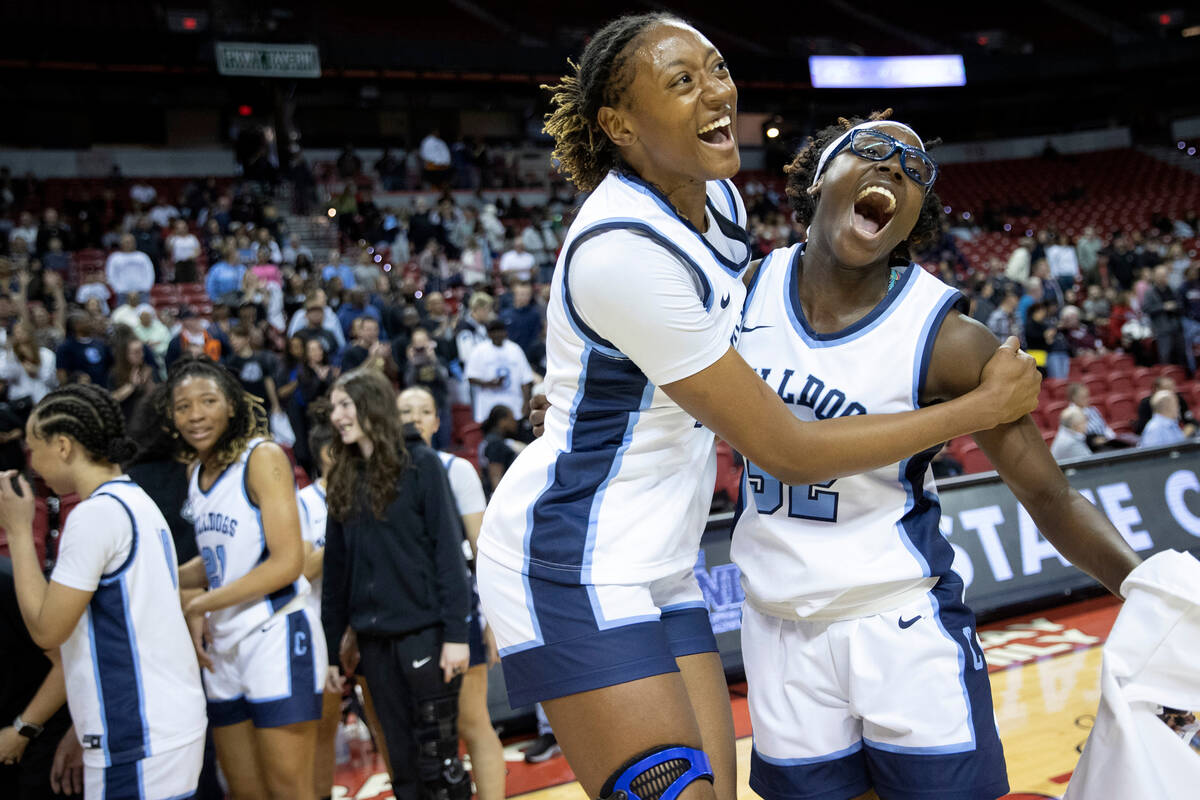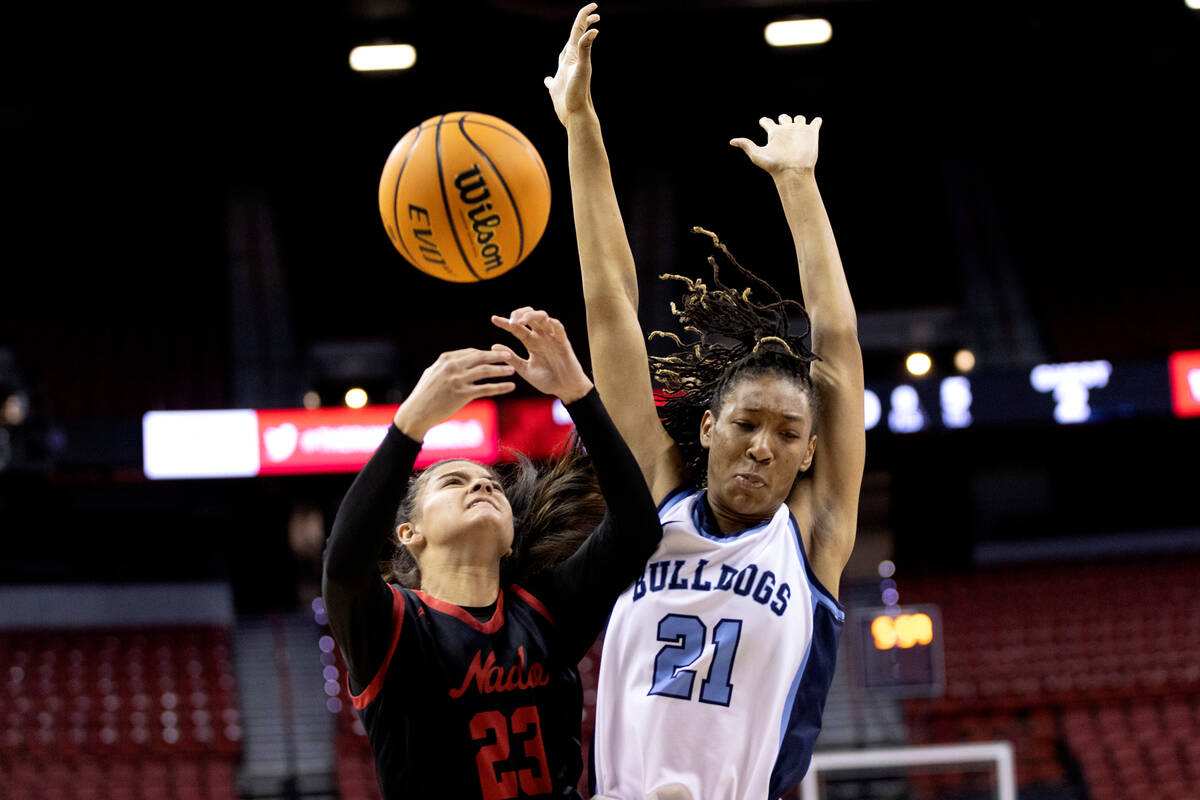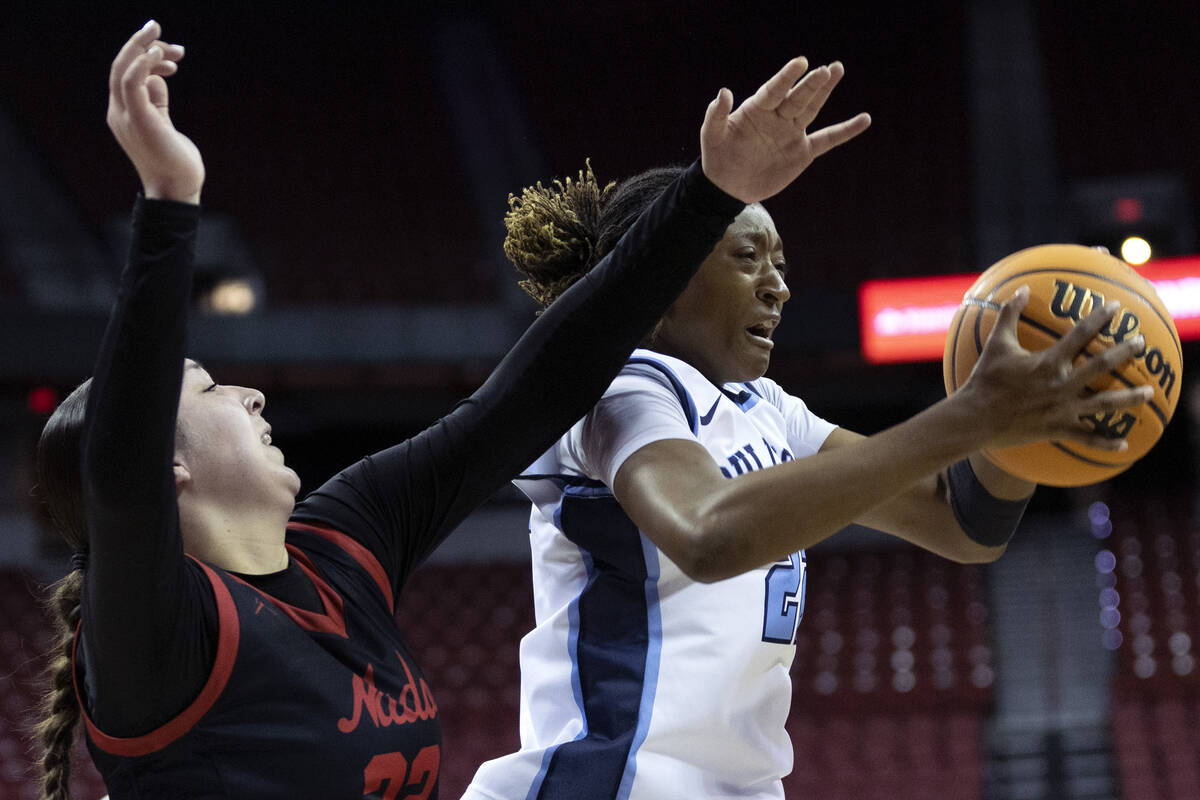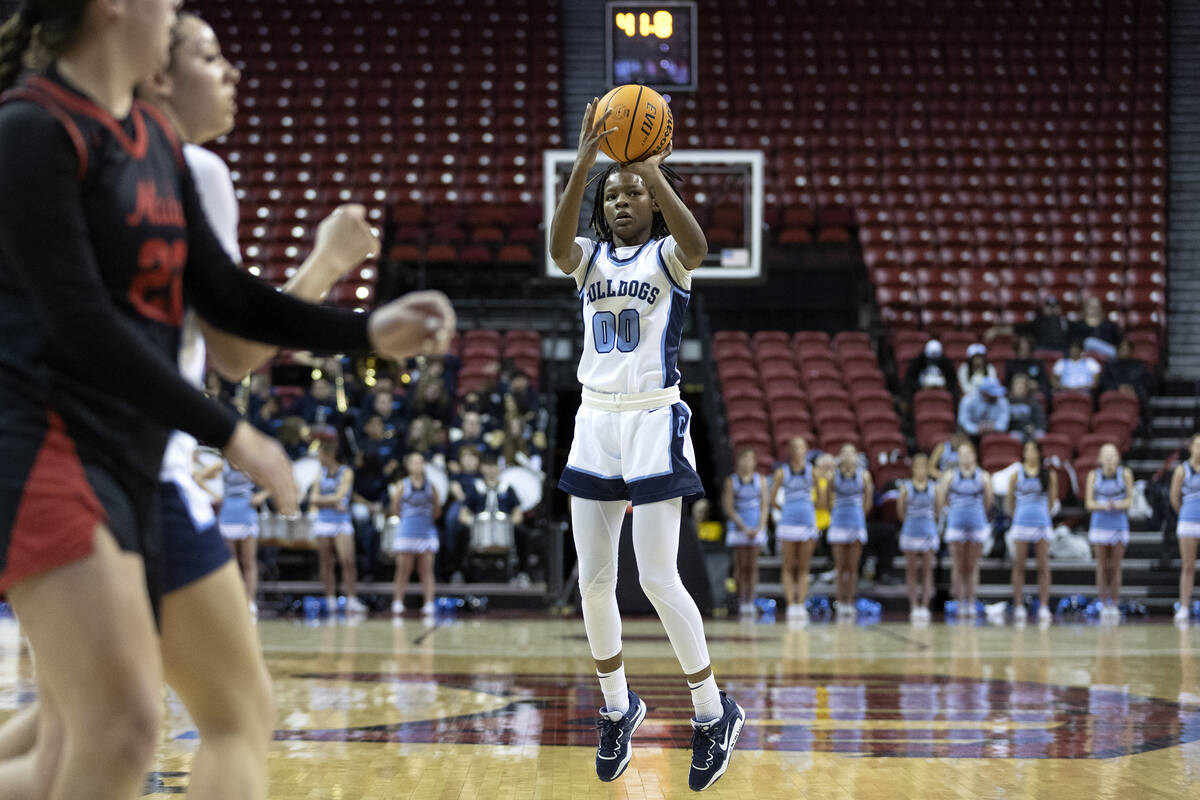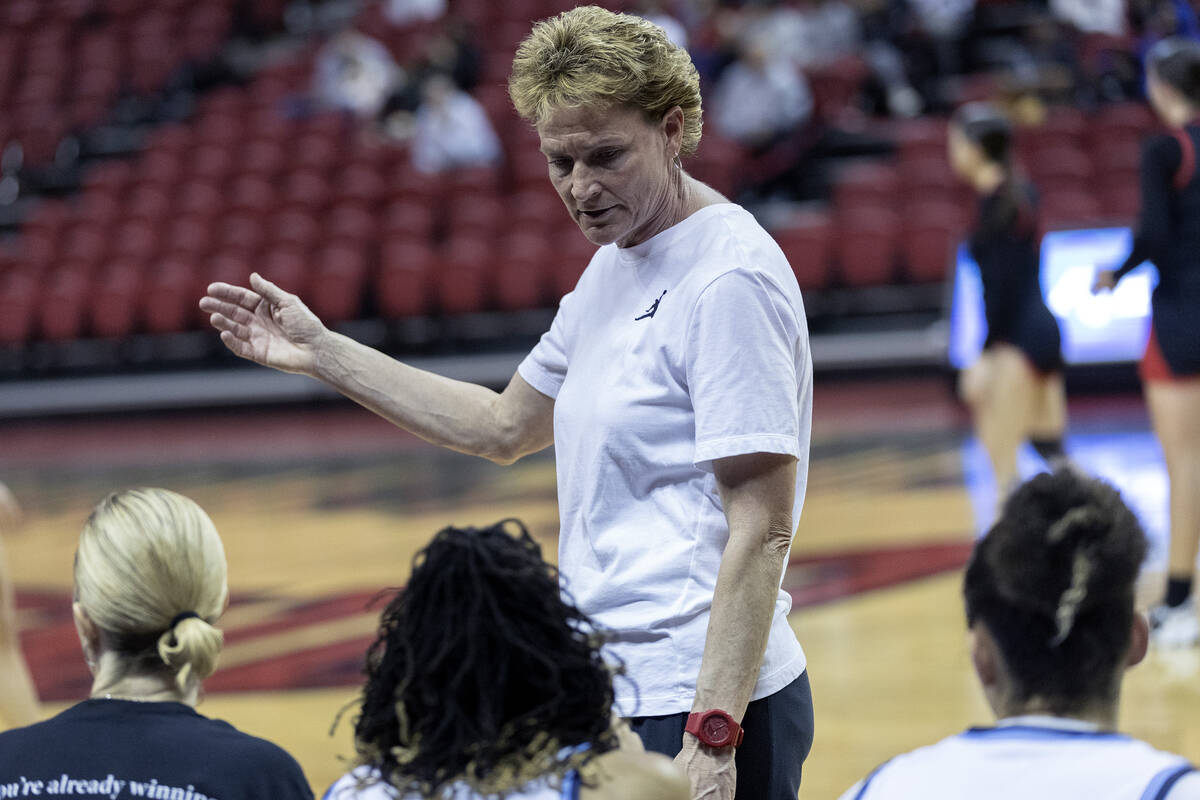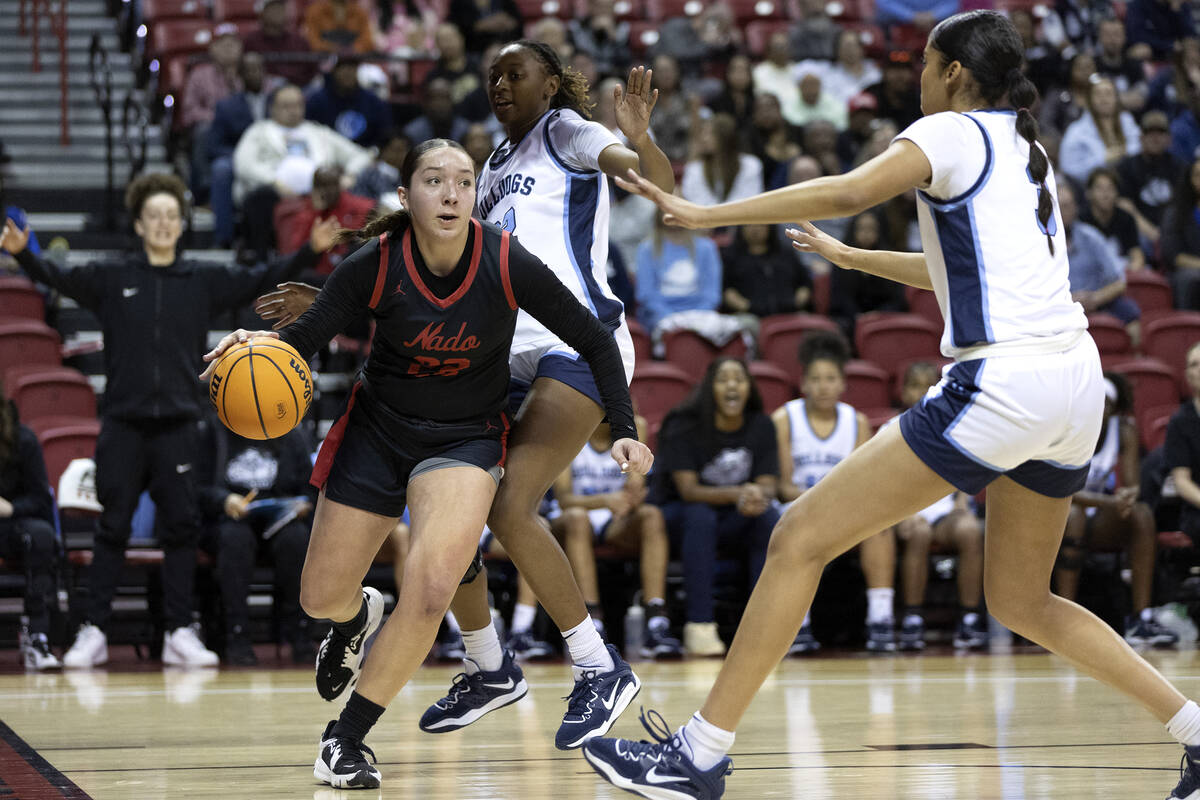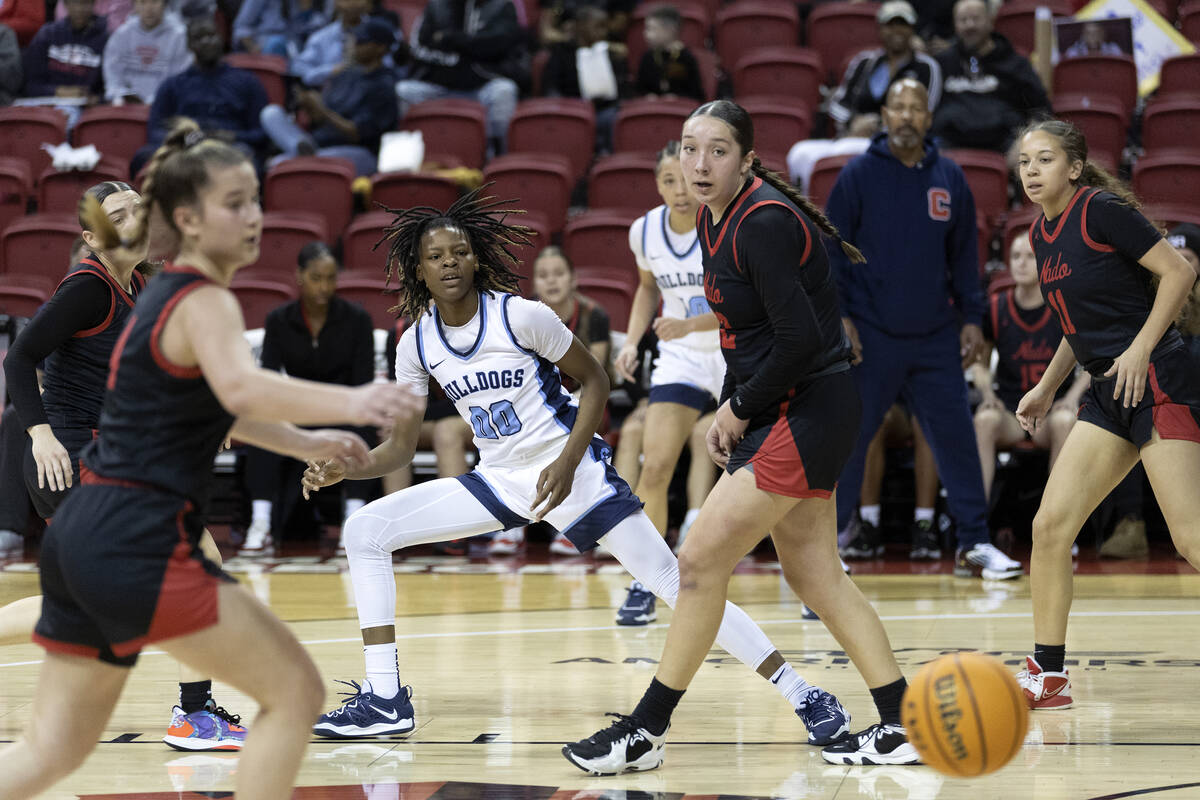 When Centennial's Karen Weitz started coaching, the accomplishments in the Nevada high school girls basketball record book seemed unfathomable.
Winning one state championship was an accomplishment, but Weitz said the thought of getting close to the state record for most titles was "crazy."
Weitz further etched her name in the record book Saturday, as she tied Pahranagat Valley's Amy Huntsman by winning her 14th state championship after the Bulldogs blew past Coronado 59-20 in the Class 5A title game at the Thomas & Mack Center.
It's the Bulldogs' eighth straight title and 14th overall. Junior guard Danae Powell led Centennial (24-1) with 11 points, and sophomore forward Ayla Williams scored nine in the Bulldogs' 24th straight win.
"It isn't really about me, it's about these kids," Weitz said. "We have several kids on the team that have just won their first one. That's exciting. They've worked really hard. We've stayed together year-round as a program. So for them to have this benefit and get this reward, I'm really happy for them."
Centennial used its defense to create offense in the third quarter. The Bulldogs forced three early turnovers by Coronado (21-9), which ignited an 18-0 run during a six-minute stretch to put the game out of reach.
"We had to have a good third quarter to get (Coronado) on their heels and not let them have a chance to come back," Powell said.
Centennial's athleticism and depth ran off Coronado's shooters and denied any opportunities inside. The Bulldogs' notorious pressure defense was in full effect in the second half.
"Their composure held true, especially in the second half," Weitz said. "I thought they responded to our halftime speech. They just came out and exploded on offense, and we never looked back."
Williams scored all of her points in the third as Centennial outscored Coronado 22-4. Williams has been recovering from an ACL injury and was cleared to play three weeks ago.
"She's a super great kid," Weitz said. "She does whatever is needed to be done for the team. … She knew what she needed to do today, and I thought she was big today."
Five Bulldogs scored in the first quarter, and an 8-0 run gave them a nine-point lead.
A jumper from senior guard Kaylee Walters at the 6:34 mark was Coronado's only field goal in the first quarter. The Cougars went more than nine minutes until their next field goal, a layup from senior guard Gabrielle De La Cruz with 5:16 left in the second quarter.
Centennial slowly built up its lead by attacking the basket, converting on second-chance opportunities and getting to the free-throw line. Defensively, Centennial allowed three first-quarter field goals and led 26-11 at halftime.
The Bulldogs used a balanced scoring attack, as eight players scored five or more points. De La Cruz led Coronado with seven points.
Weitz said she thought the record for most state titles from a coach was 15 and didn't know she had tied the record. Weitz, who also coached the boys team this year, said the support she has received from past players who celebrate the new state titles makes winning even more special.
"People always say to me, 'You don't look happy,'" Weitz said. "I am happy, but it's not about me. I've won one before. I want them to experience this stuff. They'll remember this for the rest of their lives."
Contact Alex Wright at awright@reviewjournal.com. Follow @AlexWright1028 on Twitter.