Centennial girls romp, will play Coronado for state title — PHOTOS
Updated February 24, 2023 - 11:15 pm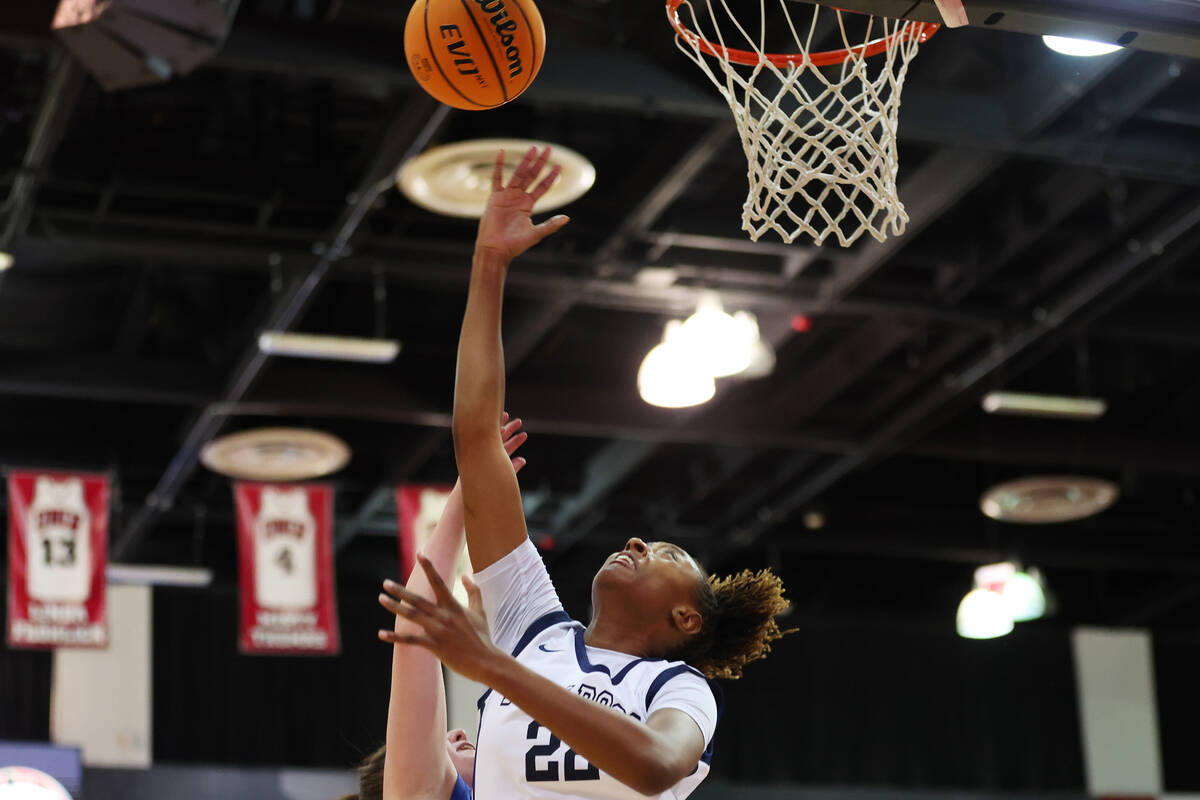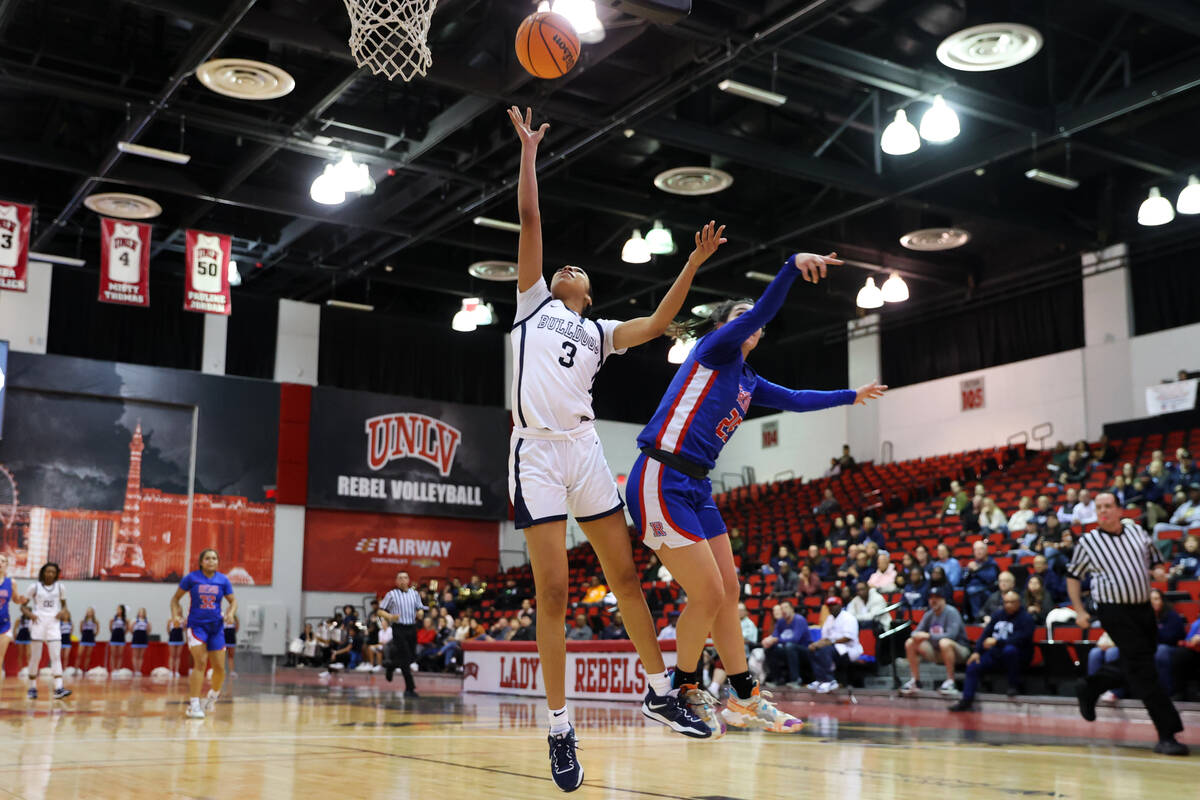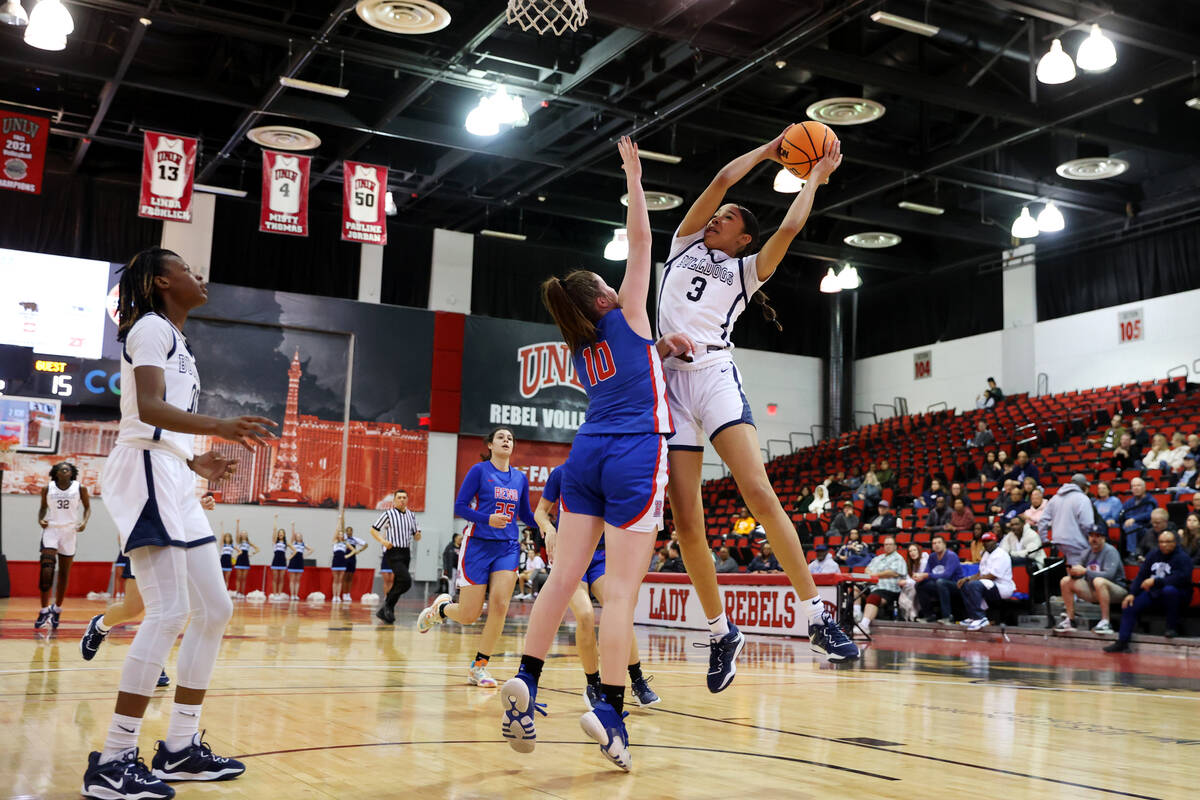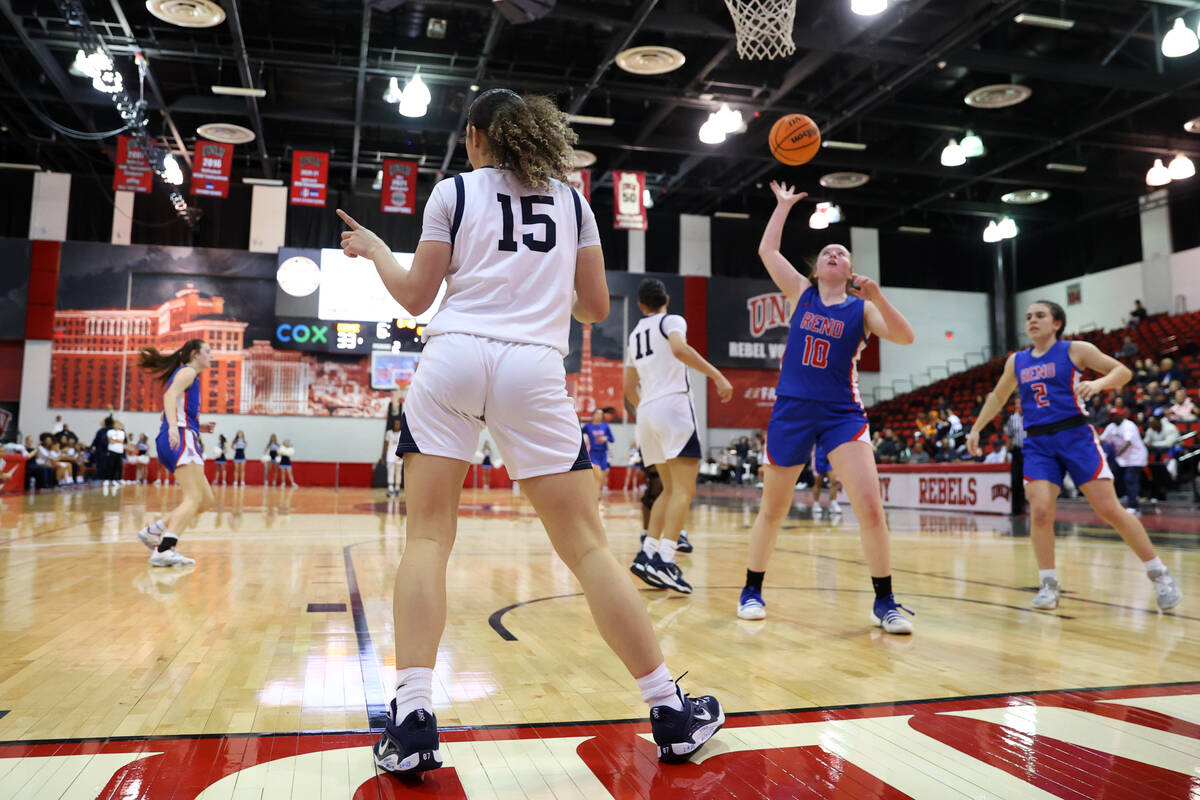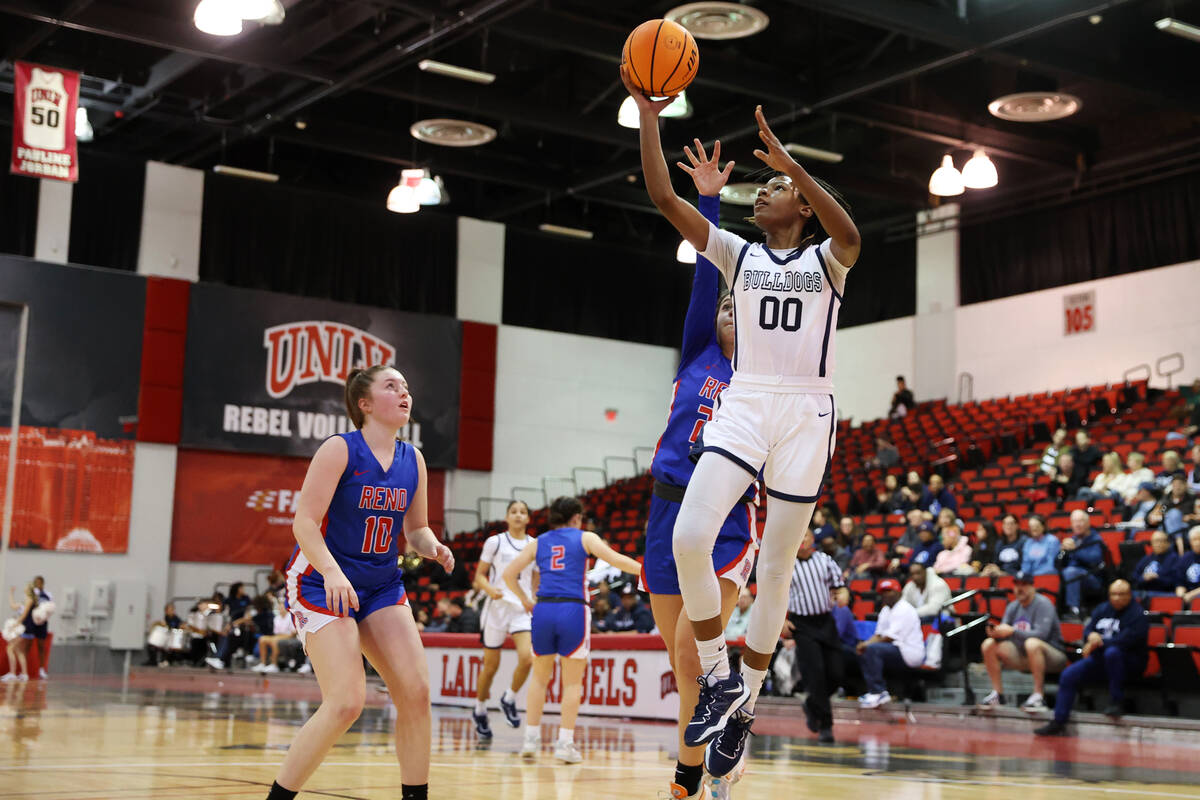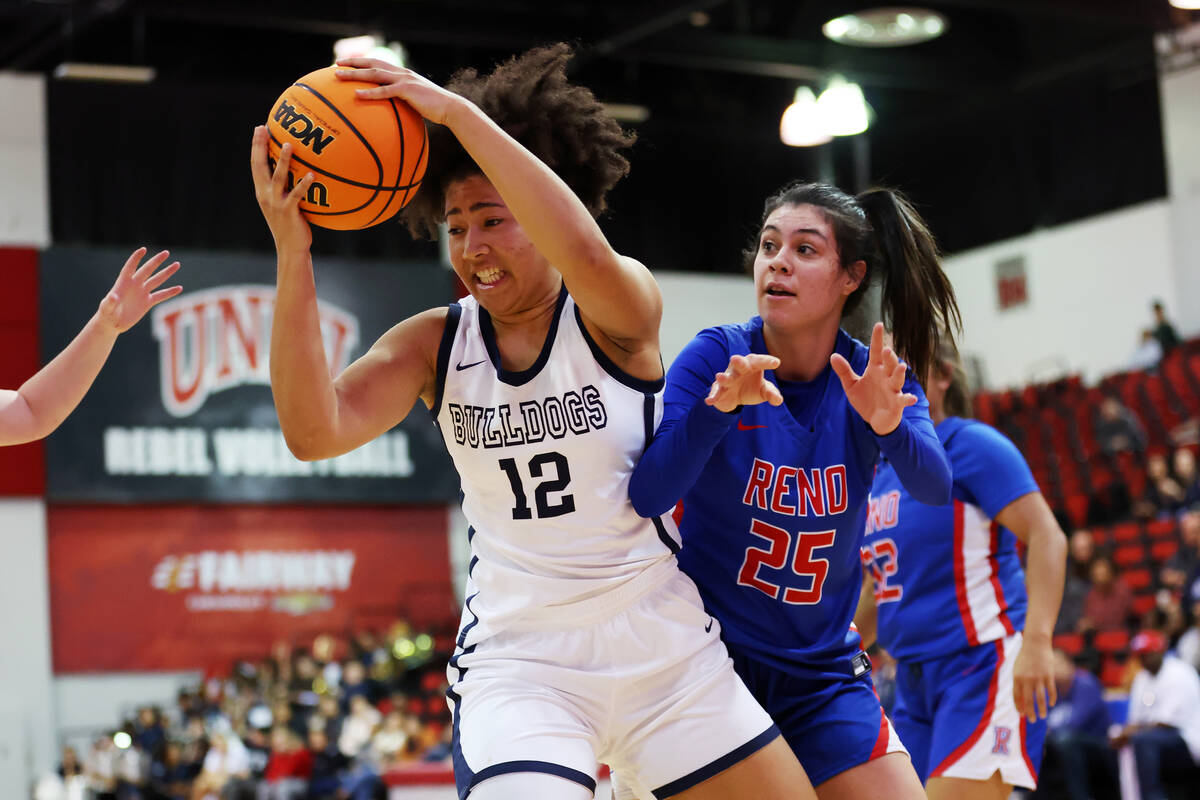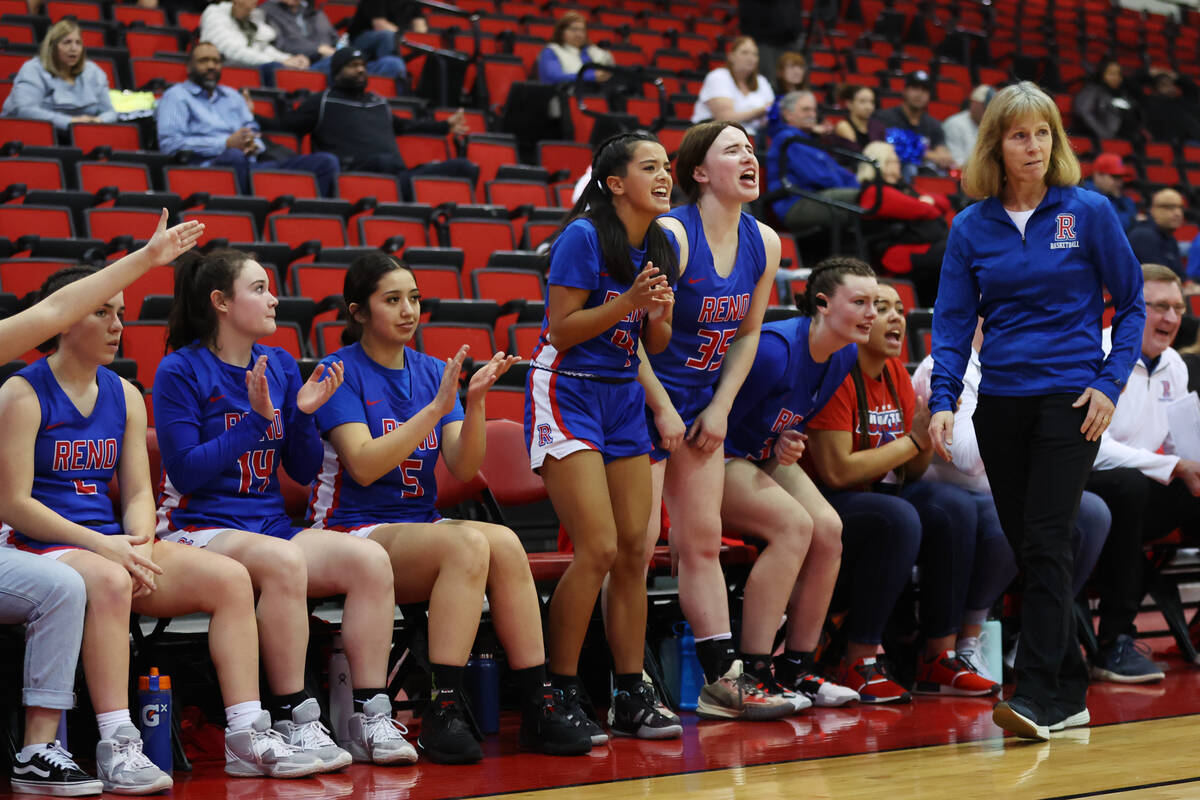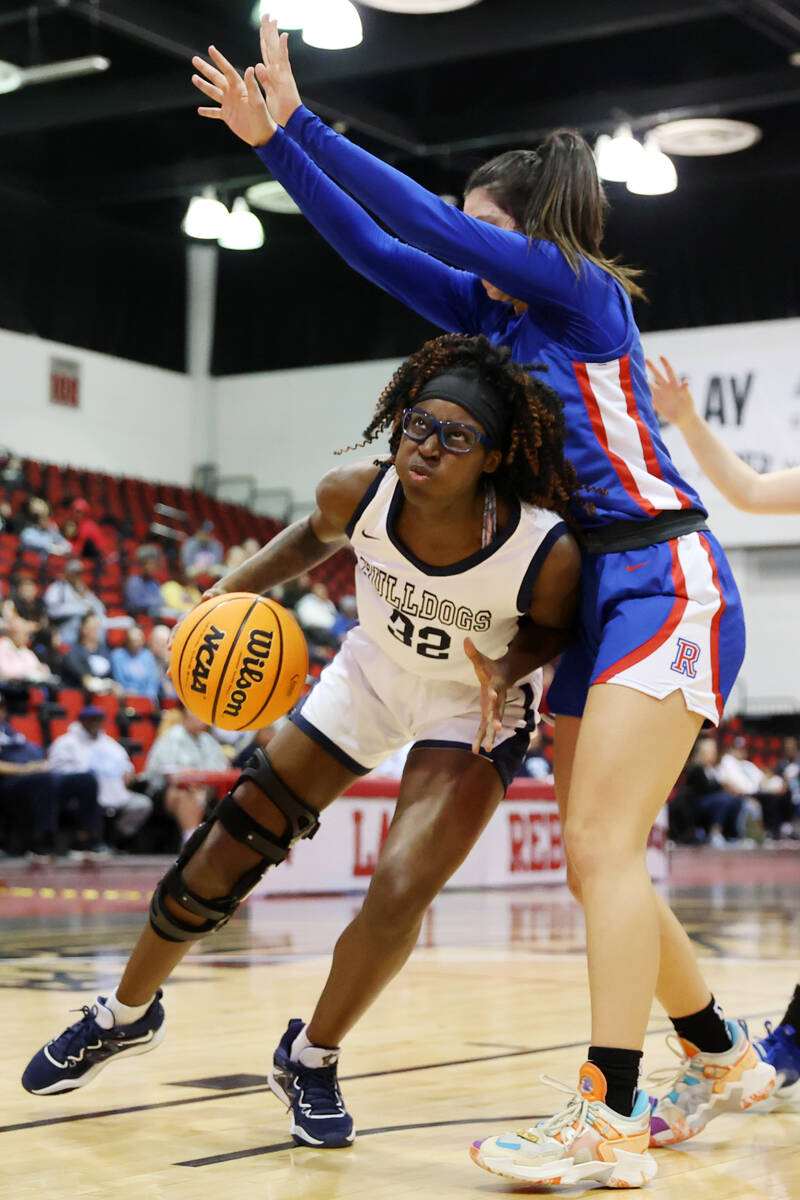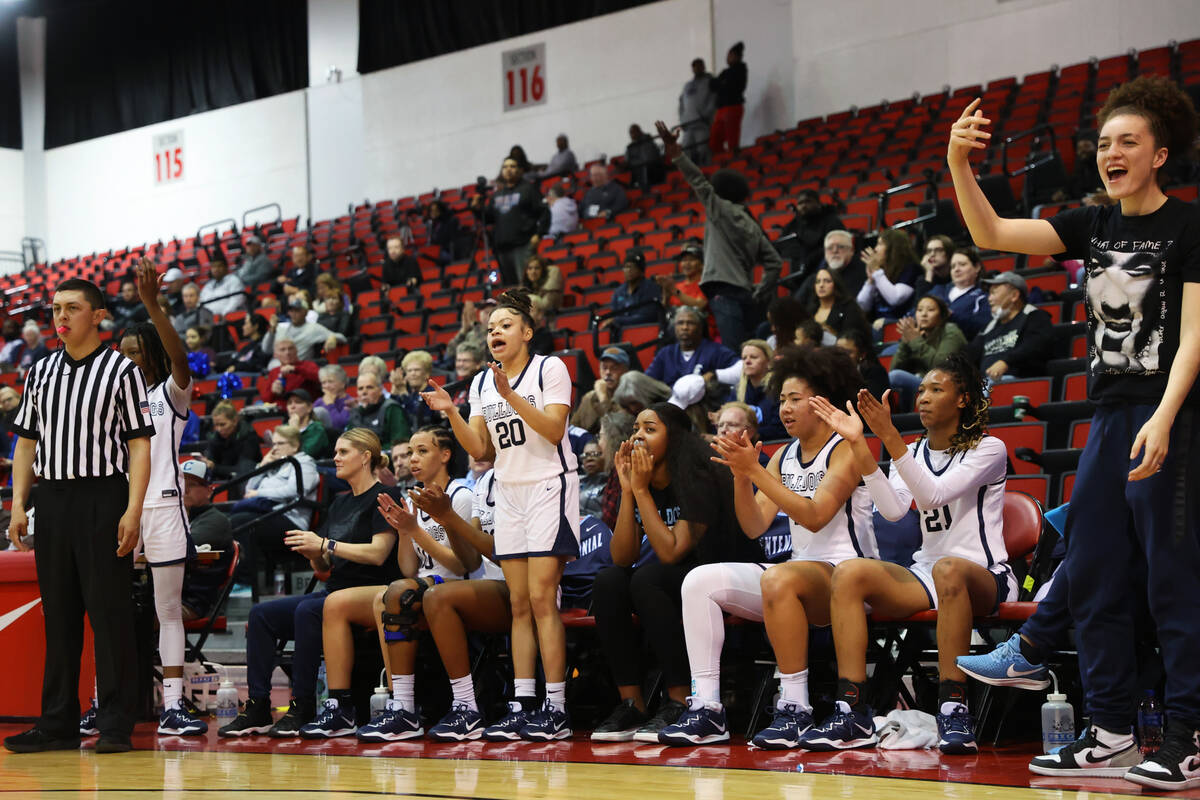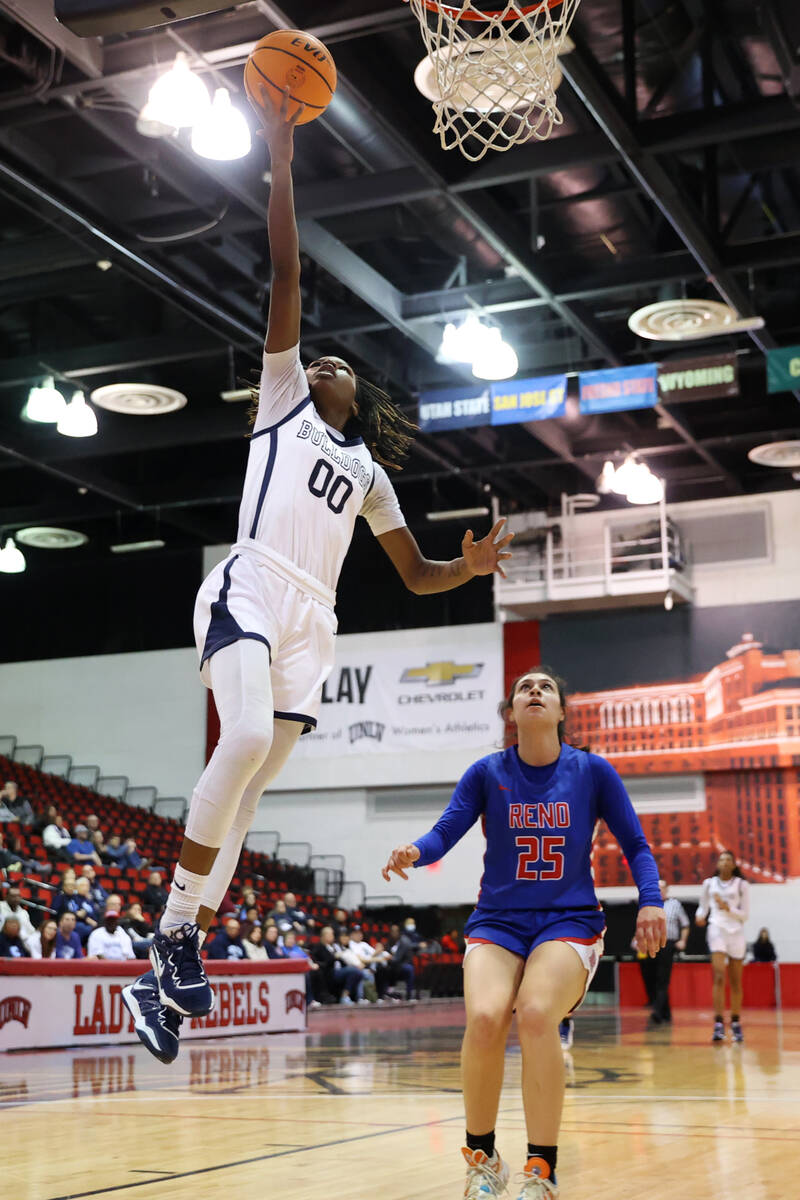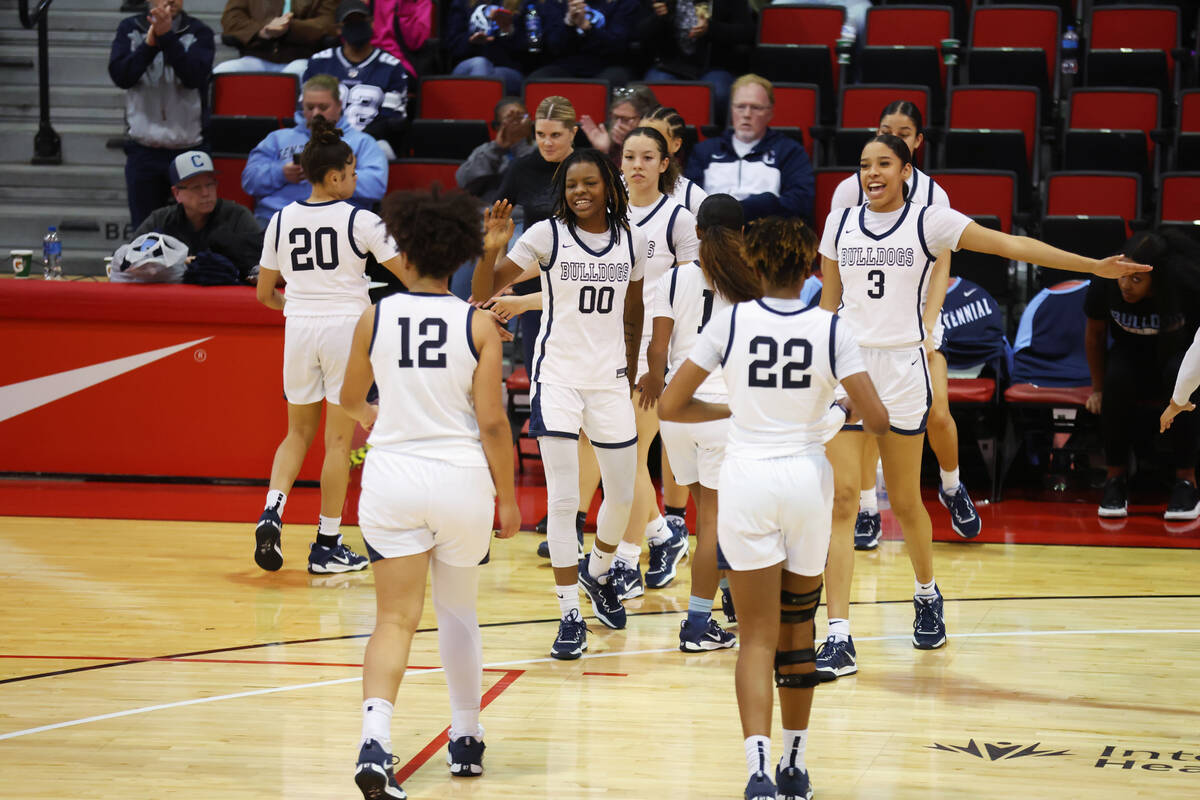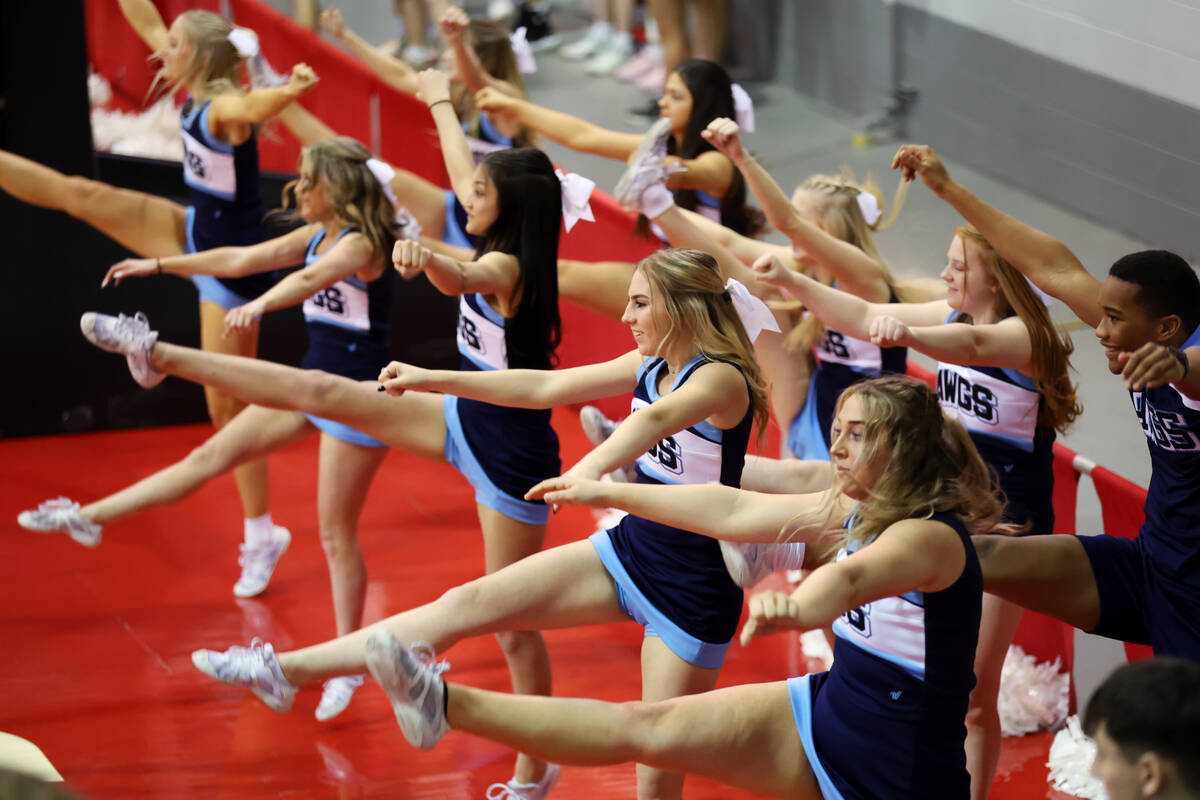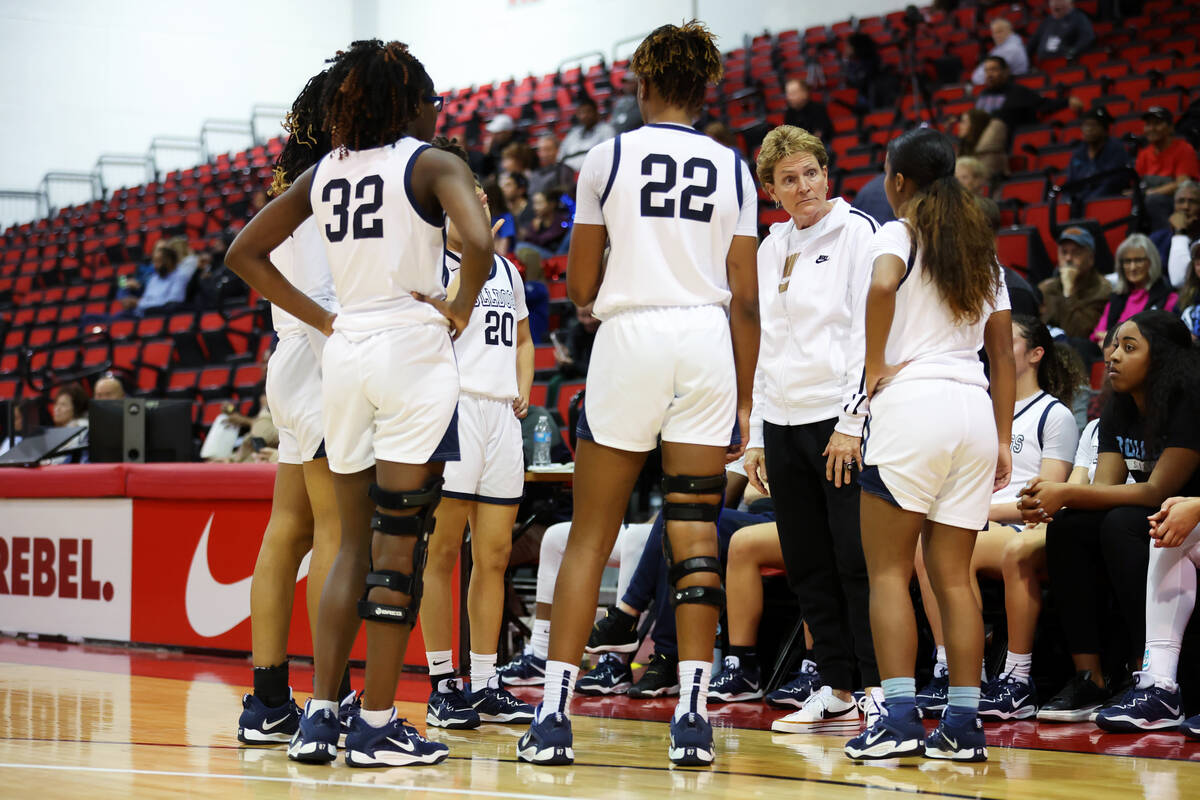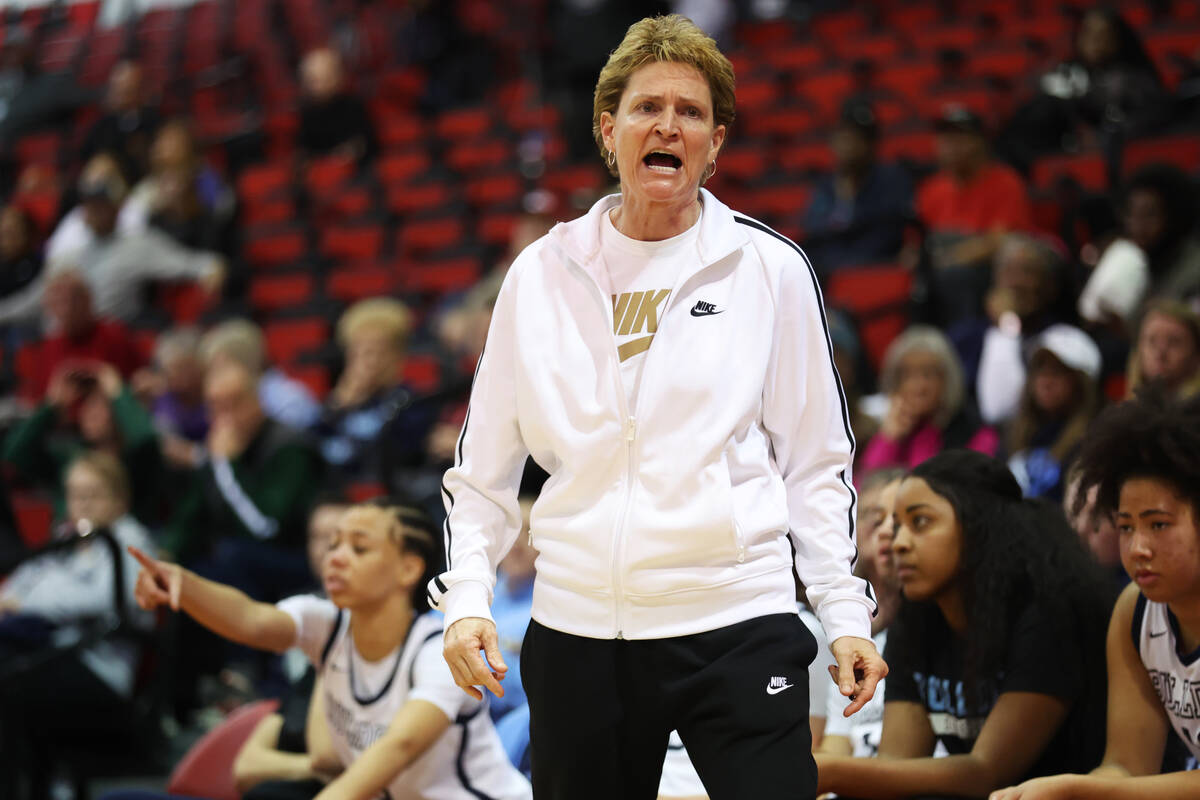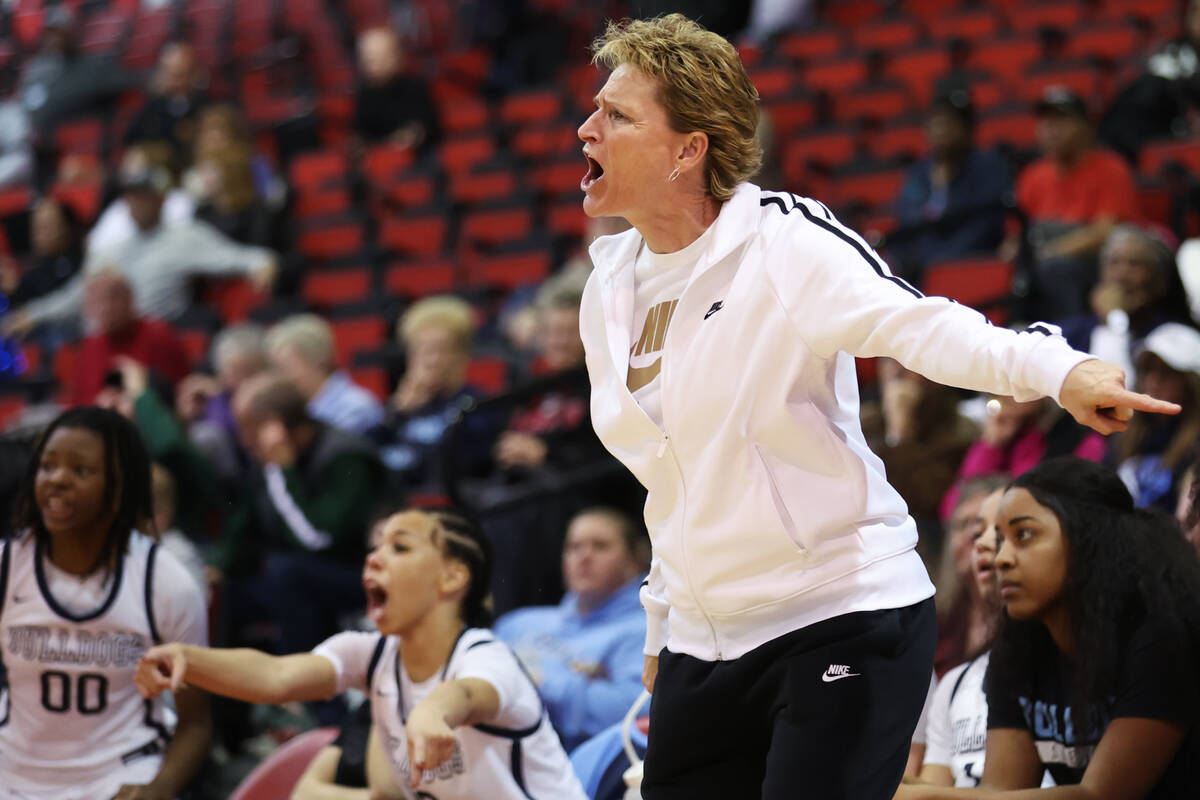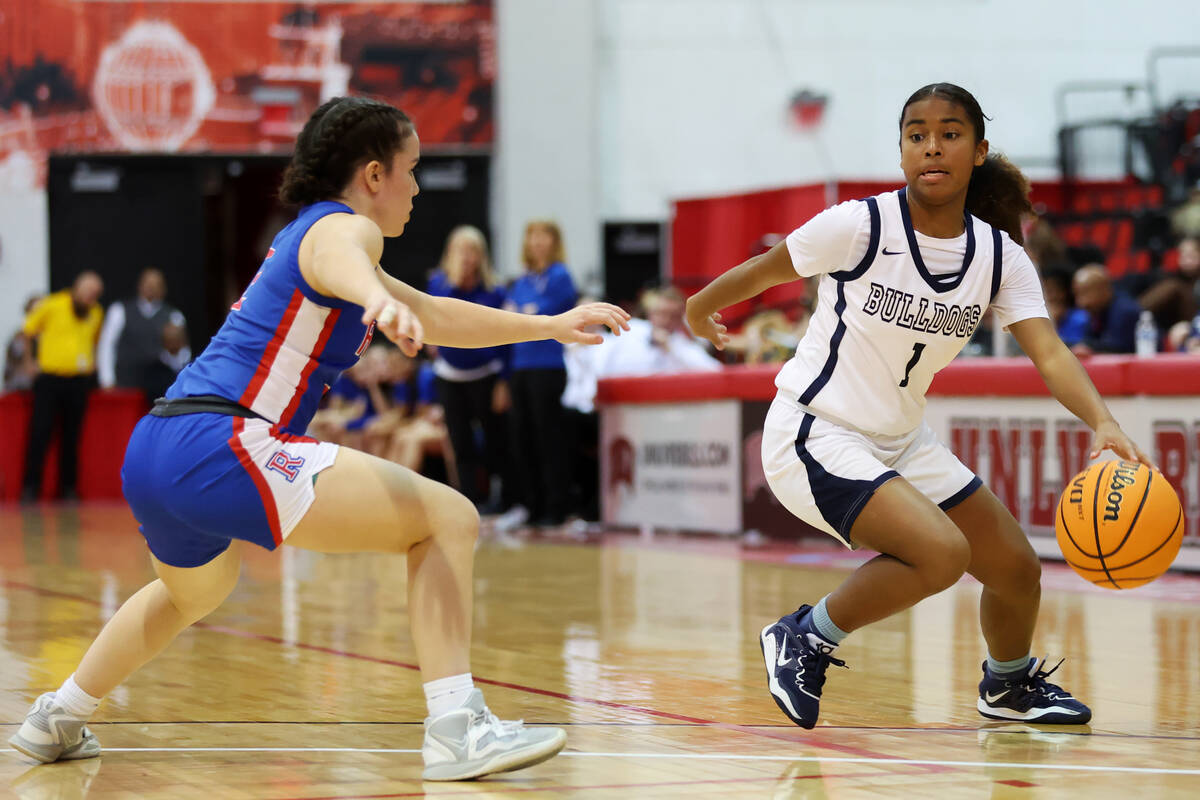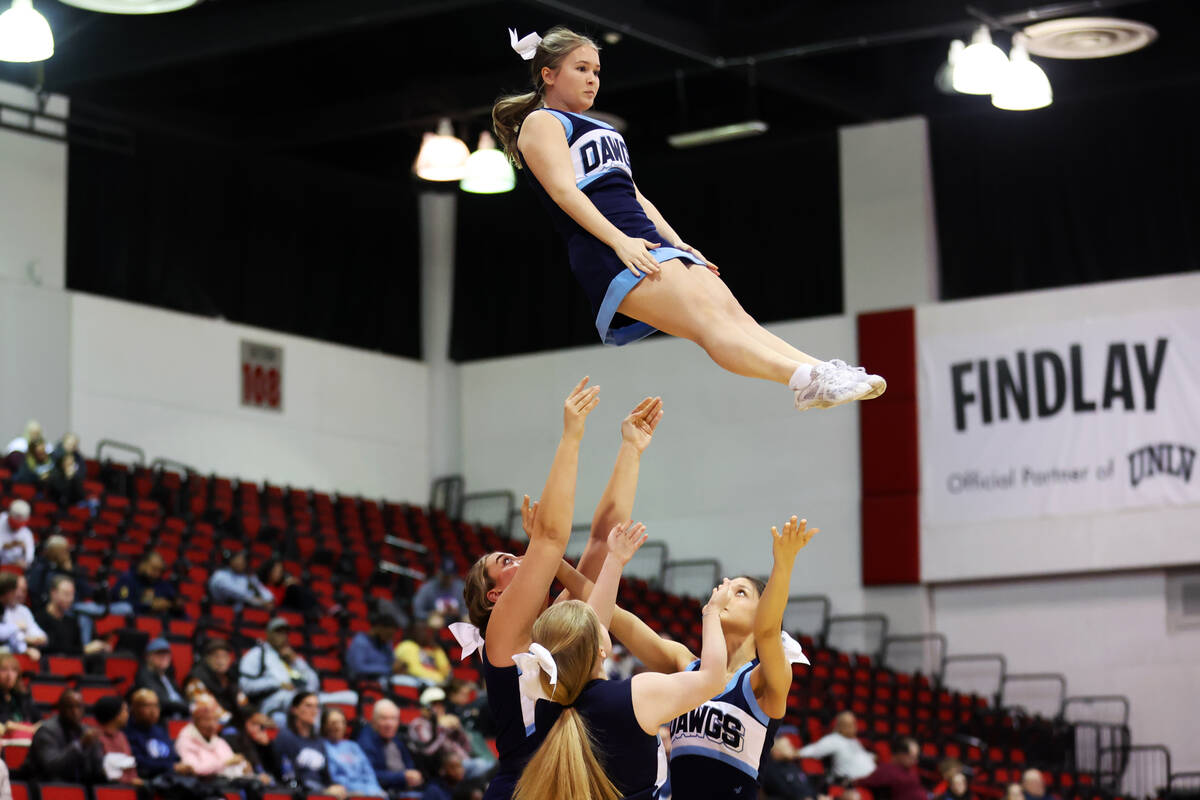 Reno High eliminated Centennial's girls basketball team in the state semifinal three consecutive seasons from 2012 to 2014.
The Bulldogs used their depth and defense to make sure that didn't happen again this season.
Centennial forced 27 turnovers, turning them into 43 points, en route to an easy 78-29 win over the Huskies in the Class 5A state semifinals Friday at Cox Pavilion.
"I feel like we had ups and downs with defense this game, but defense is just what wins games," junior guard Danae Powell said. "Rebounds and defense."
Centennial (23-1) will play Coronado (21-8), a 47-35 winner over Bishop Manogue in the other semifinal, in the state title game at 1:40 p.m. Saturday at the Thomas & Mack Center. The Bulldogs are seeking an eighth consecutive state title.
Centennial has won 23 consecutive games, and has claimed the state title every season since Reno won back-to-back crowns in 2013 and 2014. (There was no state tournament in 2021.)
"It's obviously exciting, but nothing new for us," Powell said of advancing to the final. "We work really hard for this, and we're ready for it."
Centennial was ready for the Huskies (24-7) from the tip, forcing turnovers on Reno's first five possessions. The Bulldogs forced 11 turnovers in the first quarter as they took a 26-9 lead. They used a 26-0 run in the first and second quarters, capped by a pair of free throws by Powell with 5:43 to go in the half, to take a 39-9 lead.
"We work hard on defense," said Centennial coach Karen Weitz, who is seeking her 14th state championship, which would tie for a state record with Pahranagat Valley's Amy Huntsman. "I don't know what other teams do, but we preach it and we work on it every day in practice. We work on proper positioning, we work on the techniques of where we need to be, the rotations. That's stuff we work on, so we want it to be something that's going to help us and benefit us."
Depth also played a role as the Bulldogs quickly wore down the Huskies. Centennial played 10 players in the first quarter and 11 in the first half. Reno used only eight players in the game and relied on its starters most of the way.
"We've tried to make that, as far as our program, a strength," Weitz said. "I trust all 11 girls that I have, and I'm not afraid to try any one of them at any time. Even if we're not having a good flow, I don't have a problem with throwing three or four new girls back out there. And sometimes we find that three or four to get us going."
Centennial got plenty of contributions from the bench Friday, with Jada Price scoring 14 points and Charlece Ohiaeri eight. Asani Ceaser added seven rebounds off the bench.
Guards Powell and Kaniya Boyd keyed the first unit. Powell had 18 points, four rebounds, four assists and four steals, and Boyd had 13 points, three rebounds, five assists and six steals.
"We've just got to do what we do," Powell said. "We don't have to worry about whoever we play. If we do us, we'll be good."
Adia Walker led Reno with 16 points, nine rebounds and three blocked shots.
Coronado pulls through
Coronado didn't always play the way coach Ronald Childress wanted, but the Cougars were able to outlast Northern champion Bishop Manogue to advance to the title game.
Senior guard Kaylee Walters led Coronado with 12 points, and senior guard Gabrielle De La Cruz scored nine.
Childress said the main difference in the second half was freshman point guard Fa'anaetaua Puloka shooting less in the second half for Manogue (18-9). Puloka scored all 17 of her points in the first half and made five 3-pointers.
"That helped us," Childress said. "It was more of her not shooting. Our defense didn't really change. We just weren't aggressive. We weren't hungry."
Coronado's offensive struggles in the second half let Manogue back in the game. The Cougars, who led by as many as 14 points in the first half, made just one field goal in the third quarter.
Entering the fourth quarter leading by four, Coronado found just enough of an offensive spark. Walters made a layup, and junior guard Jaila Childress made a jumper and 3-pointer as the Cougars started the quarter on a 7-1 run.
Coronado limited Manogue to one field goal in the fourth and made just enough free throws down the stretch to maintain control of the game.
"They got to be smart," Childress said. "If we're going to compete (against Centennial), we have to be smart."
Coronado used a balanced scoring attack and forced seven first-quarter turnovers to lead 18-10 after one. The Cougars' defense held Manogue to four points in the final 4:40.
Coronado held Manogue scoreless for nearly five minutes in the second quarter and led 27-13. But the Cougars left Puloka open down the stretch.
She scored all 11 of Bishop Manogue's second-quarter points, eight coming in the final two minutes, to cut Coronado's lead to 29-21 at halftime.
Coronado lost to Centennial 64-27 on Feb. 17 in the Southern League title game. Childress said with the depth and system Centennial has, his team cannot afford to play as it did against Manogue.
"Centennial just has a system," Childress said. "You either play hard or you sit. We have to play smart and with energy to compete in the game."
Review-Journal reporter Alex Wright contributed to this story.