Centennial girls trying to push through Reno's state roadblock
February 26, 2014 - 10:24 pm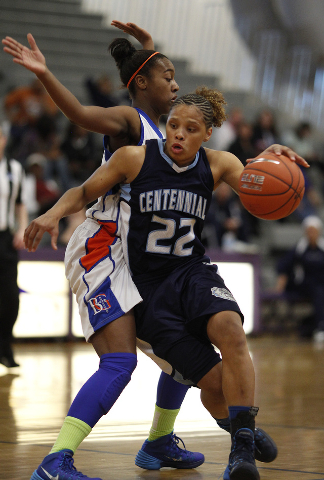 Success in the state tournament seemed to come easy for Centennial's girls basketball team.
The Bulldogs won six large-school championships in a 10-year span that ended with the 2010-11 season.
But in each of the past two seasons, Reno High ended Centennial's chance to add to its glory. The Bulldogs (24-5) will get a shot at revenge at 6:20 p.m. today when they face the Huskies (28-1) in a Division I state semifinal at UNR's Lawlor Events Center.
Liberty (25-4) will meet Bishop Manogue (20-5) in the first semifinal at 3 p.m. The winners return at 6:10 p.m. Friday.
"Every year is a new year, and you have different team dynamics," Centennial coach Karen Weitz said. "We're definitely going to go up there and compete."
Centennial lost to Reno 60-41 in the 2012 state semifinals and dropped a 53-44 decision to the eventual state champion Huskies in last year's state semifinals.
"We haven't played as a team when we've come against them," Centennial senior guard Paige Barber said. "We just need to play like we know how to and how we practice every day."
The Bulldogs and Huskies are familiar with each other. They met twice last year, and Reno competed in Centennial's Las Vegas Holiday Classic tournament after Christmas. The Huskies won all six of their games in the tournament this year, including a 58-24 win over Arbor View and a 67-47 victory against Foothill.
The Huskies pose a huge problem for most opponents because of their size. Sisters Morgan McGwire, a 6-foot-1-inch senior, and Mallory McGwire, a 6-4 sophomore, patrol the post. Mallory averages 16.0 points and 11.7 rebounds and Mallory 12.5 points and 10.5 rebounds.
Reno also has 6-0 senior guard Shalen Shaw, who averages 10.1 points, 5.4 rebounds and 7.0 assists.
Centennial's tallest player is listed at 5-9.
"Everybody says we're so mismatched because they're bigger," Weitz said. "We'd like to think that we pose the same problem in the opposite direction. Do people look at us and say, 'They're so much smaller. What are you going to do?' We have to be physical. We know that. I've always had small teams. We're going to stay scrappy."
The Bulldogs have had plenty of practice against taller teams, including three games against Bishop Gorman, which boasts 6-2 posts and a 6-1 wing.
"Our coach has us prepared with our footwork on how to play against bigger people," senior post Teirra Hicks said. "If we can just keep them in front of us and use our strength, it makes it harder for them to get rebounds and go back up."
Centennial makes up for the lack of height with an aggressive defense. The Bulldogs will trap all over the floor. In the final two games of the Sunset Region tournament against Arbor View and Gorman, Centennial forced a total of 70 turnovers.
"I was always taught the game starts from the inside out, so of course we're going to have to get some points in the paint, whether that's layups off our defense or midrange jumpers," Weitz said.
Liberty is making its fourth state tournament trip in the past five years and hoping to reach the title game for the second time. Manogue, which has one of the state's top scorers in junior guard Breezi Holt (19.2 ppg), is making its first state tournament appearance since it won the Class 3A title in 2003.
Contact reporter Bartt Davis at bdavis@reviewjournal.com or 702-387-5230.