DIVISION I GIRLS: Patriots' usual inside strength negated by defending champ's sister duo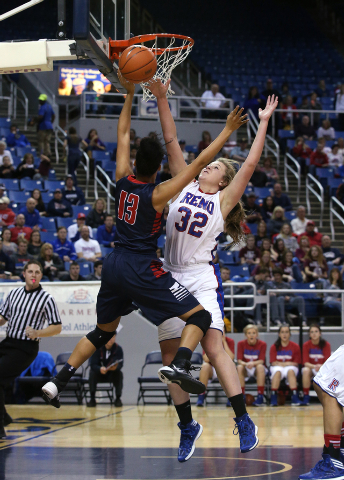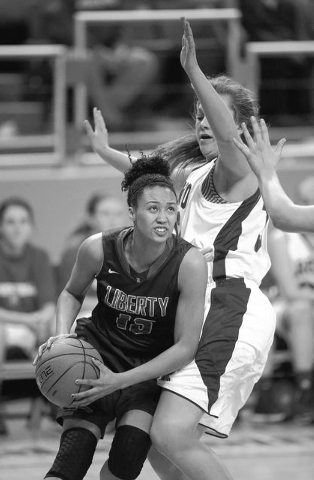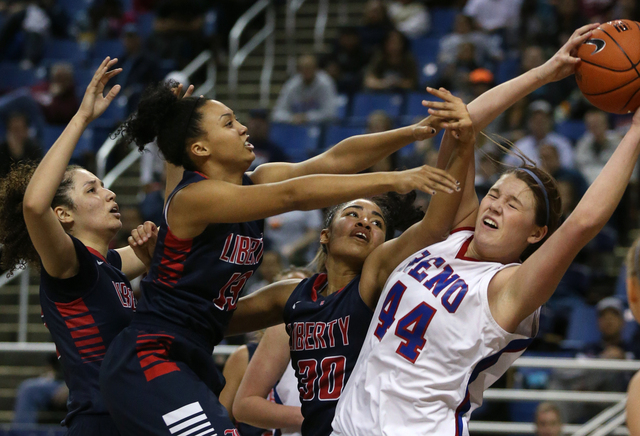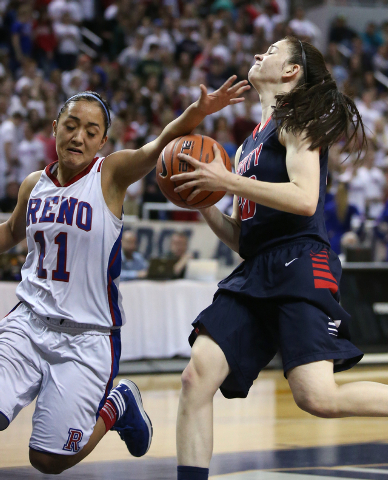 RENO — Liberty's girls basketball team had a significant height advantage over most of its opponents this season.
The Patriots boast four players among their top eight who stand at least 6-feet tall.
But on Friday, Liberty suddenly was staring straight into the eyes, or even a little up, at Reno.
The Patriots struggled to maintain a consistent offense against the Huskies' big post players and dropped a 50-39 decision to Reno in the Division I state championship game at UNR's Lawlor Events Center.
Reno (29-1) successfully defended its state title.
"We had a hard time because of their length," Liberty coach Rich Santigate said.
Reno's post duo of sophomore Mallory McGwire (6-4) and senior Morgan McGwire (6-1) created problems for Liberty down low and never let the Patriots get untracked.
Liberty (26-5) shot just 12 of 50 from the field and led only once — at 4-2 as the Patriots' first four points came from the free-throw line. Liberty made just 1 of its first 14 shots.
"We knew this would be a different basketball game," Reno coach Shane Foster said. "We're used to having a height advantage, and they're every bit as big as we are. I'm proud of our girls."
Mallory McGwire did much of Reno's first-half work, scoring seven points and grabbing five rebounds to help the Huskies to a 23-17 lead. Morgan McGwire was in early foul trouble and had just four points in the half.
But the older sister made up for it in the second half, scoring 10 of her 14 points and finishing with six rebounds.
"Morgan got those early fouls, and she put pressure on herself in the third quarter," Foster said. "In the fourth quarter, she was very good offensively. She's always been a very good defensive player and a great rebounder."
Alyson Rippingham hit two first-half 3-pointers to help open up Liberty's defense. Rippingham finished with 13 points for Reno, which also had a 41-28 rebounding edge.
"Rebounding was a big key for us," Foster said. "This was harder than last year. The target was on our back. We got everybody's best effort."
Reno threatened in the second and third quarters to pull away, but the Patriots stayed within arm's length, cutting the lead to 30-26 on a transition basket by Kealy Brown with 1:15 left in the third quarter and still was within 36-30 before Rippingham scored in transition with 4:10 left in the game.
"We played hard," Santigate said. "They're a very good team. In their arena, their fans, and you're the one who has to travel, I'm not saying there are any advantages there. But they're very good."
Liberty, appearing in its second title game, made just 3 of 16 field goals in the fourth quarter, hitting on 2 of 10 3-pointers in the quarter, as it tried to make up the deficit.
Paris Strawther shook off a slow start to finish with 14 points and 11 rebounds for the Patriots. Brown scored 12.
"We just didn't have enough offense to finish it off," Santigate said. "I'm a big believer that you've got to be there. You've got to be in it to win it, and a team like (Reno) goes back to back, four seniors starting. We're very young. It's good experience."
Box score: