Doxtator directs Foothill past No. 4 Canyon Springs
December 17, 2014 - 12:05 am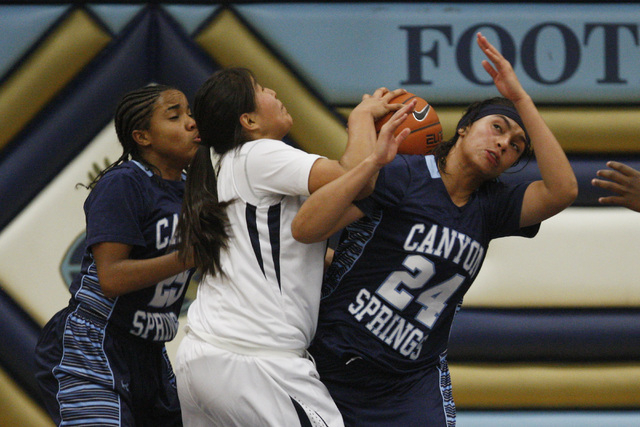 Gabby Doxtator is asked to handle a lot of duties on Foothill's girls basketball team. Scoring 20 points in a game usually isn't one of them.
But with the Falcons' top player saddled with foul trouble early in the third quarter Tuesday, the 5-foot-11-inch Doxtator stepped into a scoring role and helped host Foothill overcome No. 4 Canyon Springs 68-60.
Doxtator scored 16 of her 20 points in the second half, including the first five in a 7-0 run that gave the No. 6 Falcons the lead for good midway through the third quarter.
"Gabby is just such a utility player," Foothill coach Eric Kruger said. "She can play any spot on the floor as well as most players in the city. She's obviously a tough matchup for anybody. If they go big on her, we can bring her outside, and the other way around, as well.
"She really improved her game and her athleticism this summer."
Taylor Turney scored 15 points in the first half for Foothill (5-3), but she picked up her third foul and headed to the bench with 4:53 left in the third quarter and the game tied 35-35.
In the span of 24 seconds, Doxtator hit a stick-back basket and a 3-pointer from the right wing, the latter off a Canyon Springs turnover.
She tacked on another 3-pointer about a minute later to bump the Falcons' lead to 45-37.
"We had a good little charge there," Kruger said. "The kids that were in there know how to play. Losing Taylor isn't as bad as it was in years past. We have a solid group of young kids who can handle the ball and can score in the right spots. Taylor is huge part of our success, but that helps us if we get in foul trouble later in the season."
Canyon Springs closed to within 49-46 on consecutive three-point plays by Alexia Thrower early in the fourth quarter, but a Doxtator basket from down low started a quick 6-1 run, and the Pioneers (5-2) never seriously threatened again.
Doxtator and Turney each finished with 20 points for the Falcons, who went 1-3 last weekend against four out-of-state teams in the Las Vegas Invitational at Bishop Gorman. Foothill's three losses were by a combined eight points.
"We were 10 points away from being 4-0 at that tournament, but you look in the paper and we were 4-3, and you think that this could really get away," Kruger said. "We have a good perspective on the quality of opponents we play, but still it's nice to get off the schneid a little bit."
Thrower scored 16 points to lead Canyon Springs. Dre'una Edwards added 14 points and 13 rebounds, and Daijhan Cooks had 14 points and 10 rebounds for the Pioneers.
Contact reporter Bartt Davis at bdavis@reviewjournal.com or (702) 387-5230.
Box score:
Foothill 68, Canyon Springs 60