Faith Lutheran excited to face tougher teams
November 23, 2016 - 6:00 pm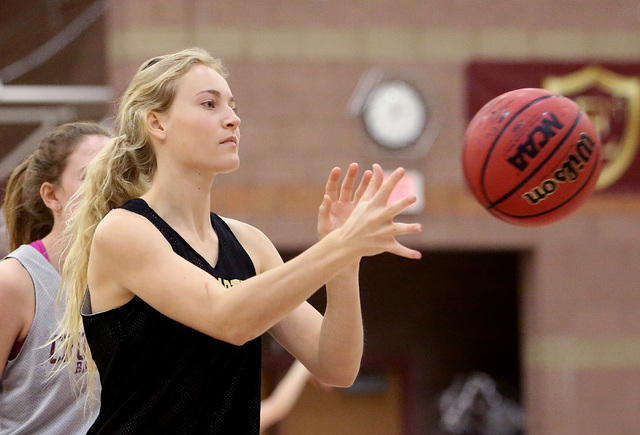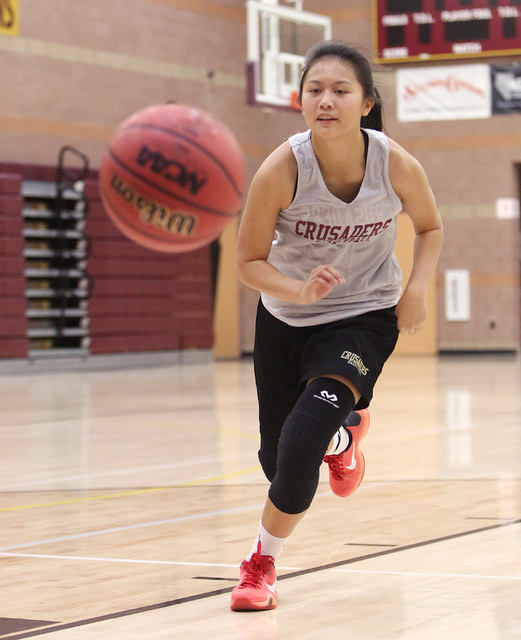 The last few years have been good to Faith Lutheran girls basketball fans.
The last two years have ended with a state runner-up finish in 2015 and reaching the summit last season for the program's second state championship. Those were in Division 1-A, now Class 3A. In 2016-17, a new challenge awaits the Crusaders.
When Faith Lutheran tips off its season Friday against Las Vegas in the Liberty Invitational, it will do so in Class 4A, the top classification for high school sports in Nevada.
"It's always fun to play the best of the best, because you can always get better," coach Jennifer Karner said. "We figure every night will be a battle, every night we'll get a chance to compete, and we're excited for that."
Junior Madison Bocobo knows what it takes to compete. She has not failed to reach the state title game in her previous two years, and is ready for this year's jump to the higher level.
"I'm definitely excited, I think we're ready for it," she said. "I think nerves come into play, but I think we'll be ready for it as long as we continue to work hard."
Bocobo led the team with 4.5 assists per game last season and was second on the team with 10.1 points per game. Once she returns from a torn ACL in mid-December, she is expected to help lead a revamped offense.
Last year the Crusaders' offense ran through guard Sam Caruth, a first-team All-Southern Region selection who was seventh in Southern Nevada with 16.8 points per game. She was one of the top outside shooters in the state, and this year it's a weapon the Crusaders will be without.
"We could always count on a few points from her per game, and we'll just have to find the next guy up," Karner said. "Who can fill that role and we're happy to see who can do that."
Instead, Karner said the team will rely more heavily on post play, running through players like senior Bryanna Neagle, who grabbed a team-high 6.6 rebounds per game last season.
"Seniors graduate, it's just what happens," Neagle said. "We'll come back and build from what we have."
Losing a top senior and returning to the top is something Faith Lutheran knows a little about. After their state runner-up finish in 2015, the Crusaders graduated Haley Vinson (17.7 points, 4.8 rebounds per game) and Morgan Hill (10.7, 6.7) and came back to win the state title the following year.
Faith Lutheran will miss Caruth and the other seniors, but it gives players with less experience a chance to shine. It is the first time Karner can remember having no freshmen on the varsity, speaking to the depth the Crusaders left on the bench last season.
Faith Lutheran is going to need all of that depth this year. The Crusaders' ascension to Class 4A placed them in the Northwest League, a league owned by Centennial. The Bulldogs have won the last two state titles and were ranked No. 9 in USA Today's preseason national rankings.
And as luck would have it, the Crusaders' first league game is against those Bulldogs, on Dec. 12 at home.
"It's a complete switch from what we're used to," sophomore Kayla Proctor said. "The level of intensity that we have to play at is a wake-up call."
Contact Justin Emerson at jemerson@reviewjournal.com or (702) 387-2944. Follow @J15Emerson on Twitter.