Foothill's finishing kick earns victory over Rancho
January 5, 2016 - 11:30 pm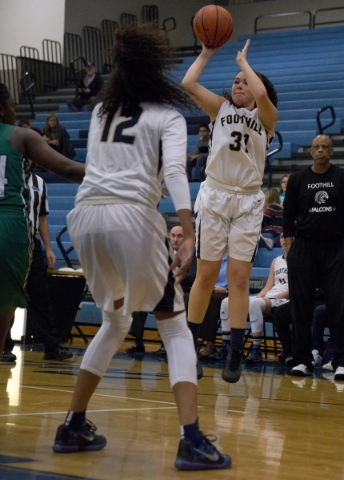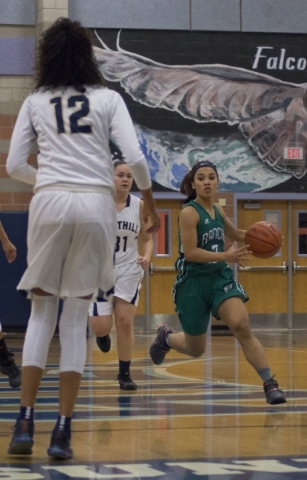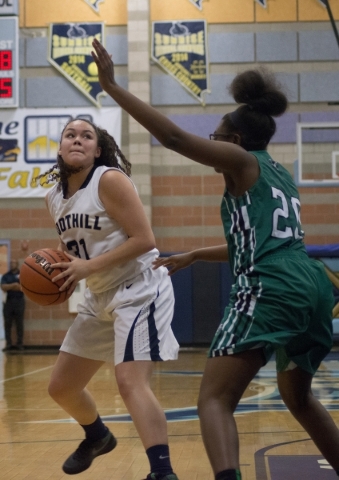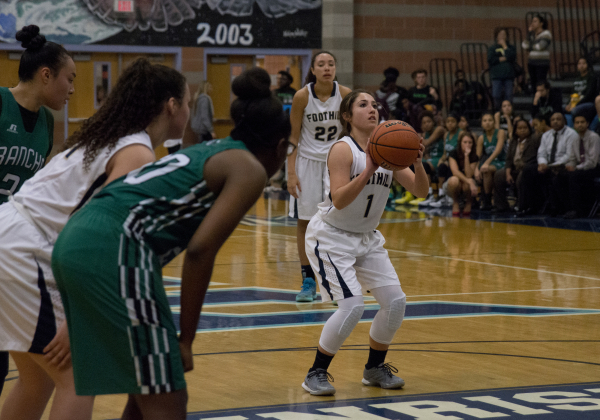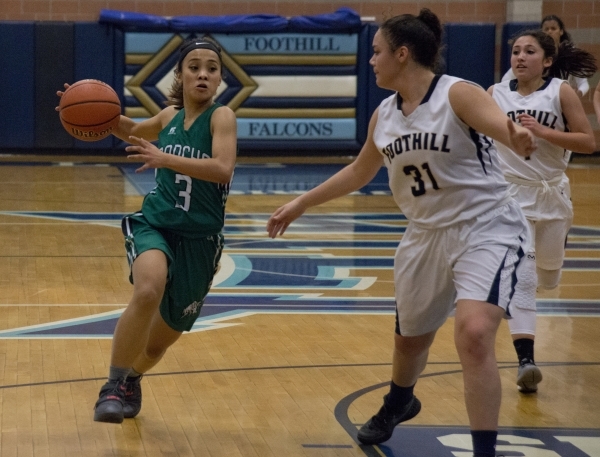 Trinity Betoney's eyes began to water, and the junior for Foothill's girls basketball team put her hand to her lip, trying to extinguish the pain.
Not even an accidential shot to the mouth in the final minutes could slow Betoney on Tuesday.
Betoney had 12 of her 25 points in the fourth quarter, and the host Falcons scored the final 14 points to stun Rancho 48-41 in the Southeast League opener for both teams.
"I'm really happy with the way they came back. We were down, and we fought through adversity," Foothill coach Keith Starr said. "It's good for us to be able to do that, because if we're fortunate enough to get to the playoffs, we know there's going to be situations where we're down."
Betoney went 9-for-15 from the field and added 15 rebounds. She made four 3-pointers, all in the second half, to help the Falcons (13-4, 1-0 Southeast) recover from an eight-point deficit early in the fourth quarter.
Kyndal Ricks broke Foothill's full-court press and went coast to coast for a layup that put Rancho on top 41-34 with 6:05 remaining, but the Rams (10-8, 0-1) didn't score again.
Rancho, which lost 41-27 to Foothill six days ago in the third-place game of the Gator Winter Classic, made three of its 19 field-goal attempts in the fourth quarter.
"There's no doubt we picked up the intensity as far as the defense was concerned," Starr said. "We picked them up a little bit more fullcourt."
Rae Burrell added 11 points, 14 rebounds and four assists for Foothill.
Betoney made a 3-pointer with about five minutes to play to bring the Falcons within four points. She then tracked down a long rebound on Burrell's missed free throw and hit her third 3 of the quarter to tie the score at 41 with 3:35 to go.
Betoney went 1-for-2 from the free-throw line with 2:25 remaining to give Foothill a 42-41 lead, and the Falcons were 4-for-7 from the line in the final 1:16.
"Trinity puts in the time," Starr said. "I really was excited about the way she rebounded and how she got on the floor. She did everything a coach wants you to do."
Maureen Macato led Rancho with 17 points, and Samantha Pochop had 10 points and 10 rebounds. Ricks added seven points and nine rebounds.
Macato hit three 3-pointers in the first half, and Pochop's putback beat the first-half buzzer to give the Rams a 22-21 halftime lead.
"(Rancho coach Ashley Vossen) did a great job as far as coaching putting a zone against us that was spread out," Starr said. "We just had to step it up as far as our intensity. Coming back from the holiday, because they had all the days off for the new year, that hurt us a lot, too."
Contact reporter David Schoen at dschoen@reviewjournal.com or 702-387-5203. Follow him on Twitter: @DavidSchoenLVRJ
Box score: