GIRLS BASKETBALL: Centennial's dominant start results in rout of Coronado
December 3, 2014 - 11:33 pm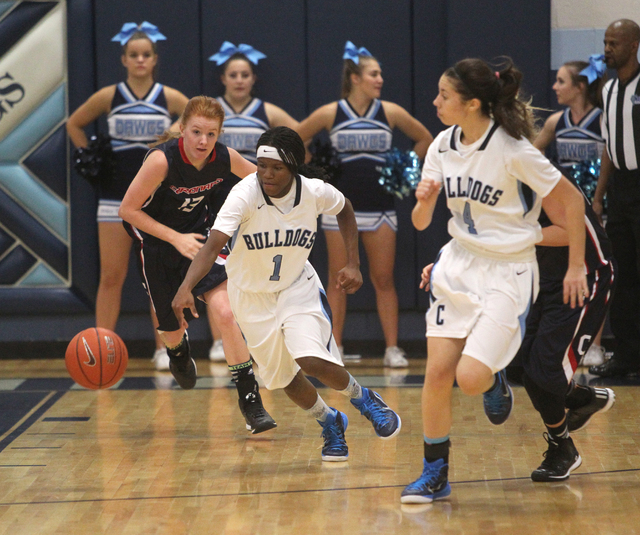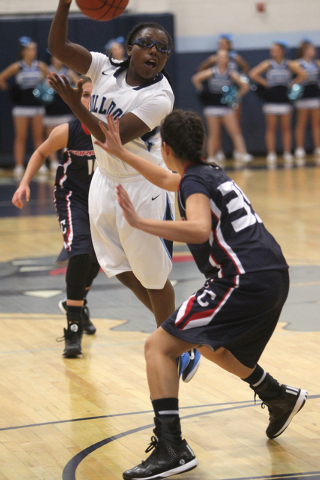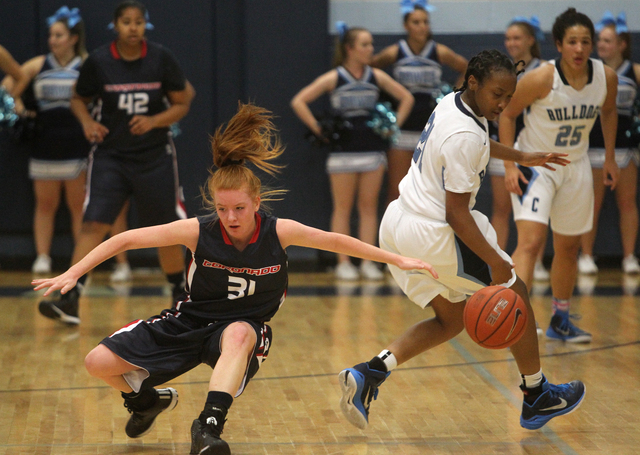 Basketball coaches always hope for a perfect quarter on defense.
Centennial's girls came awfully close to perfection in the first eight minutes Wednesday.
The Bulldogs shut out visiting Coronado in the first quarter — holding the Cougars scoreless on all 19 possessions — and scored the first 21 points en route to a 72-41 win.
Coronado committed 11 turnovers and missed eight field-goal attempts in the first quarter. Centennial rebounded all eight misses.
"That's what you strive for," Centennial coach Karen Weitz said.
Samantha Green made the second of two free throws with 6:19 left in the second quarter for the Cougars' first point in their season opener.
The Bulldogs (2-0), who have nine sophomores and one freshman on a 13-player roster, weren't exactly sharp the rest of the way, but did more than enough to win handily.
Coronado finished the first half just 4 of 23 from the field and never seriously threatened.
"The struggle with kids these days is that you would like to have that effort for four quarters," Weitz said. "When they get those results in the first quarter, they think the game is pretty much a coast. You have to play four quarters the way you played the first quarter.
"Why do we play one quarter hard and then take a quarter off?"
Sophomore Pam Wilmore had 19 points, and 5-foot-2-inch junior guard Tanjanae Wells added 12 points and six rebounds for Centennial. Freshman Justice Ethridge scored 11.
The Bulldogs start two sophomores, and the first four players off the bench Wednesday were sophomores. The sophomore class scored 41 of the Bulldogs' points.
Weitz kept the sophomores on her junior varsity last year, even though at least some of them could have seen playing time on the varsity.
"They were able to play together last year," Weitz said. "I don't know how much playing time they would have gotten if they had been up with me because of that group of seniors I had last year. You have to think about the long term. It's not all about what's going to be suitable right at the moment.
"We're still working on consistency. One day they'll look great, and the next day they look like they can't put their shoes on the right foot."
Green, who came off the bench, finished with 13 points and 10 rebounds for Coronado.
Contact reporter Bartt Davis at bdavis@reviewjournal.com or 702-387-5230.
Foothill 54, Boulder City 48 — At Boulder City, Katey Roquemore scored 12 points to help the Falcons top the Eagles.
Mikayla Yeakel and Gabby Doxtator each added nine points for Foothill, which retook the lead with about two minutes to play.
Boulder City's Megan Morton led all scorers with 26 points. Katlyn Daly added 10 points for the Eagles.
Beaver Dam 44, Indian Springs 17 — At Indian Springs, Jaliene Hernandez had 14 points to lead the Diamondbacks by the Thunderbirds.
Tania Delgado scored 11 for Beaver Dam, which led 25-5 at halftime.
Sevanna Morgando had 11 points to lead Indian Springs, which managed just three field goals.
Box scores:
Beaver Dam 44, Indian Springs 17