GIRLS BASKETBALL: Faith Lutheran tops Legacy, earns No. 2 seed
February 9, 2017 - 10:15 pm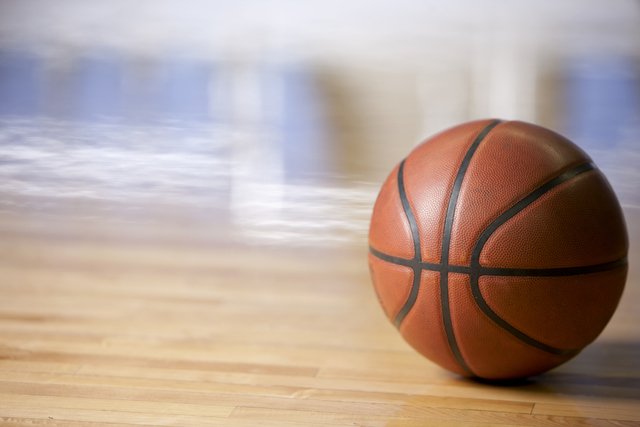 Casey Proctor scored 12 points on Thursday night to lead the Faith Lutheran girls basketball team to a 42-26 road victory over Legacy.
The win clinched the Northwest League's No. 2 playoff seed for the Crusaders. Both Faith Lutheran and Legacy finished 8-4 in the league, but Faith Lutheran swept the two head-to-head matchups.
Madison Bocobo added nine points for Faith Lutheran, which blew the game open by outscoring Legacy 18-5 in the third quarter.
Rory Carter scored seven points to lead the Longhorns.
Pahrump Valley 38, Western 32 — At Western, Izabelle Meza scored 10 points to lead the Trojans past the Warriors.
Alyvia Briscoe, Jackie Stobbe and Bethany Calvert each scored seven points for Pahrump, which started the game on an 8-2 run. Both teams finished 5-5 in Class 3A Sunset League play, but the Trojans clinched the No. 3 playoff seed on a tiebreaker.
Adrianna Jones scored 12 points to lead the Warriors.
Cheyenne 68, Sunrise Mountain 14 — At Cheyenne, Ejanae Coopwood had 20 points, and the Desert Shields topped the Miners to finish 10-0 in Class 3A Sunset League play.
Starr Hawkins added 11 points, eight rebounds and six steals, and teammate Alaexiah Moore had 10 rebounds and six assists for Cheyenne, which led 40-8 at the half.
Centennial 82, Arbor View 19 — At Centennial, Jade Thomas, Melanie Isbell, and Justice Ethridge each scored 12 points to lead a balanced scoring attack, as the Bulldogs defeated the Aggies.
Jayden Eggleston had 11 points, and Samantha Thomas added nine points for Centennial, which drained seven 3-pointers. The Bulldogs finished 12-0 in the Northwest League.
Alaysia Reed scored nine points, and teammate Kalli Hosier had eight points to lead Arbor View, which trailed 55-12 at the half.
Liberty 74, Coronado 35 — At Liberty, Alexis Tomassi scored 18 points to lead the Patriots past the Cougars.
Kaily Kaimikaua added 12 points and eight rebounds, and Dre'una Edwards had 12 points and nine rebounds for the Patriots, who finished 10-0 in the Southeast League.
Celine Quintino added 11 points and five assists for Liberty, which led 47-18 at the half.
Talia Sapp scored 18 points to lead Coronado.
Desert Pines 37, Mojave 21 — At Mojave, See'Airrah Evans-Collins scored 10 points to power the Jaguars by the Rattlers.
Destiny Weathers added eight points for Desert Pines, which outscored Mojave 27-12 over the middle quarters.
Darria Gray scored seven points to lead Mojave.
Foothill 61, Basic 31 — At Foothill, Rae Burrell scored 17 points to lead the Falcons in a rout of the Wolves.
Trinity Betoney added 15 points and six steals for Foothill, which led 31-7 at the half.
Shadow Ridge 39, Palo Verde 30 — At Palo Verde, Alexa Martins scored 11 points to lead the Mustangs past the Panthers.
Caitlyn Covington added 10 points for Shadow Ridge, which led 21-12 at halftime.
Ariana Davis and Julia Jaakkola each scored six points for Palo Verde.
Green Valley 63, Silverado 28 — At Green Valley, Brooke Haney had 20 points to lead the Gators over the Skyhawks.
Jamaica Lewis and Temerity Bauer each added 13 points for Green Valley, which outscored Silverado 22-5 in the second quarter.
Sidni Wise-Wright had eight points to pace the Skyhawks.
Needles 66, Calvary Chapel 32 — At Needles, California, Jayne Antone scored 17 points to lead the Mustangs past the Lions.
Preslee Murch scored 16 points, and Brenna Chavez added 14 points for Needles, which led 33-12 at the half.
Malia Lee scored 13 points to lead the Lions, and teammate Sara Hernandez scored 11 points.
Agassi Prep 71, Adelson School 6 — At Agassi Prep, Raylene Thomas led four double-figure scorers with 15 points as the Stars routed the Lions.
Destiny Rover had 13 points, Sharmayne Finley added 12 points, and Lovely Glinton scored 10 for Agassi Prep, which led 63-0 after three quarters.
Box scores:
Agassi Prep 71, Adelson School 6
Cheyenne 68, Sunrise Mountain 14
Shadow Ridge 39, Palo Verde 30