GIRLS BASKETBALL: Isabelle Meza hits go-ahead bucket to lift Pahrump over Boulder City
January 27, 2017 - 10:11 pm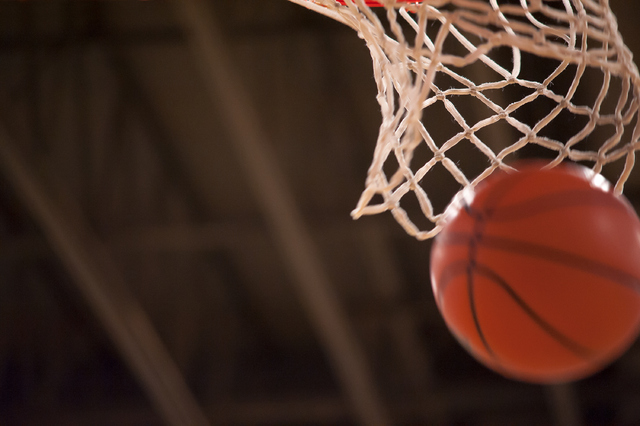 Isabelle Meza scored the game-winning basket with nine seconds remaining Friday to lift Pahrump Valley's girls basketball team to a 35-33 win over visiting Boulder City.
Meza finished with eight points, and Bethany Calvert scored 11 points for Pahrump, which led 20-16 at halftime.
Keely Alexander led all scorers with 14 points for Boulder City, and teammate Madison Manns scored 10.
Canyon Springs 51, Palo Verde 41 — At Canyon Springs, Jeannette Fine led the Pioneers with 13 points as the Pioneers defeated the Panthers.
Yemiyah Morris added 12 points, and Dayonna Maddox scored 10 for Canyon Springs.
Ariana Davis led Palo Verde with 13 points, and teammate Julia Jaakkola scored 10.
Sierra Vista 49, Chaparral 23 — At Chaparral, Iymoni Burrell scored 12 points to lead the Mountain Lions past the Cowboys.
Kayla Barnum added eight points for Sierra Vista, which started the game on a 16-2 run to take control early.
Tianna Harrison scored seven points to lead the Cowboys.
Desert Oasis 59, Rancho 31 — At Rancho, Ashlynn Sharp led all scorers with 23 points as the Diamondbacks defeated the Rams.
Dajaah Lightfoot added 12 points, and Mikala Kirby scored 10 for Del Sol.
Kyndal Ricks led Rancho with 13 points.
Valley 64, Bonanza 41 — At Bonanza, Jeuzel Pollins scored 18 points to lead the Vikings past the Bengals.
Sondra Scroggins added 15 points for Valley, which started the game on a 20-2 run to take control.
Madie Gonzalez and Kerianne Reilly each scored 11 points to lead the Bengals.
Needles 74, Agassi Prep 63 — At Needles, California, Jayne Antone led five double-figure scorers with 25 points to lift the Mustangs over the Stars.
Valentina Limon hit five 3-pointers and finished with 17 points, and Brenna Chavez added 12 points for Needles, which got 10 points apiece from Paige Murch and Preslee Murch.
Sharmayne Finley led Agassi Prep with 21 points. Raylene Thomas had 17 points, and Denise Parker scored 10 for the Stars.
Lincoln County 59, Calvary Chapel 33 — At Panaca, Kailey Kelley and Kristal Jackson each scored 14 points to lead the Lynx past the Lions.
Sadie Soderberg added 13 points and seven steals, and Brooklyn Hafen notched 12 points and six rebounds for Lincoln County, which led 26-14 at halftime.
Kaitlyn Harris scored nine points to lead the Lions.
Pahranagat Valley 53, Sandy Valley 13 — At Sandy Valley, the Panthers stormed to a 30-4 halftime lead before downing the Sidewinders.
Laughlin 34, Lake Mead 24 — At Lake Mead, Teresa Chapa had nine points to lead the Cougars over the Eagles.
Nichole Petrich added eight points for Laughlin, which used a 10-2 third-quarter run to take control.
Shelbi Shaw, Josey White and Jacea Tillman each scored six for Lake Mead.
Box scores:
Pahrump Valley 35, Boulder City 33
Canyon Springs 51, Palo Verde 41
Lincoln County 59, Calvary Chapel 33
Pahranagat Valley 53, Sandy Valley 13