GIRLS BASKETBALL: Western slips past Mojave
January 3, 2017 - 10:24 pm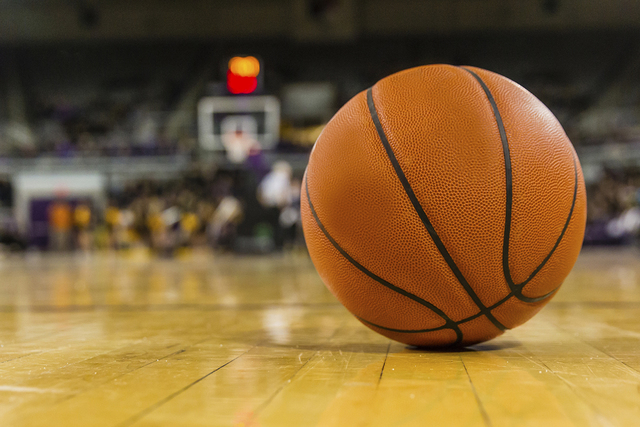 Adrianna Jones dropped in a game-high 21 points, and Western's girls basketball team held on for a 51-48 victory over visiting Mojave on Tuesday.
Millani Johnson and Jazmine Kaufman added 10 points apiece for Western.
Tyahna Drummond hit a free throw with 14 seconds remaining in the fourth quarter to put the Warriors on top by three points. Mojave had two chances to tie late, but couldn't convert.
Savannah Blanchard-Davis led Mojave with 19 points.
Foothill 51, Green Valley 39 — At Green Valley, Rae Burrell scored 20 points to lead the Falcons over the Gators.
Trinity Betoney added 15 points, and teammate Bri Rosales chipped in with eight points for Foothill, which pulled away in the second half after leading 22-18 at halftime.
Shelby Clark and Brooke Haney scored 11 points apiece for Green Valley.
Liberty 60, Basic 16 — At Liberty, London Pavlica had 14 points and five steals to help lead the Patriots to an easy win over the Wolves.
Dre'una Edwards provided eight points, 10 rebounds, seven assists and four steals for Liberty, which got 13 points from Alexis Tomassi.
Liberty opened the game on a 36-4 run.
Kailey Taylor led Basic with five points.
Coronado 69, Silverado 34 — At Silverado, Haley Tyrell finished with 22 points, and Payton Caci added 18 points and eight steals to help the Cougars to run past the Skyhawks.
Aeryn Hawkins had 10 points and six rebounds for Coronado, which led 37-17 at halftime.
Sidni Wise-Wright led Silverado with nine points.
Shadow Ridge 56, Faith Lutheran 49 — At Shadow Ridge, Lauryn Calo scored a game-high 23 points to help the Mustangs hold off the Crusaders.
Caitlyn Covington added 12 points, and Isis Triplett supplied eight points and 12 rebounds for Shadow Ridge, which led 34-32 after three quarters.
Madison Bocobo had 18 points, and Casey Proctor scored 10 for Faith Lutheran.
Centennial 62, Palo Verde 14 — At Palo Verde, Melanie Isbell led all scorers with 12 points as the Bulldogs routed the Panthers.
Aja Phoumiphat and Pam Wilmore scored eight points apiece for Centennial.
Abbey Hoegh led Palo Verde with seven points.
Arbor View 62, Cimarron-Memorial 54 — At Cimarron, Madison Cvijanovich had 21 points as the Aggies topped the Spartans.
Alaysia Reed added 13 points, and teammate Kalli Hosier scored 10 for Arbor View, which led 33-17 at the half.
Niara Smith led Cimarron with 20 points. Elise Young added 12 points, and Chynna Torrence and Amoura Whitney each scored 10 for the Spartans.
Torrence also had 11 rebounds, and Whitney had seven rebounds and six assists.
Bishop Gorman 57, Clark 13 — At Clark, Bentleigh Hoskins finished with a game-high 12 points, and the Gaels overwhelmed the Chargers.
Skylar Jackson and Caira Young each had nine points for Gorman, which had 10 players score.
The Gaels opened the game on a 26-2 run.
Marieka Dent led Clark with six points.
Cheyenne 54, Desert Pines 37 — At Cheyenne, Ejanae Coopwood scored a game-high 21 points to help guide the Desert Shields to a win over the Jaguars.
Starr Hawkins had 12 points, and Marisha Harden added 10 points for Cheyenne, which raced out to a 28-14 halftime advantage.
See'Airra Evans-Collins had 19 points, 15 rebounds and five steals to lead Desert Pines.
Pahrump Valley 56, Sunrise Mountain 18 — At Pahrump, Isabelle Meza scored 11 points to lead 10 scorers as the Trojans defeated the Miners.
Alyvia Briscoe and Bethany Calvert each added eight points for Pahrump, which used a 17-1 run in the second quarter to jump out to a 31-8 halftime lead.
Emani White scored eight points, and teammate Trinity Lavoll had seven points to pace Sunrise Mountain.
Calvary Chapel 50, The Meadows 29 — At Calvary Chapel, Malia Lee poured in 25 points, and the Lions topped the Mustangs.
Kaitlyn Harris added 14 points for Calvary Chapel, which outscored The Meadows 19-2 in the third quarter to extend a 23-17 halftime advantage.
Marcella Peek had 16 points to lead the Mustangs.
Needles 50, Mountain View 11 — At Needles, California, Paige Murch had 15 points, and the Mustangs topped the Saints.
Valentina Limon and Marie Mills each had seven points for Needles.
Tayah De'Bouck led Mountain View with six points.
Box scores:
Shadow Ridge 56, Faith Lutheran 49
Pahrump Valley 56, Sunrise Mountain 18
Calvary Chapel 50, The Meadows 29
Arbor View 62, Cimarron-Memorial 54