GIRLS BASKETBALL: Western's Adrianna Jones nails buzzer-beater to sink Sunrise Mountain
February 1, 2017 - 10:34 pm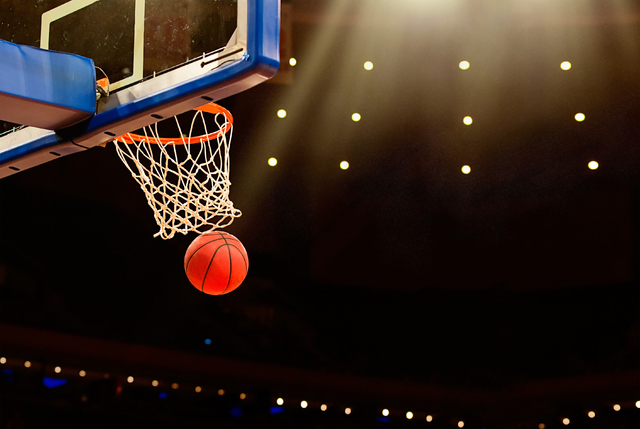 Adrianna Jones drilled a 3-pointer at the buzzer Wednesday to give the Western girls basketball a 43-40 home win over Sunrise Mountain.
Jones finished with 21 points. Kiara Rinfrow added 15 points for the Warriors.
Sunrise Mountain the game at 40 with 5.6 seconds left before Jones' heroics. Emani White had 19 points, and teammate Kayren Green scored 10 for the Miners.
Liberty 66, Foothill 63 — At Foothill, Dre'una Edwards had 17 points and 13 rebounds as the Patriots edged the Falcons.
Kaily Kaimikaua had 14 points, and London Pavlica added 13 points, including a clutch three-point play in the final minute for Liberty. Amanda Pemberton scored 12 points, and Celine Quintino notched 10 points and eight assists for the Patriots.
Liberty clinched the Southeast League title with the win.
Rae Burrell led Foothill with 25 points and 12 rebounds. Trinity Betoney added 16 points and 10 rebounds for the Falcons.
Cheyenne 59, Mojave 32 — At Mojave, Ejanae Coopwood scored 18 points to power the Desert Shields over the Rattlers to clinch the Class 3A Sunset League title.
Marisha Harden added 15 points for Cheyenne, which used a 15-5 fourth quarter run to pull away. It is Cheyenne's first league title since 1998.
Savannah Blanchard-Davis had 15 points to lead Mojave.
Faith Lutheran 65, Cimarron-Memorial 54 — At Cimarron, Madison Bocobo had 23 points, and Bryanna Neagle scored 21 to power the Crusaders over the Spartans.
Maddy Larson added 11 points for the Crusaders, who outscored the Spartans 18-5 in the second quarter.
Diane Ruiz had 22 points to lead the Cimarron, and teammate Elise Young scored 15.
Arbor View 57, Palo Verde 32 — At Palo Verde, Kalli Hosier scored 17 points to lead the Aggies to victory over the Panthers.
Alaysia Reed added 15 points for Arbor View, which a 27-12 halftime lead.
Ariana Davis had 10 points to pace Palo Verde.
Desert Pines 42, Pahrump Valley 25 — At Desert Pines, Destiny Weathers hit six 3-pointers, finishing with 18 points as the Jaguars romped past the Trojans.
See'Airra Evans-Collins supplied eight points and 15 rebounds for Desert Pines, which led 20-9 at halftime.
Koral Hearn led Pahrump with six points.
Centennial 61, Legacy 16 — At Legacy, Samantha Thomas led 10 scorers with 15 points as the Bulldogs downed the Longhorns and clinched the Northwest League title.
Justice Ethridge had 10 points, and Eboni Walker chipped in nine points for Centennial, which drained seven 3-pointers.
Maiah Yearwood had five points to lead Legacy.
Basic 33, Silverado 15 — At Basic, Lauren Powell had 10 points and 16 rebounds as the Wolves topped the Skyhawks.
Kailey Taylor added eight points for Basic. The game was called early in the fourth quarter after a Silverado player fouled out, leaving the Skyhawks with four players.
Box scores:
Western 43, Sunrise Mountain 40
Faith Lutheran 65, Cimarron-Memorial 54
Desert Pines 42, Pahrump Valley 25