Gorman trio going separate ways — later
November 11, 2015 - 11:24 pm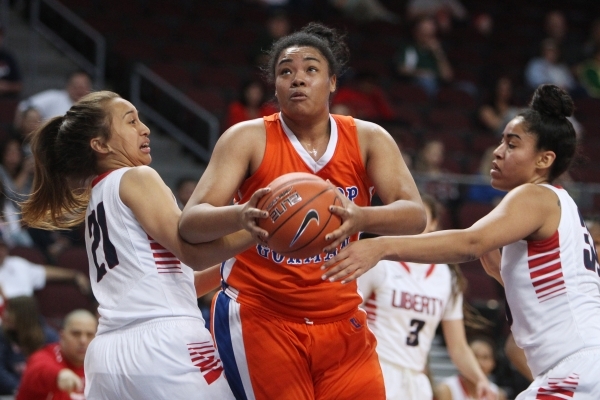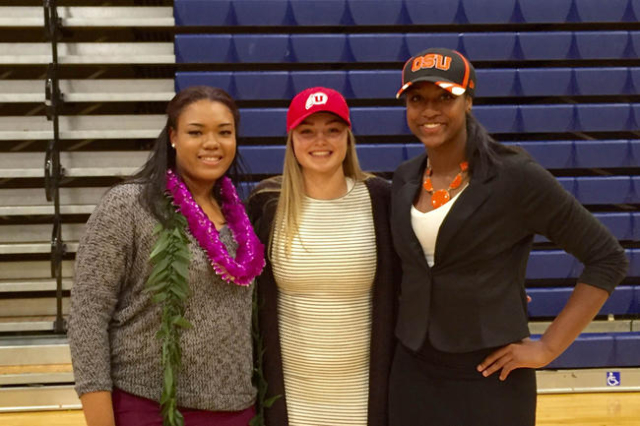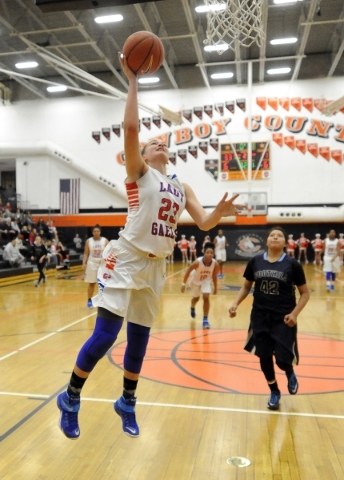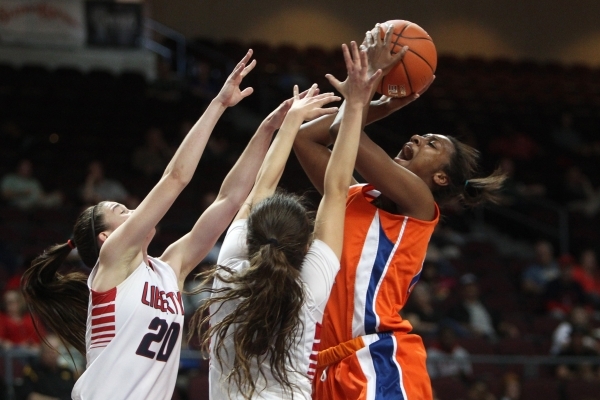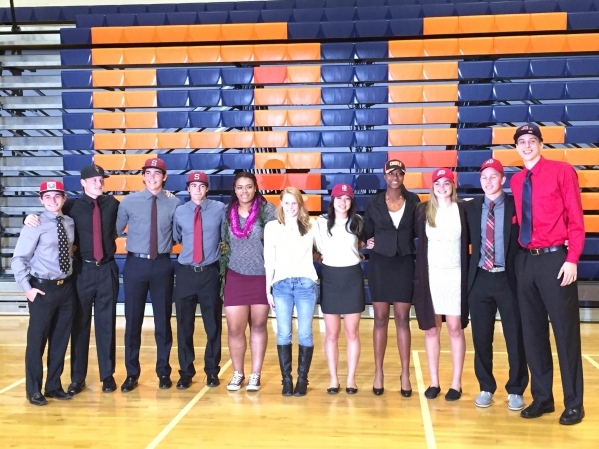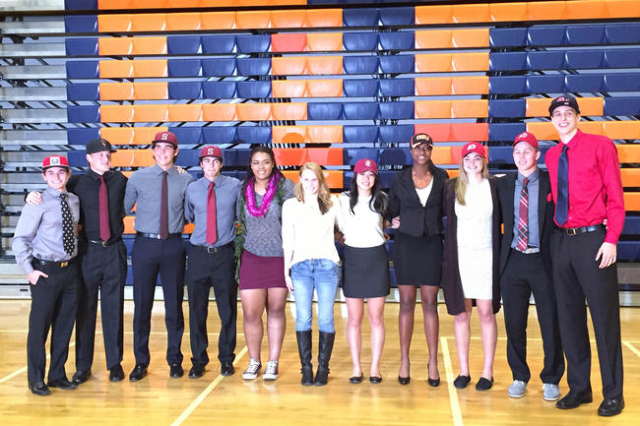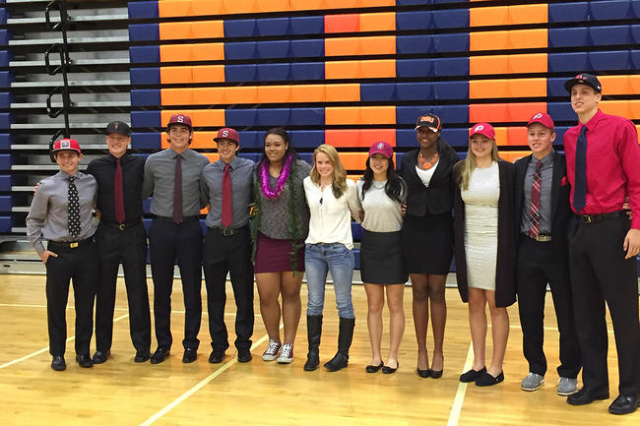 Three years ago, Bishop Gorman seniors Megan Jacobs, Raychel Stanley and Maddie Washington briefly talked about the possibility of becoming a package deal once college basketball recruiters started coming along.
Those talks never seriously heated up, but the Division I scholarships certainly did.
Jacobs, Stanley and Washington made it official they were going their separate ways Wednesday when each signed a national letter of intent before family, coaches and friends in the Gaels' gymnasium.
Jacobs (Utah), Stanley (Loyola Marymount) and Washington (Oregon State) — all four-year varsity players and members of last season's all-state team — were three of 11 Gorman student-athletes who participated in national signing day.
"They're my best friends. We do everything together," said Jacobs, a 6-foot-1-inch guard. "This is what we've been wanting, so it feels amazing. It's definitely going to be a change (next year). It still gives me a little panic attack here and there.
"They're great girls. I'll definitely venture out and make new friends, but I always wish them the best in everything they do. We'll keep in touch."
Jacobs, who averaged 9.9 points, 5.7 rebounds and 6.1 assists last season, was the first to announce her college intentions in August.
Because she signed with the Utes over Clemson and East Carolina on Wednesday, Jacobs guaranteed she would be seeing a lot of Washington in the Pacific-12 Conference.
"We've already started talking trash to each other," said Washington, laughing. "I'm looking forward to it. It's going to be an exciting game. Our families are really close, and they always joke about it. I just can't wait for that day to come."
Washington, considered the Gaels' top recruit, was a first-team all-state selection last season after averaging 12.5 points, 8.8 rebounds and 2.1 assists. The 6-2 forward chose the Beavers over Gonzaga, South Carolina and Washington, among others.
The 6-2 Stanley will be in the West Coast Conference next year, so she hopes a potential on-court reunion with her high school teammates happens on the biggest stage: the NCAA Tournament.
"It's going to be bittersweet because we have to start all over again," Stanley said. "It'll be a new dynamic with different people. We're all going to different, big places. But hopefully I'll catch up with them in the tournament."
The transition to college ball won't be too hard on the girls. They agreed that their system at Gorman already has prepared them.
"We definitely share the ball well, and I think that's what a Division I athlete is," Stanley said. "You're not a selfish athlete. You want to do well for your teammates. And you want to let them shine. I think me, Maddie and Megan all want each other to shine."
And all have had their opportunity to do so the past three seasons.
"On the court, they have always motivated me and kept me going," Washington said. "They're amazing teammates. When I make a mistake, they help me correct it. And vice versa. We've been looking out for each other since freshman year."
Stanley, whose older brother Ronnie is a starting tackle on Notre Dame's football team, averaged 13.6 points and 6.9 rebounds last season. She picked the Lions over Arizona State, Boise State, New Mexico and Seattle.
Gorman girls basketball coach Sheryl Krmpotich doesn't believe any of her girls will have trouble adjusting to the next level.
She knows how rare it is to have three Division I athletes in a starting lineup. That's why she's eager for the season. The matchup problems her girls create have led the Gaels to three consecutive Sunset Region final appearances.
And if things go according to plan this winter, "The Big Three" will make it four in a row and have a special date set up on Feb. 26.
"We have a banner to hang this year," Krmpotich said in a speech. "And I know we're going to do it because of these three."
Contact reporter Ashton Ferguson at aferguson@reviewjournal.com or 702-383-0430. Follow him on Twitter: @af_ferguson