HOLIDAY CLASSIC: Centennial blowout still teaching moment
December 28, 2016 - 11:58 pm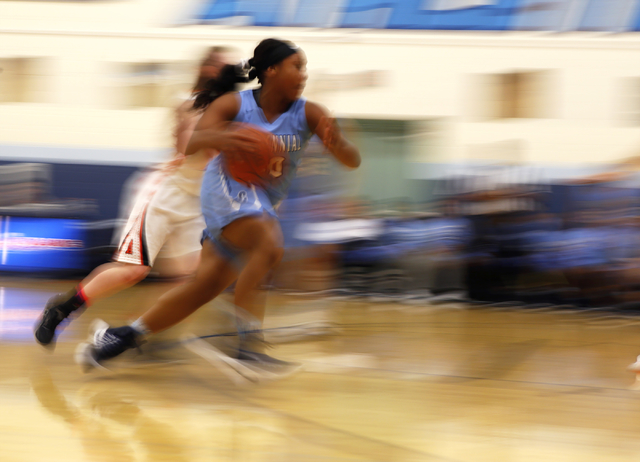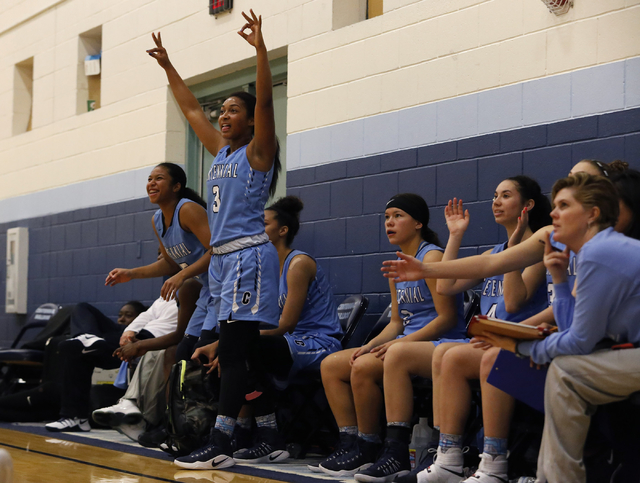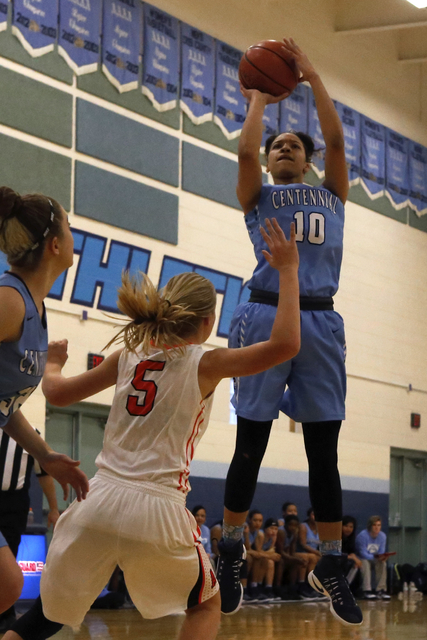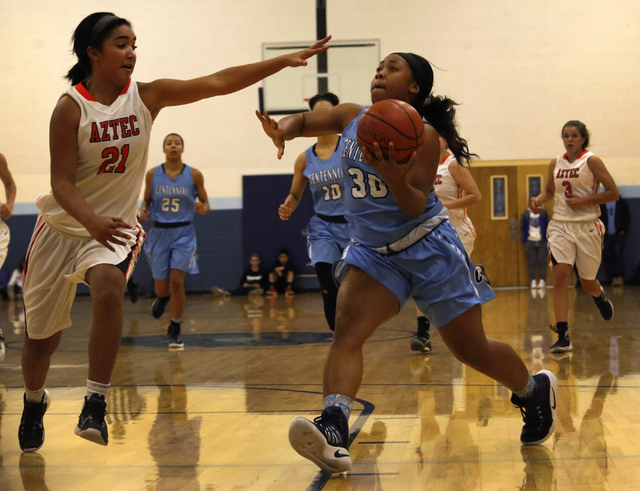 Centennial girls basketball coach Karen Weitz was given 10 minutes to talk to her players before the start of the second half Wednesday afternoon.
She only needed 30 seconds.
"When you're up like that, sometimes less is better," Weitz said.
Sophomore guard Aja Phoumiphat came off the bench to score a game-high 11 points, and the hot-shooting Bulldogs built a 41-12 halftime lead before cruising to a 68-20 home win over Aztec (New Mexico) in pool play of the Las Vegas Holiday Classic.
Centennial (11-2), the two-time defending state champion, received scoring from 13 players and finished 27-for-58 from the field, including 10-for-22 on 3-pointers.
Playing in their first game since the prestigious Nike Tournament of Champions in Phoenix, the Bulldogs showed little sign of rust and kick-started their familiar running clock midway through the third quarter.
"It's nice having a team of 15 and being able to get everyone in," said Weitz, who had one player out with an injury. "A lot of times when you're playing tough, competitive games, you're just not going to go 15 deep."
With all the fresh legs, the Bulldogs were relentless on defense, forcing 26 turnovers and holding Aztec scoreless in the fourth quarter.
The opening minutes, however, weren't so smooth. Centennial trailed 5-4 with 6:30 left in the first quarter until a timeout sparked a 15-0 run that gave the Bulldogs control. The run didn't stop Weitz from teaching, as the longtime coach continued to stress ball movement and execution in the fourth quarter.
"People have said that all the time, 'Well, you're up by 30 or 40.' And I say, 'Yeah, but that muscle memory stuff still needs to be clicking," she said. "If you're going to do something, do it right — whether you're up by 100 or two."
Lauren Welch and Sarah Kruthaupt scored eight points apiece for Centennial.
Samantha Thomas, an Arizona commit, added six points, five rebounds and four blocks.
Myra McCaskill led Aztec with 10 points, six rebounds and two steals.
Centennial 59, Eldorado 10 — Welch had nine points, and Eboni Walker scored eight for the Bulldogs in a pool play game that was forfeited by the Sundevils with 5:30 to go in the fourth quarter.
Thomas and Justice Ethridge each added seven points for Centennial, which led 31-2 after the first quarter.
Shakayzzia Hunt led Eldorado with six points.
Millennium (Ariz.) 62, Cimarron-Memorial 37 — Niara Smith scored nine points in the Spartans' loss to the Tigers in pool play.
Amoura Whitney and Elise Young scored eight points apiece for Cimarron, which trailed 29-15 at halftime.
Dominique Phillips had 17 points to lead Millennium. Alaina Diggs had 10 points for the Tigers.
Lawrence County (Tenn.) 72, Palo Verde 35 — Ariana Davis scored a team-high 13 points in the Panthers' loss to the Wildcats in pool play.
Josie Brewer and Kenzie Doss each had 13 points for Lawrence County, and teammate Taylor Clark scored 12.
The Wildcats connected on seven 3-pointers.
Reno 41, Eldorado 11 — Hunt scored six points in the Sundevils' loss to the Huskies in pool play.
McKain Murdock scored eight points to lead Reno, which led 29-3 at halftime.
Spring Creek 42, Valley 32 — Jeuzel Pollins scored nine points in the Vikings' loss to the Spartans in pool play.
Kaitlyn McLeod had 12 points, and Teagan Ashby scored 10 for Spring Creek, which led only 16-13 at halftime.
Mountain Pointe (Ariz.) 54, Desert Pines 37 — See'Airrah Evans-Collins scored 13 points in the Jaguars' loss to the Pride in pool play.
Heaven Heacock added eight points for Desert Pines.
Baily Osmer had 21 points, and Jenise Strover scored 10 for Mountain Pointe.
Millennium (Ariz.) 68, Palo Verde 37 — Abbey Hoegh had 14 points, and Davis scored nine in the Panthers' loss to the Tigers in pool play.
Elizabeth Gutierrez added eight points for Palo Verde.
Phillips led three double-figure scorers with 20 points for Millennium. Ali Zelaya had 11 points, and Kylie Grant scored 10 for the Tigers.
Cimarron-Memorial 46, Skyline (Utah) 27 — Young scored a game-high 17 points, and the Spartans grabbed a 20-14 halftime lead before defeating the Eagles in pool play.
Whitney added 15 points, and Smith scored 10 for Cimarron.
Amit Lustgarten and Kate Taylor had eight points apiece for Skyline.
Dobson (Ariz.) 46, Valley 23 — Almond Slayton scored eight points in the Vikings' loss to the Mustangs in pool play.
Kiara Brown had six points for Valley, which was held scoreless in the first quarter.
Shauna Bribiescas led Dobson with 10 points.
Desert Pines 36, Skyline (Utah) 34 — Destiny Weathers hit a go-ahead jumper from the short corner with 3:05 remaining as the Jaguars held off the Eagles in pool play.
Weathers finished with five points for Desert Pines, which led 30-25 after three quarters but fell behind when Skyline opened the fourth quarter on a 9-2 run.
Skyline missed a potential game-winning 3-pointer on its final possession.
Evans-Collins, who finished with 14 points, hit the tying layup with 3:30 for the Jaguars.
Lustgarten led Skyline with 11 points.
Box scores:
Millennium (Ariz.) 62, Cimarron-Memorial 37
Lawrence County (Tenn.) 72, Palo Verde 35
Mountain Pointe (Ariz.) 54, Desert Pines 37
Millennium (Ariz.) 68, Palo Verde 37
Cimarron-Memorial 46, Skyline (Utah) 27
Desert Pines 36, Skyline (Utah) 34