HOLIDAY CLASSIC: Centennial depth makes difference in blowout win
December 28, 2013 - 12:44 am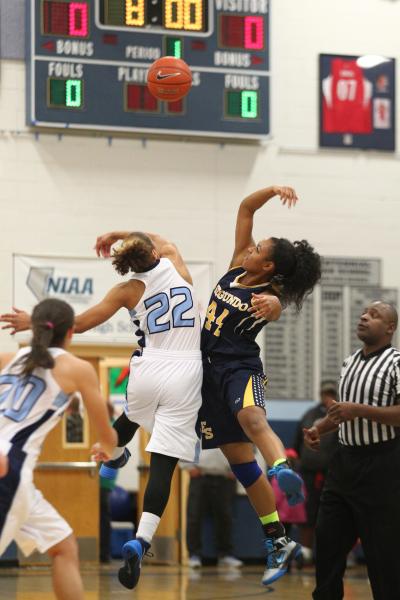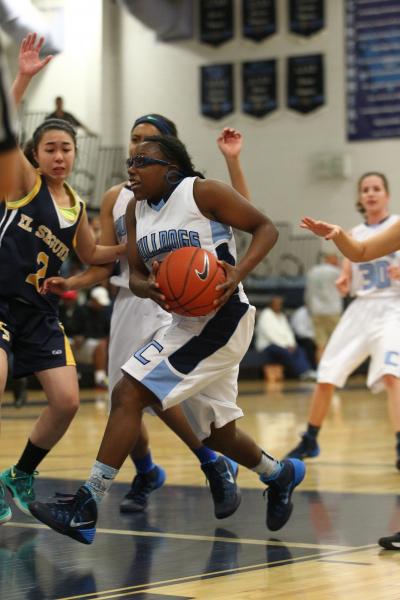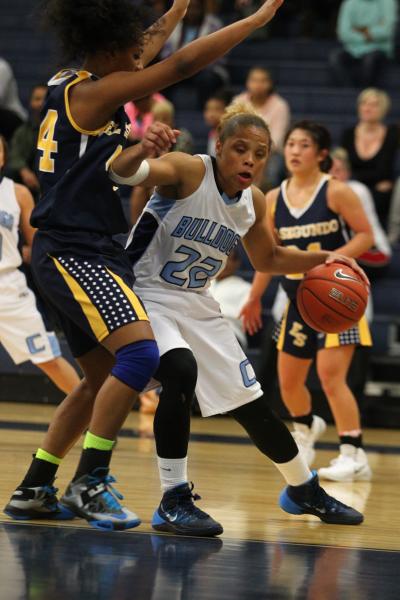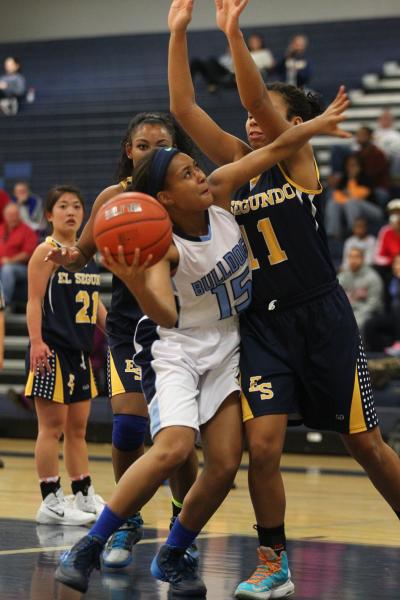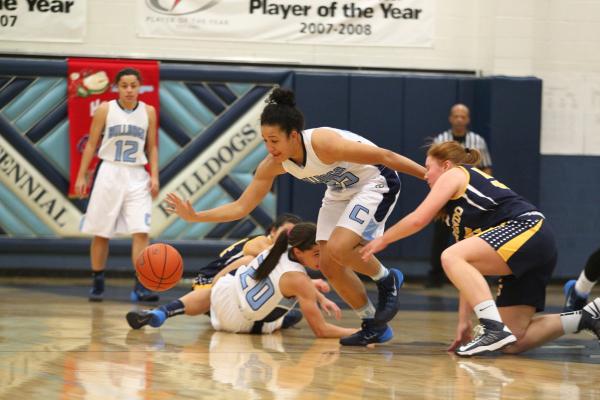 Most girls basketball teams would be in trouble if their top player had only one point on one shot in the first half.
Centennial's girls aren't most teams.
Despite leading scorer Teirra Hicks being held under wraps, the host Bulldogs built a 20-point halftime lead and cruised to a 69-25 victory over El Segundo (Calif.) on Friday in the Las Vegas Holiday Classic.
Senior guard Tramina Jordan picked up the slack, pouring in 14 points in the first half, and the Bulldogs felt no pain with a 33-13 lead at the break.
"Any time your outside shooters can knock shots down, it makes the game more comfortable for everybody," Centennial coach Karen Weitz said. "If Teirra's not doing well inside, and the shooters can't hit anything outside, then I think kids start to tense up.
"Tramina or Paige (Barber) can knock down shots from outside."
Jordan, generously listed at 5 feet, 4 inches, also had five defensive rebounds in the first half to spark Centennial's transition game. Barber and Karina Brandon each added six points during the half, when the Bulldogs held the Eagles to 5-for-20 shooting from the field.
"Other people can score," Weitz said. "It doesn't surprise me on any given night if a lot of people can score in double figures."
The Bulldogs (8-3) weren't done, starting the second half on an impressive 18-2 run in the first 3 minutes, 12 seconds.
Hicks had six points during the spurt, in which Centennial shot 7 of 8 from the field, including a 3-pointer by Jordan. Simone Barber's transition layup capped the surge and gave the Bulldogs a 51-17 lead.
"As long as we want to make the extra passes and do the things that we practice, we always look pretty good," Weitz said. "But we still have to put the ball in the basket."
Jordan, who didn't play the fourth quarter, finished with 19 points and six rebounds. Hicks had 12 points and nine rebounds, and Paige Barber scored nine.
Sarah Chang, Kayla Kigawa, Paige Endo and Myla Mosley each had five points for El Segundo, which beat Douglas 41-37 earlier Friday.
Centennial 75, Granite Hills (Calif.) 32 — Hicks had 17 points, and the Bulldogs rolled to a 27-2 first-quarter lead and cruised by Granite Hills.
Tanjanae Wells had 12 points, and Alex Dockery scored 11 for Centennial.
Micayela Hernandez had 15 points for Granite Hills.
Arbor View 42, Santa Fe (Calif.) 40 — Jocelyn Jordan's steal and layup with 19 seconds left lifted the Aggies past the Chieftains.
Santa Fe's Vivian Lara drained her sixth 3-pointer of the game to tie the score at 40-40 with 50 seconds left. After an Arbor View turnover, Jordan stole the ball back near center court and cruised in on the right side for the go-ahead basket.
Ariona Gill had 16 points for Arbor View.
Lara scored 24, and Destiny Cardona had 11 points for Santa Fe.
Reno 58, Arbor View 24 — Mallory McGwire had 13 points, and the Huskies used an early 17-2 run to pull away from the Aggies.
Morgan McGwire added 10 points for Reno.
Dana Lewis and Jordan each had six points for Arbor View.
Reno 67, Foothill 47 — Mallory McGwire had 21 points, and Morgan McGwire added 18 points as the Huskies downed the Falcons.
Taylor Turney had 12 points, and Kelsey McFarland and Katey Roquemore each had 10 points for Foothill.
Foothill 69, San Clemente (Calif.) 52 — Turney had 23 points, and the Falcons used a 15-4 run in the first six minutes of the fourth quarter to put away the Tritons.
Gabby Doxtator added 14 points, and McFarland scored 11 for Foothill.
Jessica DeGree led San Clemente with 24 points.
Liberty 58, Desert Pines 11 — Nancy Caballero scored 10 points, and the Patriots never looked back after building a 22-2 first-quarter lead.
Jazmin O'Bannon and Kealy Brown each had nine points for Liberty.
Jordan Bailey had seven points for Desert Pines.
Bonita (Calif.) 60, Liberty 40 — UNLV recruit Nikki Wheatley poured in 25 points to lead the Bearcats by the Patriots.
Fellow Rebel recruit Kandyce Smith had 11 points for Bonita, which used a 15-2 run to end the third quarter and open a 43-21 lead.
Brown had 11 points, and Paris Strawther scored 10 for Liberty.
Georgetown (Texas) 59, Desert Pines 13 — Taylor Lacour had 11 points, and Haley Frias scored 10 as Georgetown routed the Jaguars.
Chrystian Myles had eight points for Desert Pines.
Highland (Ariz.) 66, Palo Verde 38 — Melinda Myers poured in 16 points to lead the Hawks by the Panthers.
Mary Eckenrode added 13 points for Highland, which expanded a 30-13 halftime lead to 52-19 after three quarters.
Alyssa Siqueiros hit four 3-pointers in the fourth quarter and had 12 points for Palo Verde, which got 11 points from Brooklyn Cruz.
Spring Creek 59, Palo Verde 46 — Serima Thompson scored 20 points to lead the Spartans by the Panthers.
Allyson Miller, Shawntel Andersen and Maddy Merschel each added 10 points for Spring Creek.
Cruz scored 19 points, and Marci Goldberg had 10 points for Palo Verde.
Box scores:
Arbor View 42, Santa Fe (Calif.) 40
Highland (Ariz.) 66, Palo Verde 38
Foothill 69, San Clemente (Calif.) 52
Georgetown (Texas) 59, Desert Pines 13
Centennial 69, El Segundo (Calif.) 25
Bonita (Calif.) 60, Liberty 40
Spring Creek 59, Palo Verde 46
Centennial 74, Granite Hills (Calif.) 32