HOLIDAY CLASSIC: Eggleston's clutch play lifts Centennial to title
December 30, 2014 - 11:35 pm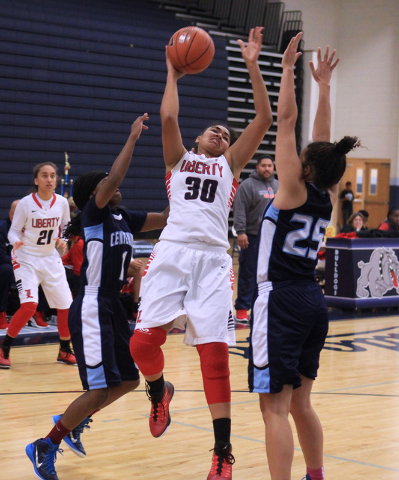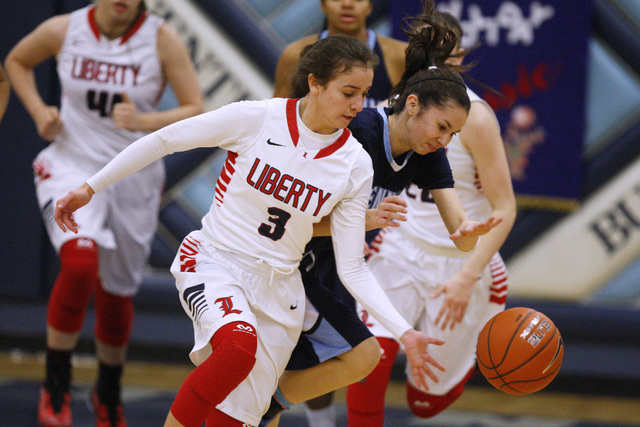 As final minutes of basketball games go, Jayden Eggleston's last minute on Tuesday is pretty difficult to top.
The Centennial sophomore hit the game-tying free throws, converted a go-ahead three-point play, grabbed a defensive rebound on a missed free throw, then hit two more game-clinching free throws — all in the span of 53.3 seconds.
And then Eggleston picked up the Most Valuable Player award after carrying the Bulldogs to a 71-66 win over Liberty in the championship game of Centennial's Las Vegas Holiday Classic.
"I was just trying to win this for my team," Eggleston said. "We all came here to win. We wouldn't accept failure."
Centennial (17-1) was down 59-52 midway through the fourth quarter, but cut it to 66-64 before Eggleston was fouled trying to rebound a missed Liberty free throw with 53.3 seconds to play.
She sank both free throws to tie the game.
After a missed shot by the Patriots and a turnover by each team, freshman Justice Ethridge fed Eggleston, who converted while being fouled in the paint with 6.2 seconds left.
"We called a timeout, and we had a set out-of-bounds play," said Centennial coach Karen Weitz. "I said if anything breaks down, we're going to go inside and try to get our post people the ball. Justice made a great pass to Jayden."
She completed the three-point play to make it 69-66, but Centennial fouled Liberty coming up the court.
CeCe Quintino missed the front end of a one-and-one with 3.2 seconds left, and Eggleston was fouled reaching for the rebound.
Eggleston, who scored 11 of her 15 points in the fourth quarter, again hit both shots to secure the win.
"We just work together well as a team," Eggleston said. "It's just basketball, and we just have to keep working hard."
Centennial, which beat Liberty 59-53 on Dec. 9, led by as many as nine points in the first quarter, but the Patriots pecked away at the lead before using a 10-0 run in the middle of the third quarter to go up 45-40.
But foul trouble hampered Liberty, which had three starters foul out. A total of 46 personal fouls were called in the game.
Eggleston and teammate Tanjanae Wells, who hit a pair of clutch 3-pointers in the fourth quarter, each picked up a fourth foul in the third quarter, but managed to stay in the game.
Karina Brandon added 15 points, and Wells scored 13 for the Bulldogs. Ethridge had 11 points, and Pam Wilmore scored 10 for Centennial, which could meet Liberty again if both teams return to the state tournament.
"To possibly see them again down the road for a third time, it's always going to be a tough matchup," Weitz said. "They're a good team. They're fun to play. But it's a holiday tournament, so I think everyone is a little more lax. If you get to playoffs, it will be a little different."
UNLV signee Paris Strawther led Liberty with 15 points. Kaily Kaimikaua had 14 points, and Kealy Brown scored 13 for the Patriots, who got 10 points from Nancy Caballero.
Centennial 76, Reno 28 — Wells scored 16 points, and the Bulldogs ran away from the two-time defending state champion Huskies in a semifinal.
Eggleston added 15 points, and Ethridge scored 11 for Centennial.
Sheridan Manfredi and Mikayla Shults each had six points for Reno, which played without reigning state player of the year Mallory McGwire. McGwire missed the game after being ejected, along with Palo Verde's Paulina Silcox, for flagrant fouls in Monday's late game.
Liberty 68, West Torrance (Calif.) 51 — Strawther scored 25 points to lead the Patriots by West Torrance in a semifinal.
Brown added 17 points, and Kaimikaua scored 10 for Liberty, which trailed 41-37 in the third quarter before going on a 22-1 run to take control.
Jasmine Jones led West Torrance with 13 points.
Quest Academy 40, Culver City (Calif.) 36 — Brianna Osorio led a balanced attack with 10 points as the Knights outlasted Culver City in overtime.
Osorio hit two free throws with 3.7 seconds left in regulation to force overtime.
Kailey Tooke led Culver City with 13 points.
Bonita (Calif.) 53, Valley 22 — Alyssa Ono scored 15 points to lead the Bearcats past the Vikings in a consolation game.
Hannah Geberyesus had 11 points for Valley.
Palos Verdes (Calif.) 55, Palo Verde 36 — Jillian Hrboka hit five 3-pointers and finished with 25 points to lead the Sea Kings by the Panthers in a consolation game.
Anna Der and Bailey Colli each added 10 points for Palos Verdes, which overcame a 26-23 halftime deficit.
Marcie Goldberg had 14 points, and Alaysia Reed scored 10 for Palo Verde.
Schurr (Calif.) 60, Desert Pines 44 — Alicia Aguirre and Raelene Alvarez-McDermott each had 10 points to help the Spartans down the Jaguars in a consolation game.
Chrystian Myles had 15 points for Desert Pines.
Troy (Calif.) 48, Canyon Springs 30 — Naomi Hunt scored 18 points to lead Troy by the Pioneers in a consolation game.
Alexia Thrower had 10 points for Canyon Springs.
Box scores:
Liberty 68, West Torrance (Calif.) 51
Palos Verdes (Calif.) 55, Palo Verde 36
Quest Academy 40, Culver City (Calif.) 36
Schurr (Calif.) 60, Desert Pines 44
Troy (Calif.) 48, Canyon Springs 30