Review-Journal girls basketball rankings — Jan. 10
January 8, 2018 - 10:21 pm
Updated January 9, 2018 - 10:21 pm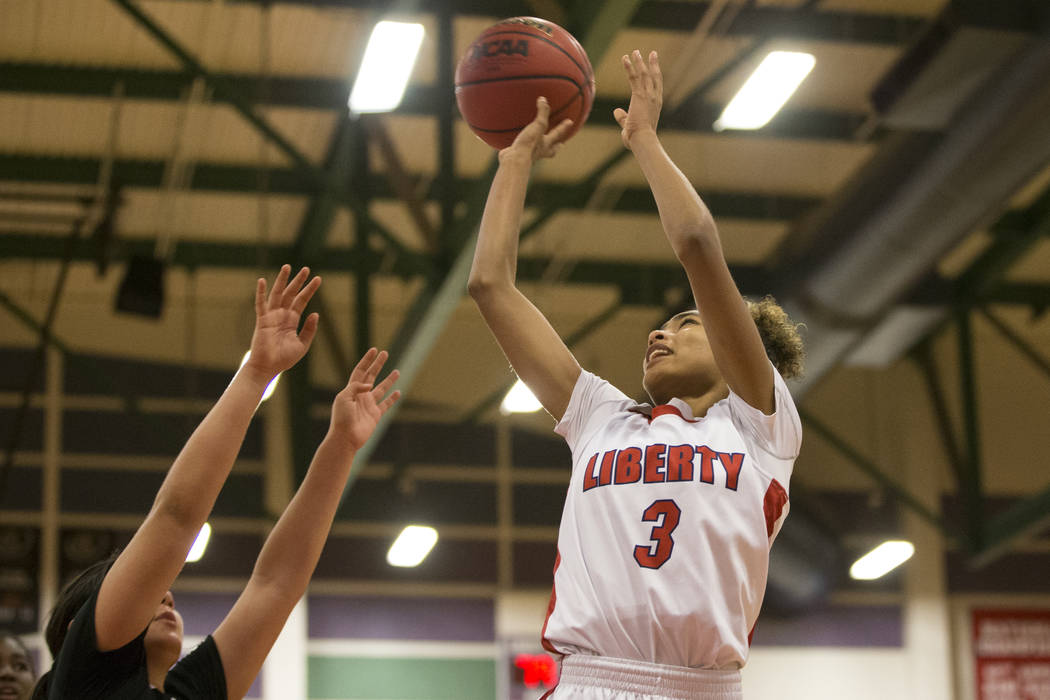 Class 4A
1. Centennial (15-2, Last week 1) — The Bulldogs travel to California to play three games this weekend.
2. Spring Valley (14-2, LW 2) — The Grizzlies have looked like a powerhouse so far this season, and their two losses have been by a total of 11 points.
3. Liberty (16-1, LW 3) — The Patriots opened league play with a bang, beating Basic 77-18 on Tuesday.
4. Desert Oasis (13-2, LW 4) — The Diamondbacks play Bishop Gorman on Friday, then host Spring Valley on Tuesday.
5. Bishop Gorman (5-10, LW 5) — The Gaels can erase the ugly non-league record with a win against Desert Oasis on Friday.
6. Cimarron-Memorial (13-4, LW 7) — The Spartans would contend for the Northwest League title in a Centennial-less world.
7. Green Valley (11-4, LW 6) — The Gators can make a statement with a win over Liberty on Thursday.
8. Coronado (9-5, LW 8) — The Cougars play against California teams Saturday and Monday.
9. Arbor View (9-7, LW 9) — The Aggies host a Legacy team Thursday that could snap out of its funk at any time.
10. Canyon Springs (6-4, LW 10) — The Pioneers start league play Friday against Eldorado.
Class 3A
1. Moapa Valley (14-3, LW 1) — The Pirates have only one non-league game remaining on their schedule.
2. Pahrump Valley (10-2, LW 2) — The Trojans play back-to-back this week, hosting Mojave on Thursday and Bonanza on Friday.
3. Cheyenne (5-5, LW 3) — The Desert Shields dropped their league opener, but resume Sunset League play Thursday against Western.
4. Boulder City (7-7, LW 4) — The Eagles will have a chance to move up in the rankings when they play Moapa Valley on Friday.
5. Virgin Valley (7-8, LW 5) — An intriguing non-league game waits this weekend, then the Bulldogs host top-ranked 2A Lincoln County on Saturday.
Class 2A
1. Lincoln County (11-3, LW 1) — Friday's showdown against Democracy Prep will go a long way in determining who wins the Southern League.
2. Democracy Prep (8-3, LW 2) — The Blue Knights could earn their No. 1 ranking back by beating Lincoln County on Friday.
3. Needles (12-7, LW 3) — The Mustangs would be wise to not overlook Calvary Chapel when they meet Thursday.
4. Calvary Chapel (7-5, LW 5) — Last week's victory over Lake Mead puts the Lions in position for their first playoff berth since 2014.
5. Lake Mead (7-7, LW 4) — The Eagles get a big chance to prove themselves next Tuesday at Democracy Prep.
Class 1A
1. Pahranagat Valley (9-3, LW 1) — The Panthers' top ranking will be on the line against Round Mountain on Friday.
2. Round Mountain (9-3, LW 2) — A victory against Pahranagat Valley on Friday could give the Knights the top spot.
3. Indian Springs (5-0, LW 4) —The Thunderbirds take on Class 2A Mountain View on Wednesday.
4. Beatty (1-4, LW 3) — The Hornets head to Tonopah on Tuesday.
5. Word of Life (5-3, LW 5) — The Eagles play SLAM Academy on Thursday.