SUNRISE REGION: Fourth-quarter run helps Wildcats down Falcons
February 13, 2013 - 11:08 pm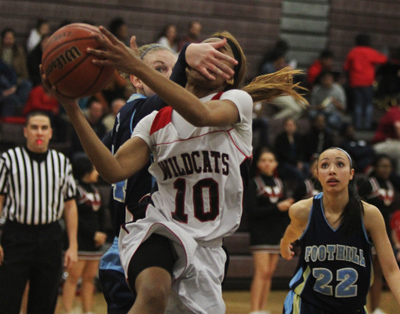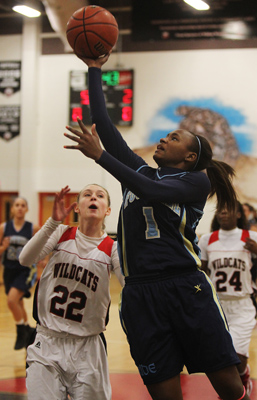 LaShondra Rayford turned to one of her assistants during the fourth quarter Wednesday and mentioned that it had been a while since the Las Vegas High girls basketball team allowed a basket.
"I thought it was about three or four minutes," Rayford said.
The Wildcats coach wasn't even close.
Las Vegas held visiting Foothill without a field goal for nearly seven minutes in the second half and pulled away for a 57-41 victory in the quarterfinals of the Division I Sunrise Region tournament.
The Wildcats (20-8) take on Liberty (25-6) in the semifinals at 6:20 p.m. today at Green Valley.
Matti Ventling had 22 points and 11 rebounds to lead Las Vegas. Shomari Harris added 19 points, and Shaleea Butler pulled down 12 rebounds for the Wildcats, who broke open a close game with an 11-0 run in the fourth quarter.
"As a team, I thought this was our best effort of the season defensively," said Rayford, whose team lost to Foothill 58-45 on Dec. 13. "Once we settled down and regained our composure, we got back to doing what we do."
Anaya Rodisha led the Falcons (18-10) with 23 points and 10 rebounds. She scored the first seven points of the third quarter to help rally Foothill, which trailed 30-19 at halftime.
Katey Roquemore's bucket with 25 seconds left in the third cut Las Vegas' lead to 38-34. But the Falcons went cold against Las Vegas' zone defense in the fourth quarter until Rodisha's 3-pointer with 1:32 remaining made the score 52-41.
"We made a really good push in the third quarter, and we showed what kind of team we can be," Foothill coach Eric Kruger said. "Now we need to figure out how to be that team for 32 minutes."
The Falcons struggled against Las Vegas' pressure most of the night. Midway through the second quarter, Foothill had as many points (12) as turnovers.
For the game, the Falcons shot 27.5 percent (14-for-51) from the field and committed 23 turnovers.
"I feel like we came after them and, like our coach says, we punched them in the mouth first," Ventling said. "I don't think they expected us to pressure them as much as we did."

Coronado 51, Valley 47 — At Coronado, the Cougars outscored the Vikings 16-8 in the fourth quarter to secure the victory.
Sofie Cruz had eight of her 16 points in the fourth quarter to lead the comeback. Ashley Johnson finished with 15 points for the Cougars (19-8), who play Canyon Springs (22-5) at 3 p.m. today at Green Valley.
Kennedy Wharton had 19 points, and Gabby Cabanero scored 13 for Valley (14-13).
Liberty 64, Green Valley 39 — At Liberty, Paris Strawther had 14 points and 10 rebounds, and Sydney Clark added 13 points and seven rebounds to help the Patriots advance past the Gators.
Dayanni Cochran scored 11 points, and Kealy Brown supplied nine points, seven rebounds and three assists for Liberty (25-6).
Maggie Manwarren scored 16 points for Green Valley (18-11).
Canyon Springs 70, Basic 47 — At Canyon Springs, Daijhan Cooks had 17 points and 19 rebounds, and Cherise Beynon added 16 points, 10 rebounds and six assists to power the Pioneers (22-5) by the Wolves (14-11).
Trimece Thomas added 10 points, and Alexia Thrower had nine points and 11 rebounds for Canyon Springs.
Jayla Brown led Basic with 19 points.