Tarkanian Girls: 2nd-half shooting woes doom Desert Oasis
December 20, 2018 - 10:13 pm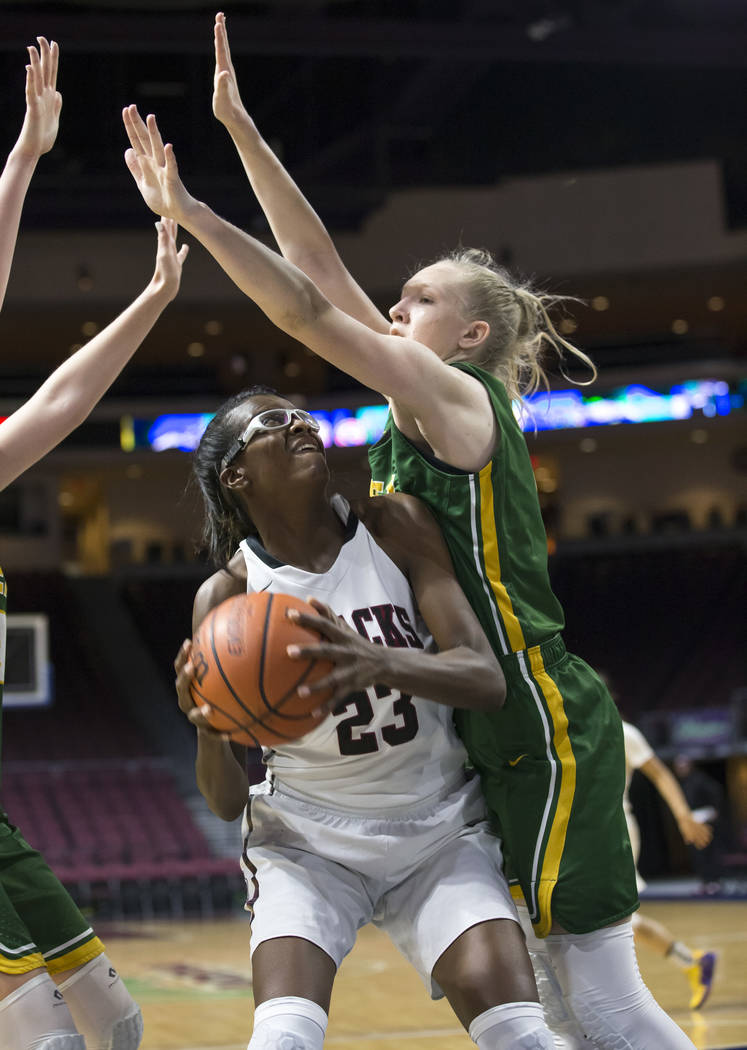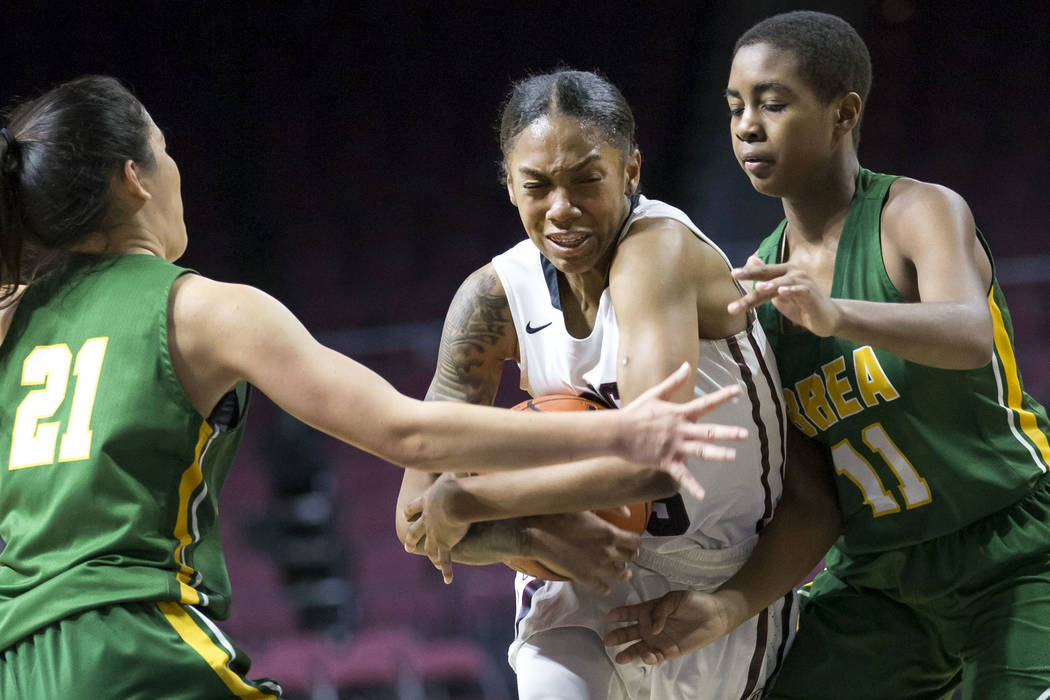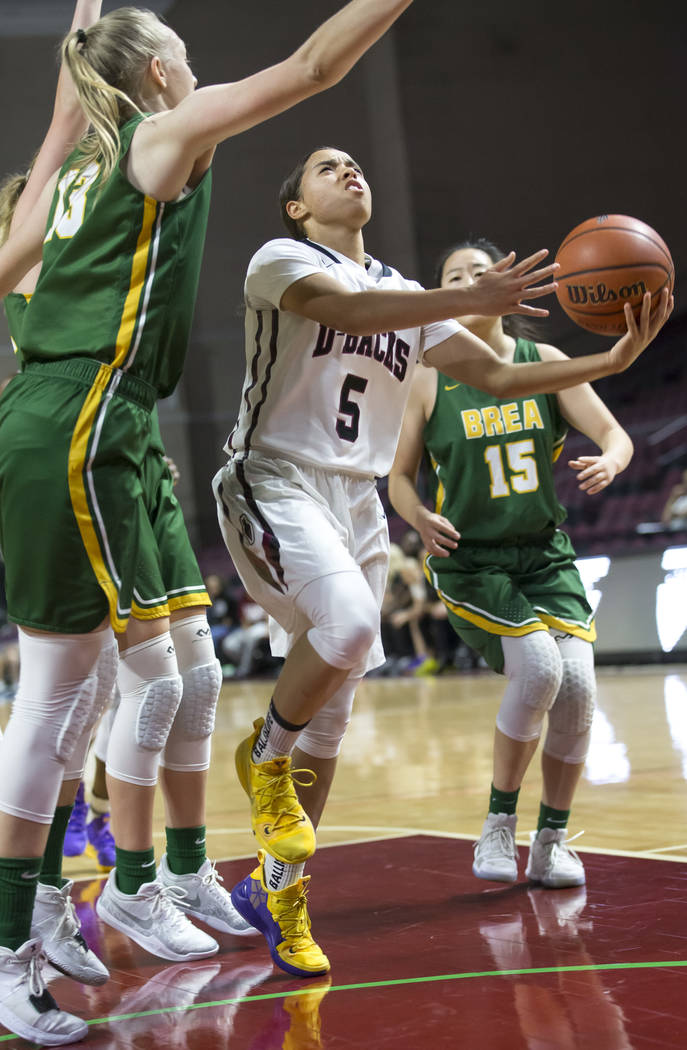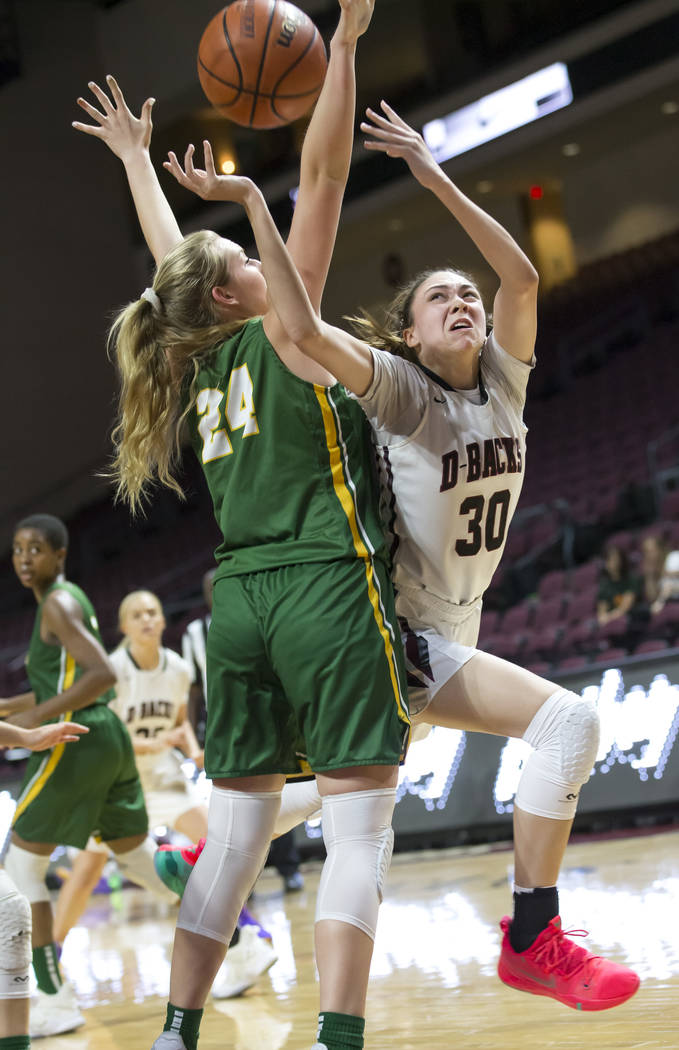 Desert Oasis' girls basketball team learned a valuable lesson Thursday.
Shooting in an arena can be quite different from shooting in a high school gym.
The Diamondbacks had a miserable second half and fell to Brea Olinda (California) 47-38 in the quarterfinals of the Tarkanian Classic's Diamond Division at Orleans Arena.
"We just couldn't score in the second half," Desert Oasis coach Laurie Evans-Gygax said. "I'm not disappointed because we played tough. We learned a ton from this game, and we'll get better."
Desert Oasis made 13 of 54 shots, including 3 of 31 in the second half, as the Diamondbacks struggled to penetrate the Wildcats' 2-3 zone.
The Diamondbacks (7-1) made 2 of 17 3-pointers, often coming up short on shots as they seemed to struggle with depth perception in the arena.
High school gyms usually are much smaller with walls close behind the baskets, as opposed to the free-standing baskets in a 9,500-seat arena.
"Maybe that did affect our shot a little bit," Evans-Gygax said. "We didn't make shots. When you don't make shots, you can't win basketball games."
It's a learning experience for the Diamondbacks, who hope to contend for the Desert Region title and their first trip to a state tournament, which will be at Orleans Arena.
"They've never played in a court set up like this," Evans-Gygax said. "So if the goal (of going to state) does happen, they're more ready for it now. It was great practice for them."
Desert Oasis trailed 27-26 at halftime but didn't make another basket until Ahmaya Smith's second-chance jumper with 4:43 to play. It snapped a streak of 11:46 without a basket and cut Brea Olinda's lead to 45-31.
Smith and Breanna Clark each scored seven points to lead Desert Oasis.
Casey Fust and Riley Price each scored 10 for Brea Olinda (12-2). The Wildcats shot 7-for-11 in the second half, including five baskets in the paint.
Bishop Gorman 46, Deerfield (Fla.) 36 — At Orleans Arena, Bentleigh Hoskins hit consecutive 3-pointers midway through the second half to highlight a game-ending 25-10 run that lifted the Gaels by the Bucks in the Diamond Division.
Hoskins' second 3 put the Gaels ahead for good at 37-34 after Deerfield led 22-19 at the half.
Georgia Ohiaeri led the Gaels with 14 points. Caira Young added 12 points, and Hoskins scored 11 for Gorman.
Fatima N'Diaye and DenAsia Mitchell each had 10 points for Deerfield, which committed 24 turnovers.
Liberty 50, Denver East (Colo.) 35 — At Durango, Tania Tovia scored 12 points to lead the Patriots to a Ruby Division win.
Joy Watkins and Starr Walker each added eight points for Liberty.
Lily Majmulski paced Denver East with 13 points.
Shadow Ridge 71, Cheyenne 29 — At Liberty, Caitlyn Covington led four double-figure scorers with 14 points as the Mustangs routed the Desert Shields to advance to the Premier Division semifinals.
Chloe Carter added 12 points, and Vashay Young and Christina Thames each scored 10 for Shadow Ridge.
Germanie White had 10 points for Cheyenne.
Las Vegas 42, Western 37 — At Liberty, Cortney Stark scored 10 of her team-high 13 points in the second half as the Wildcats won a consolation bracket game in the Premier Division.
Xeda Regala added 12 points for Las Vegas.
Adrianna Jones scored 11 of her 17 points in the first half for Western.
Basic 44, Mojave 38 — At Liberty, the Wolves scored the final six points of the game, including consecutive layups from Jasmine Richardson in the final 30 seconds to rally past the Rattlers in a Premier Division game.
Richardson led all scorers with 16 points, and Sierra McLean added 14 points for Basic, which trailed 22-18 at the half.
Alecia Kelly scored 13 of her team-high 15 for Mojave in the first half, and teammate Jasmine Kaufman scored 10.
Jordan (Utah) 43, Durango 22 — At Liberty, Emily Moss had eight points to lead 11 scorers as the Beetdiggers downed the Trailblazers in the Premier Division.
Laila Loring and Erica Stiles each had seven points for Durango.
Pueblo South (Colo.) 55, Green Valley 38 — At Durango, Gabi Lucero had 18 points to help lead the Colts over the Gators in the Ruby Division.
Drea Nelson scored 14 points, and Jada Dupree added 11 points for Pueblo South, which won the second half 27-14.
Michelle Lagunas-Monroy scored 11 points to pace Green Valley.
Springville (Utah) 46, Coronado 38 — At Durango, Ahna Hullinger scored 13 points as the Red Devils downed the Cougars in the Ruby Division.
Addisyn Johnson had 11 points, and Saige Porray added nine points for Springville, which used a 23-18 halftime advantage to take control.
Haley Morton scored 13 points, and Sade Williams had eight points to pace Coronado.
Democracy Prep 48, George Washington (Colo.) 43 — At Liberty, Sharmayne Finley scored 13 of her 22 points in the second half as the Blue Knights shook off a sluggish start to get a consolation bracket victory in the Premier Division.
Monica Marshall added 10 points for Democracy Prep.
Maya Whiteside scored 17 to lead George Washington, which got within 44-43 before Marshall and Zay Brass each scored to put it away for the Blue Knights.
Dominguez (Calif.) 33, Sierra Vista 30 — At Liberty, Leigha Harris scored 15 points to lead the Dons to a narrow win over the Mountain Lions in a Premier Division game.
The Mountain Lions slowed the pace to a crawl in the first half, taking a minute or more off the clock on three possessions.
Cherish Ross led Sierra Vista with eight points.
Thursday's box scores