Arbor View plays keep-away to dominate Palo Verde, 24-7
November 15, 2014 - 12:56 am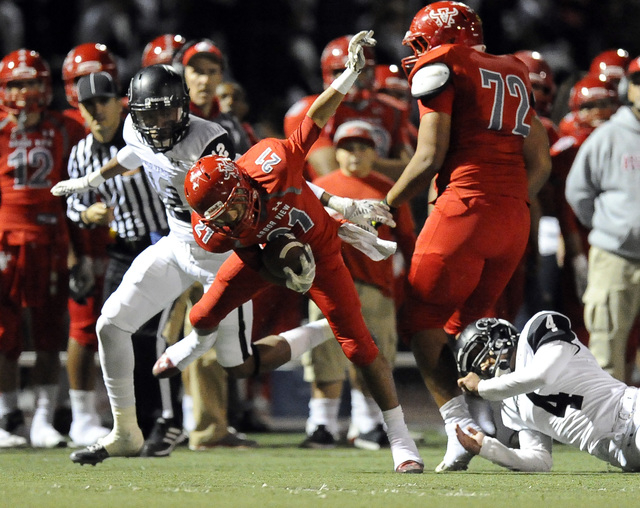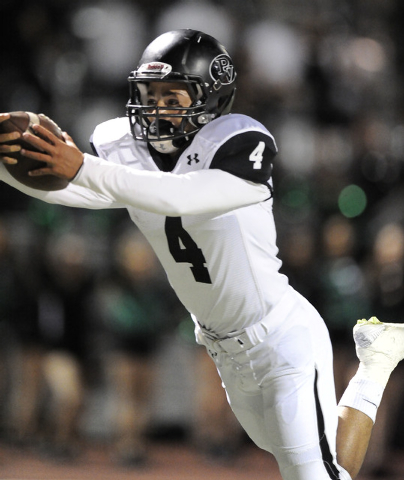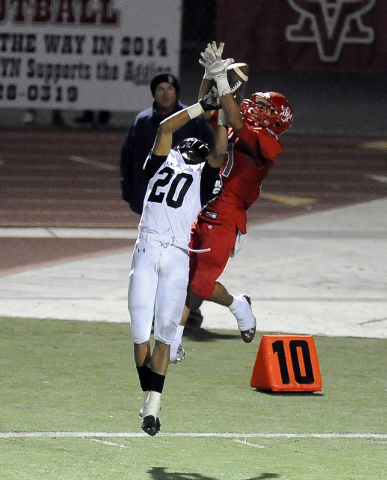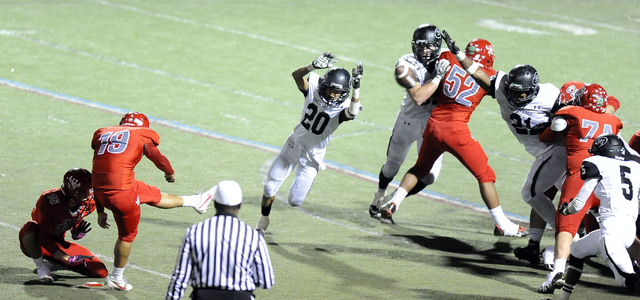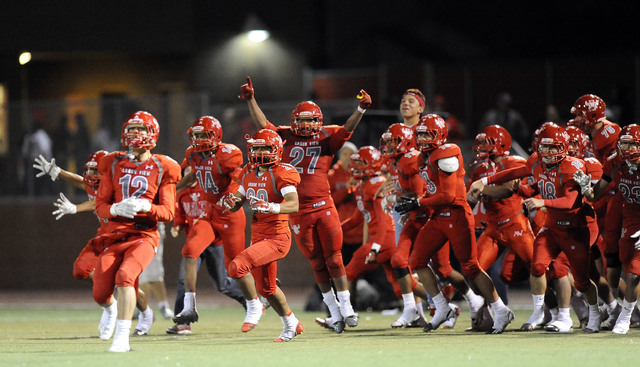 The score at halftime didn't quite tell the story of how dominating Arbor View had been, but another stat did.
The Aggies had more points than Palo Verde had run offensive plays.
Arbor View continued that dominance in the second half on the way to a 24-7 home victory over the Panthers on Friday night in the Sunset Region football semifinals.
"Keeping the ball out of Palo's hands was probably key to our success tonight," senior running back Herman Gray said.
The Aggies (11-0) held Palo Verde to 11 offensive plays and 13 yards of offense in the first half as they led 17-7 at halftime. The Panthers' touchdown came on a 91-yard kickoff return by Darrion Finn.
Outside of that, Palo Verde (7-4) did little. The Panthers didn't run their first offensive play until the 9:36 mark of the second quarter.
"That was the beauty of it, not giving them the ball," Arbor View coach Dan Barnson said. "Tonight, our big guys upfront were creating holes and we were getting four yards a pop."
Arbor View settled for a 44-yard field goal by freshman Carter Andrade on the game's opening drive. But the Aggies still had the ball for 11 plays and set the tone for the evening.
Arbor View had five drives of nine or more plays, and all four scoring drives were at least 11 plays. The Aggies didn't do it with big plays, as they averaged only 4.2 yards per carry and didn't complete a pass. But Arbor View had 68 rushes for 287 yards and controlled the ball from the opening kick.
"Just chipping away," Barnson said. "Two good teams, you're not going to get that big play. You're really not. They have team speed. I think they actually have more team speed than us. We have a senior dominant line, and our kids showed it, they really did."
After Finn's kick return gave Palo Verde a 7-3 lead with 5:55 left in the first quarter, the Aggies marched 67 yards on 16 plays to retake the lead. Quarterback Bryce Poster capped the 8-minute, 11-second drive with a 1-yard quarterback sneak, and Andrade's extra point made the score 10-7 with 9:44 left in the half.
Gray led the way with 136 yards rushing on 35 carries. He had 25 carries for 85 yards in the first half, including a 4-yard TD run with 38.7 seconds left in the second quarter to make the score 17-7.
"It obviously starts with the line," Gray said. "It opened up all the gaps. They really set the tone."
The Aggies didn't score again until the fourth quarter, when Charles Louch's 7-yard TD run made it 24-7 wih 4:34 left. Louch finished with 103 yards rushing on 19 carries.
Palo Verde never got going against Arbor View's defense.
The Panthers managed 63 yards of offense and had just 38 rushing yards on 20 carries. Palo Verde was averaging 277.1 rushing yards.
"Our chemistry was really good," senior lineman Malik Noshi said. "We just played power football. We didn't have anything special, we just came out and played what we do."
Barnson conceded that he patterned his team and its double-wing offense after the Panthers.
"They're a great team," Barnson said. "We kind of modeled ourselves after them when I took this thing over nine years ago. It's a compliment to them, our success. (They have) a great coach, great staff. We were better tonight."
Arbor View will host Bishop Gorman on Friday in the Sunset title game. It will be the first appearance in a region title game for the Aggies.
"It feels great," Gray said. "It's the first time in our school's history that we made it past the second round of the playoffs. So it's an honor, honestly."
Contact prep sports editor Damon Seiters at dseiters@reviewjournal.com or 702-380-4587. Follow him on Twitter: @DamonSeiters.
Box score: