Arbor View relishes latest opportunity against goliath Gorman in Sunset final
November 25, 2016 - 6:33 pm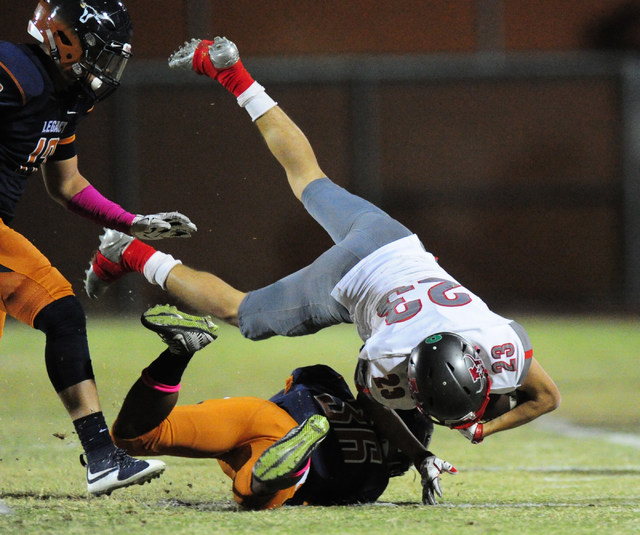 A third consecutive appearance in the Sunset Region final has firmly established Arbor View as the region's No. 2 team.
Like the rest of Nevada, the Aggies are still chasing No. 1.
Arbor View (10-1) will get another shot at seven-time defending state champion Bishop Gorman (13-0) in the region title game at 1 p.m. Saturday at Arbor View. The winner advances to the Class 4A state championship Dec. 3.
"It's something that we're proud of, and our kids look forward to it," Arbor View coach Dan Barnson said of facing Gorman in the region title game for the third consecutive season. "Last year, when we lost to Gorman at their place, that night we told the kids, 'If you do what you're supposed to do and be the No. 1 seed, win the Northwest (League) next year, you'll host them on Thanksgiving weekend.' So we said it last November for this game. We put the work in, and here we are."
The Gaels have won the last two mythical national championships and are riding a 52-game winning streak. Still, Arbor View quarterback Hayden Bollinger said the team is excited for a crack at Gorman, which is ranked No. 1 in the nation by USA Today.
"It's amazing. They're the best of the best," Bollinger said. "For us to get a shot at them, it feels pretty good."
Taking a shot at the Gaels and beating them are different things. Gorman has eliminated Arbor View from the playoffs in five of the last six seasons.
"All we can do is prepare," Barnson said. "I said, 'How do you beat Gorman? Gorman's great. You've got to play great.'"
Barnson stressed that he doesn't believe in changing the team's identity to try to beat Gorman.
"There's a lot of people that say, 'You've got to pull everything out. You've got to try three onsides, and you've got to try the trick play and the throw back,'" Barnson said. "And I totally, 100 percent disagree. I think you've just got to play your game and play great against a great team."
Barnson won't let the Aggies stray too far from their double-wing identity. But Bollinger already has set a school record for passing yards (1,175 yards) and touchdowns (20) this season, and has yet to throw an interception, so the coach won't rule out opening things up if the game calls for it.
"Once the game starts and the feel of that game starts to go, we might jump into our other stuff," Barnson said. "That might be what we have to do.
"My mentality is to run the ball 60 times a game and here we go, and keep the clock running. That's what we'd love to do. But it's a flow."
Whatever the Aggies decide to do on offense, long, clock-eating drives might be their best bet to shorten the game and keep Gorman within reach. Arbor View was able to put together some extended drives in last year's Sunset final, which Gorman won 28-10. The previous five meetings between the teams had been decided by 35 or more points.
"When you can keep their offensive talent off the field, that's one step pro us, positive us," Barnson said. "Because when that offense gets on the field, they're going to produce."
Arbor View just has to hope it's the team that can hold that offense in check. Gorman hasn't lost to a Nevada school since 2008.
"We've just got to believe and we've just got to play with heart Saturday," Bollinger said.
Contact prep sports editor Damon Seiters at dseiters@reviewjournal.com or 702-380-458. Follow @DamonSeiters on Twitter.