Bulldogs, Pirates set for one of state's 'biggest' rivalries
October 29, 2008 - 8:01 pm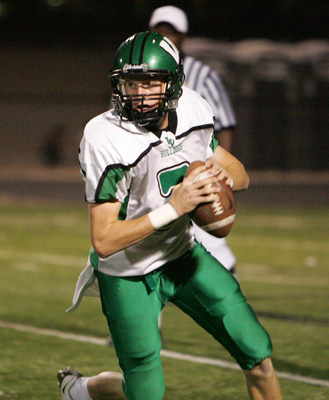 It's a rivalry so big that both Mesquite and Overton "pretty much shut down" on game day, according to Virgin Valley football coach Kirk Hafen.
The Bulldogs' meeting with Moapa Valley on Thursday would have been heated if both teams came in 0-9.
But with the Class 3A Southern League rivals possibly on a collision course to meet in the state title game for the third straight year, both teams' coaches say Thursday's 7 p.m. showdown in Mesquite is no ordinary regular-season finale.
"We keep an eye on each other," Pirates coach Brent Lewis said. "I think the rivalry's been taken to a new level the last couple years with all that's happened."
Last year, Moapa Valley lost 34-14 to end the regular season before going on to beat Virgin Valley 35-14 in the 3A state title game.
In 2006, Moapa Valley won the regular-season finale 15-14 before losing 10-7 in the 3A state championship.
"It's probably one of the biggest (rivalries) in the state," Hafen said. "It's pretty huge."
Both coaches refuted the notion that they might use partial playbooks Thursday to conceal strategy in case they meet again in yet another state title game.
Thursday's winner will clinch the South's No. 1 seed for the state playoffs, which means avoiding a trip to a North team's field for the second round.
"Both teams want to come out and win this game so it puts us in a good situation to stay at home," Lewis said. "I've never been one to think if you win one game you can't win two, but it's turned out that way the last two years."
Hafen added: "There's a lot of pressure from the community on both coaches not to get beat."
Both teams enter 2-0 in league play, though Virgin Valley (8-1) has a better overall record than Moapa Valley (6-2).
The Bulldogs average more than 37 points per game.
Though Virgin Valley's specialty is a three-pronged rushing attack out of the wing-T, quarterback Terran Leavitt has an 18-3 touchdown-interception ratio.
Moapa Valley averages just under 35 points.
With 1,139 yards and 11 touchdowns rushing, Brad Weiss leads a Pirates ground game that rolls up 254 yards a game.
"It's probably one of the best offensive lines I've had since I've been coaching," Lewis said. "Our kids get excited when you tell them how many yards we rushed for at the end of the night."
But Moapa Valley isn't one-dimensional, either.
Quarterback Max Jenkins has thrown for 969 yards and 16 touchdowns.
"We're going with our (4-3) base 'D,' and of course, we're going to be keying on Weiss like we always do when we play him," Hafen said.
Moapa Valley's defense will be keyed by 6-foot-3-inch, 275-pound defensive tackle Tyler Lomprey, who Lewis said is drawing recruiting interest from UNLV. The senior has 32 tackles and five sacks this season.
"The key with Virgin Valley is, you can't let them get in second- or third-and-short situations," Lewis said. "They throw the ball well, too. Play action is key."
Since opening 2-2 with losses at Hurricane (Utah) and Delta (Utah), the Pirates have rattled off four straight victories by a combined score of 175-36.
"We've had our bumps along the road," Lewis said. "We've gotten better along the way. We like our chances."