Defensive stand fuels Arbor View in win over Legacy — VIDEO
November 18, 2016 - 11:26 pm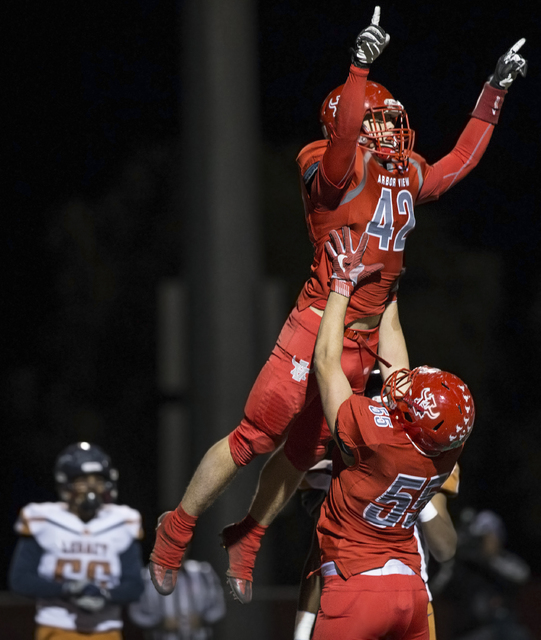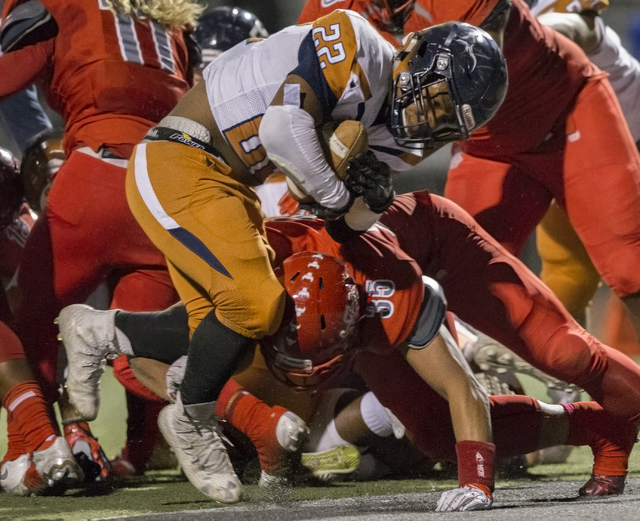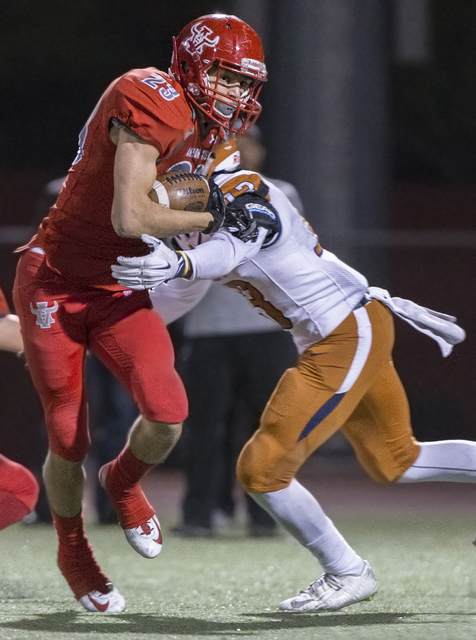 As part of his preparation for the Class 4A Sunset Region semifinal, Arbor View senior linebacker Nick Stevenson studied film of a reverse Legacy's football team scored on when the teams met last month.
When the Longhorns tried to run a similar play Friday, Stevenson was ready.
Stevenson dropped Legacy receiver Marquell Evans for a 7-yard loss during a goal-line stand early in the third quarter, and the host Aggies went on to a 26-14 victory over rival Legacy.
Arbor View (10-1) advances to the region final for the third straight season and will host top-ranked Bishop Gorman at 1 p.m. Nov. 26.
"I had been practicing that formation all week because they actually scored on us last time, so I had to make sure that wasn't the case," Stevenson said. "I definitely think it took their heart out. It was a huge momentum shift. It was a turning point in the game."
Arbor View led 23-7 at halftime behind two touchdowns by Andrew Wagner, but Legacy's Amorey Foster returned the second-half kickoff 84 yards to the Aggies' 10.
Longhorns running back Samuel Turner was stuffed on second-and-goal from the 1, and Stevenson stayed home on the reverse on third down and wrapped up Evans for a loss. On fourth down, Legacy quarterback Roberto Valenzuela bobbled the low snap and was tackled for a 7-yard loss.
"To go down there like they did and not score, that's hard to recover from," Arbor View coach Dan Barnson said. "Our kids got fired up and we had a couple of decent drives and kept them off the field. And that was the main thing is keeping them off the field."
Turner, the area's leading rusher, was limited to 102 yards and two scores on 20 carries after gaining 277 yards in the first meeting Oct. 21. Nearly half of Turner's yards came on a 39-yard run in the first half.
Legacy (8-3) finished with 126 yards of offense.
"We just came out here and tried to do what we didn't do last time we played them, which was shut him down from going to the outside and breaking loose," Stevenson said. "That seemed to be the answer."
Lorenzo Mationg led Arbor View with 97 yards on 11 carries, all in the second half, and Aggies quarterback Hayden Bollinger accounted for two scores.
Arbor View took a 9-7 lead late in the first quarter when Valenzuela was flagged for intentional grounding in the end zone.
On the ensuing drive, Bollinger hit DeKarri Gunn for a 30-yard gain, and Bollinger scored on a 1-yard plunge three plays later to put the Aggies on top 16-7.
Bollinger floated a 23-yard TD pass to Wagner on fourth-and-10 with 3:13 left in the first half to give Arbor View a 23-7 lead.
"They gave us a little bit different look than we thought, and their kids flew around and did a great job," Barnson said. "Was it the prettiest game? No, but we're moving on and we get to practice every day next week and have a big game against Gorman. We'll roll the dice and see what happens."
Contact reporter David Schoen at dschoen@reviewjournal.com or 702-387-5203. Follow @DavidSchoenLVRJ on Twitter.
Box score: