Desert Oasis relaxed for Arbor View rematch
November 12, 2015 - 10:12 pm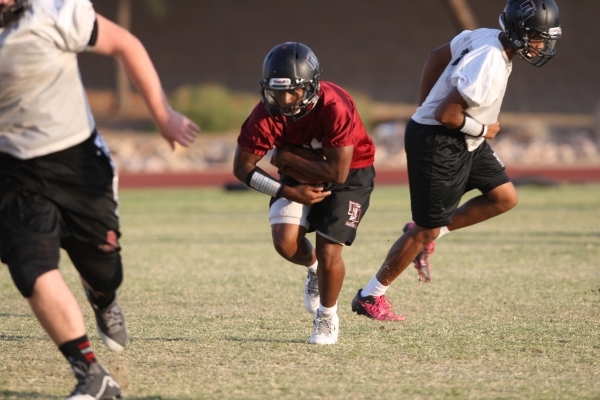 Expectations can sometimes cripple a team.
For Desert Oasis' football team, a lack of expectations might be the best thing the team has going as the Diamondbacks (7-3) prepare to play at Arbor View (9-1) in the Sunset Region semifinals at 7 p.m. Friday.
"There's no pressure on us," Desert Oasis coach Brad Talich said. "Everyone says we're going to get beat, so our kids can go out and play relaxed and hopefully continue to get better. If we do that, we hope we can give them a run for their money at least."
Desert Oasis was 2-8 last season, but turned the corner this season under first-year coach Talich, who previously went 20-13 in three seasons at Coronado. The Diamondbacks surprised many with a 34-12 win last week over Palo Verde, which has made the Sunset Region title game 10 times since 2002.
"To be honest, I don't think a lot of people on our team thought we could beat Palo," said senior running back Ty'shun McClinton, who leads Desert Oasis with 1,340 rushing yards.
"It was really great, because we had never experienced a playoff win ever. Everybody that was at the game that played here, like a couple years back, they were really proud of us and surprised. No one had faith in us winning that game. Coming in to win and shocking Palo Verde, it was the best experience ever."
Desert Oasis has taken advantage of an amazingly kind schedule to get to seven wins. Even Palo Verde, which was a No. 2 seed from the Southwest, finished 4-6. The Diamondbacks also have victories over all four Division I teams that failed to make the playoffs. In all, the wins have come against teams with a combined record of 13-53.
"I know the schedule is in our favor, but still, we've got to beat the teams that they throw in front of us," Talich said. "And to be able to come out with a playoff victory against another good team in Palo Verde was certainly something I hope that kick-starts our program."
The win over Palo Verde certainly was big, but knocking off Arbor View will be a tall task. The teams met Oct. 2, with the Aggies running away with a 45-6 win. But there were some positives for the Diamondbacks. Bad snaps led to three of Arbor View's touchdowns, something Talich hopes his team can avoid this week.
And Desert Oasis was able to move the ball against Arbor View. McClinton was held to less than 100 yards in the team's other two losses, but had 124 yards on 20 carries against the Aggies. Quarterback Brannon Flowers added 104 rushing yards.
"The second time around, I feel like we'll do much better as a team, because we know what they have in store for us," McClinton said. "And I feel like they're going to underestimate us a lot, just because they know they beat us the first time. If we come out strong and play like we did against Palo, it'll be a good game."
Finishing drives will be key for Desert Oasis, which will need to avoid three-and-outs and quickly giving the ball back to Arbor View and its potent double-wing offense.
"We're going to finish out; we're going to pound them down," Desert Oasis senior offensive lineman Jordan Daog said. "We're going to execute more on running plays and pass plays. And it's going to be a big battle in the trenches."
Stopping Arbor View also will be a difficult task. The Aggies feature a trio of strong running backs in Curtis Jones (927 rushing yards), Deago Stubbs (688 rushing yards) and Morris Jackson (610 rushing yards). Arbor View averages 286.8 yards on the ground.
But Desert Oasis junior defensive lineman Desmond Kuresa said being familiar with the double wing will help this time.
"It's super different from the first time we played them," Kuresa said. "We'd never really ran our defense against that. Now, we know what we're going against. We know where the ball's going; we know what they're running."
And Kuresa thinks another upset is a possibility.
"Our confidence is high, because no one was expecting us to win against Palo Verde and we showed everybody what D.O. is made of," Kuresa said. "Now this week, Arbor thinks they're just going to run over us and we're just not going to let it happen this time."
Contact prep sports editor Damon Seiters at 702-380-4587 or dseiters@reviewjournal.com. Follow him on Twitter: @DamonSeiters