FIELDER'S CHOICES: Defense should lift Palo Verde past Las Vegas
November 28, 2008 - 6:45 pm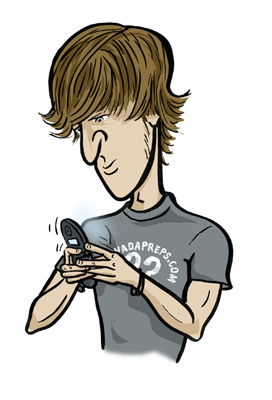 There's nothing like a big Thanksgiving dinner to get me in the mood for football.
Not that I ever need much incentive to get ready for football, especially playoff football. But I'm also not one to turn down a good meal.
As I predicted last week, Las Vegas and Palo Verde meet in a state semifinal for the right to go to Reno next week. And let's face it, if it weren't for the chance to win a state title, who would want to go to Reno?
It's a huge game, so here's a full scouting report for you. Look for me at Arbor View for kickoff. I'll be the one hiding from you.
Average points for/allowed per game: 40.4/25.2.
How they got here: Won Northeast League, defeated Foothill (52-20), defeated Green Valley (45-32), defeated Del Sol (35-28).
Strengths: Lots of them. Vegas has an explosive offense that can overwhelm teams by running and throwing the ball.
Reggie Bullock has rushed for 1,544 yards on 154 carries, caught 25 passes for 317 yards and scored 29 touchdowns.
Emir Lopez has tossed 27 touchdown passes and only seven interceptions while racking up 2,551 yards passing. Aaron Franklin leads the team in catches with 59. Marquan Major has 57 receptions.
Las Vegas' only loss this year was a 41-13 setback against Pine View (Utah) in Week 3. When the Wildcats score 14 or more, they're unbeaten.
Weaknesses: Defense.
It hasn't been as glaring because the offense can outscore teams, but the Wildcats give up too many points.
The numbers aren't as bad as they could be, thanks to a soft (other than Rancho; Rancho can score) league schedule. In all fairness, Vegas' defense in the playoffs has been better.
Keys to victory: The defense must have its best game of the year. Palo can turn defenses into wedges of Swiss cheese in a heartbeat.
Controlling the clock by pounding the ball with Bullock and Farrell Victor will help.
PALO VERDE (13-0)
Average points for/allowed per game: 38.1/10.5.
How they got here: Won Northwest League, defeated Sierra Vista (21-7), defeated Cimarron-Memorial (35-21), defeated Bishop Gorman (50-14).
Strengths: If this were a multiple-choice test, I'd be taking "all of the above."
A four-pronged running attack with Chaz Thomas, Tyrone Blake, Torin Harris and Sidney Hodge is a good place to start. Palo Verde has racked up 44 rushing touchdowns.
The Panthers' defense has been fabulous, allowing more than 14 points only three times. Palo Verde is lightning-like quick and disrupts opposing offenses before they get going.
Weaknesses: If there are any, they're on the lines, which aren't all that experienced. Gorman had success running up the gut last week and then went away from it.
Keys to victory: Keep on keeping on.
The game plan has worked 13 times this season, so why change anything? Let Harris create as a running back, quarterback, defensive back or any other position he'd like.
Pressuring Lopez early might get Las Vegas' offense out of rhythm and could make for a big day.
FIELDER'S CHOICE
These are the two teams that belong in this game. They've been the class of their respective regions.
Las Vegas will score against Palo but certainly not at the pace the Wildcats are used to. And after last week, I just can't see how Las Vegas, or any team, is going to keep Palo Verde down.
Las Vegas jumps out to an early lead, but it might be the only lead the Wildcats hold. It appears to be Palo's year: Palo Verde, 28-20.
Last week (including small schools): 4-1 (straight up), 2-3 (with points).
Overall: 81-26 (straight up), 68-39 (with points).