FIELDER'S CHOICES: Division I-A Sunset League to be dogfight
September 17, 2014 - 9:18 pm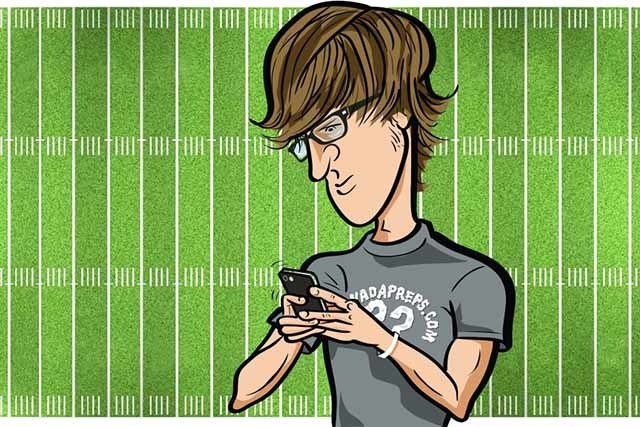 This was intended to be a mailbag. You know, one of those articles in which I provide answers to questions submitted to my email or social media accounts.
One problem: My mom grounded me because I missed curfew last week. She didn't care that the "Thursday Night Lights" game ended late, so now I'm not allowed to go on my phone or computer to retrieve the readers' comments/questions.
Luckily, Eric agreed to provide a few topics for discussion.
Q: Which teams from the Division I-A Sunset League will be left out of the postseason?
A: Good one, Eric. Last season, the Sunset League was considered the weaker of the two I-A leagues, despite housing the eventual state champ (Faith Lutheran). Now, it appears at least five teams will slug it out for the four playoff spots. I've used realignment as a punch line more than anyone, but I can't argue with its outcome in this case.
Notice how I chickened out and didn't answer Eric's original question? Give me another week and I'll know for sure.
Q: Who is the early front-runner for the coach of the year award?
A: Shadow Ridge's special teams coach. In two games, opposing teams have kicked off to the Mustangs 18 times, and they've returned five for a touchdown. Five! That's a .278 batting average if you're scoring at home.
Q: Why are there so many numbers on Bishop Gorman's field?
A: No clue. Fertitta Field looks like an old Southeastern Conference field with all the 5-yard lines numbered. I keep waiting for Herschel Walker or Bo Jackson to emerge from the fog wearing orange and blue.
I've been struggling to pick against the spread this season. But being grounded means I have extra time to study this week's schedule, so I'm expecting improvement.
■ Las Vegas at Palo Verde — The Wildcats head on the road for the second straight week, and they face the gatekeeper of Division I. Get past the Panthers and Las Vegas instantly becomes a title contender in the Sunrise Region. That's right, I just likened Palo Verde to the Ultimate Fighting Championship's Clay Guida.
These teams are evenly matched, and Palo Verde had an extra week to prepare. The difference is the Wildcats have playmakers (Elias Miller and Jacob Littlefield) on both sides of the ball. … Las Vegas by 3.
■ Mojave at Sierra Vista — I got ahead of myself last week when I called the winner of the Clark-Faith Lutheran game the favorite in the Sunset League. The winner of this game will be 4-0 overall and might even receive a vote in the Southern Nevada Football Coaches Poll. Hey, stranger things have happened.
Uncle Lefty thinks this will be high scoring, and I agree. Mojave's Ty Flanagan and Sierra Vista's Maliek Broady could combine for more than 300 yards rushing. … Sierra Vista by 6.
■ Foothill at Canyon Springs — One thing I've learned during my high school career is don't get Pioneers coach Hunkie Cooper mad. We've been solid up until now, but I don't think the former UNLV and Arena Football League star is going to like me this week.
I might be putting too much stock in the Falcons' performance on the road against Centennial two weeks ago. We'll find out. … Foothill by 1.
■ Santa Margarita (Calif.) at Bishop Gorman — The Gaels have averted disaster the past two weeks, and it doesn't get any easier against Eagles star junior K.J. Costello, who has thrown for more than 1,000 yards in only three games.
Normally, this would be a classic look-ahead spot for Gorman, with a game against top-ranked St. John Bosco (Calif.) on the horizon. But the Gaels will get a boost from the home crowd. … Gorman by 7.
■ Boulder City at Del Sol — I thought Shia LaBeouf would win an Oscar before this game ever had major playoff implications. And yet here we are, with the winner thrusting itself into the thick of the Division I-A Sunrise League title race. Don't I feel dumb.
The Dragons completed their first pass of the season last week, which is reason to celebrate at Home Depot High. So is a 4-0 start and a little Maki Magic. … Del Sol by 5½.
■ Legacy at Centennial — This is a tough spot for the Longhorns, whose offense was stuck in quicksand last week. Now they face a Centennial defense that is well rested after a bye week and allowing only 2.6 yards per carry.
Brandan Harley has supplied all the big plays for the Bulldogs thus far and will draw plenty of attention from Legacy. That should open up running lanes for Rhamondre Stevenson. … Centennial by 7.
■ Arbor View at Basic — Herman Gray has been the offensive star for the Aggies through two games, which I bring up only to point out how unusual it is. Arbor View typically has 24 players with more than 100 yards rushing at this point in the season; this year, they have one.
The Wolves looked good on TV last week and jumped into the rankings on the strength of their 44-19 win over Cimarron-Memorial. They should enjoy it while it lasts. … Arbor View by 10.
■ Liberty at Hamilton (Ariz.) — This is the perfect time for the Patriots to head to Chandler, Ariz. Not only is this an excellent opportunity for Liberty to earn a signature win against an out-of-state foe, but the Huskies are almost certain to be looking ahead to next week's game against nationally ranked Mountain Pointe (Ariz.).
The Patriots have plenty of playmakers and proved last season in a 14-10 loss it can hang with Hamilton. Doing it on the road is a tall chore, though. … Hamilton by 3.
Last week: 6-2, 4-4 (with points)
Season: 16-7, 12-11 (with points)
Contact Fielder at Fielder@nevadapreps.com. Follow @FielderNVP on Twitter.