FOOTBALL: Foothill edges Green Valley to claim Southeast's final playoff spot
October 28, 2016 - 2:16 pm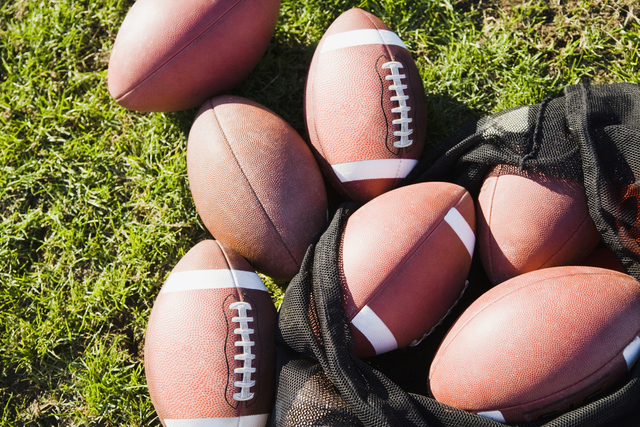 Foothill's Justin Dunlap tore off his jersey and shoulder pads, and laid down in a pile of ice by the visiting bench at Green Valley.
The senior wasted no time after Thursday's game in getting his body cooled down and feeling good. After all, now he has to suit up at least one more time.
The Falcons defeated the host Gators 20-9, clinching a playoff spot and extending their season while ending Green Valley's.
"We told our kids, let's just get in and see what happens," Foothill coach Marty Redmond said. "Our kids have a lot of confidence right now and we're going to roll with that into the playoffs."
Redmond told his players to treat Thursday's contest just like a playoff game because the winner would move on and the loser would be done. The intensity showed on both sides of the ball as Falcons quarterback Jordan Wilson got off to a strong start and the team received timely play from its defense.
Wilson completed 8 of his 13 passes for 128 yards and added 89 yards on the ground. The sophomore also threw two touchdown passes in the first quarter, both to Brandon Hargis.
"I feel like all season we've had a good connection," Wilson said. "He makes all the tough catches, breaks tackles, does everything."
The two passes gave Foothill (5-4, 3-2 Southeast) a 14-0 lead it never came close to relinquishing. While the Falcons defense entered the game allowing an average of nearly 37 points in league play, it had one of its best games with the season on the line.
Green Valley (4-5, 2-3 Southeast) kicked a second quarter field goal to make the score 14-3, but the Gators couldn't muster another point until quarterback Christian Mayberry's snuck into the end zone with 18 seconds remaining.
The late touchdown drive was Green Valley's fourth trip inside Foothill's 10-yard line, but the Falcons surrendered only three points in the red zone prior to the game's final moments.
The defense's strong play near the goal line ensured the result was almost never in doubt despite Foothill only out-gaining the Gators 287-286.
"We thought (our red zone defense) was a little sloppy last week," Redmond said. "We did spend some extra time on our red zone defense and we were happy with how we executed tonight."
Green Valley quarterback Christian Mayberry finished with 281 total yards in the game and scored his team's lone touchdown, but it wasn't enough to keep his team's season alive.
Instead it's the Falcons who will march into the playoffs coming off two straight wins in the Southeast League.
"We're going to keep rolling, keep our foot on the gas," Wilson said. "These last two games we've played well offensively and defensively so I'm very excited to go to a playoff game."
Virgin Valley 20, Sunrise Mountain 0 — At Mesquite, the Bulldogs protected their home field with a victory over the Miners in a Class 3A playoff game on Thursday night.
Running back Jayden Perkins finished with 35 carries for 172 yards and all three touchdowns for the Bulldogs (9-1), who will face Chaparral (5-5) in a semifinal next week.
"What a stud," Virgin Valley coach Yori Ludvigson said. "He's been like that all year long. He just runs so hard every play and never takes a play off. He plays defense, too."
Virgin Valley's defense also played its part, pestering Sunrise Mountain quarterback Stephen Wright all night. Wright completed only 12 of 27 passes for 102 yards and an interception.
"The defense was obviously huge," Ludvigson said. "I think they had under 50 yards of total offense. They're a good team they do a ton of things right. Lots of athletes and they're big up front, so for our kids to rise up and beat them like that — we just played good in all three phases."
Sunrise Mountain finished 3-7.
Moapa Valley 40, Pahrump Valley 14 — At Overton, Jacob Leavitt rushed for 197 and four touchdowns to carry the Pirates over the Trojans in the first round of the Class 3A playoffs.
Leavitt rushed in the first three touchdowns of the game before letting his Moapa Valley teammates get in on the fun. Quarterback Daxton Longman hit Braeden St. John with nine seconds left in the half and at the break the Pirates (7-3) led 27-0.
The start of the second gave Pahrump (6-4) some hope, when Nico Velazquez took the opening kickoff for a touchdown and the Trojans' first score.
It took the Pirates less than five minutes to get their four-score lead back. Longman connected with Derek Reese, who led Moapa Valley with 85 receiving yards, with 7:07 left in the third. Leavitt ran in his fourth of the game with 7:34 left in the game from 8 yards out.
Longman finished 12 of 18 passing for 238 yards and two touchdowns. Dalyn Leavitt rushed for 77 yards.
Centennial 55, Faith Lutheran 14 — At Centennial, Bulldogs quarterback Jamaal Evans led an attack that scored eight times on its first nine possessions and never punted in the game to take down the seventh-ranked Crusaders.
Evans rushed for 106 yards and four touchdowns and passed for 217 yards and three touchdowns. Savon Scarver added 143 yards on the ground and scored the only non-Evans TD. Centennial (3-5, 2-3 Northwest) had 643 yards of total offense.
After forcing Faith Lutheran (5-4, 4-2) to punt on its first possession, Centennial traded touchdowns with the Crusaders, leading to a 14-14 tie early in the second quarter. A successful onside kick snapped that pattern and the Bulldogs went on to a 28-point quarter and a 35-14 halftime lead.
Christian Marshall had 102 yards on 15 carries for Faith Lutheran. Crusaders quarterback Sagan Gronauer had a touchdown run in the first quarter and a touchdown pass to Elijah Kothe in the second quarter.
Karl Murphy had an interception for Centennial. Faith Lutheran's Hunter Kaupiko recovered a Centennial fumble.
Legacy 41, Cimarron-Memorial 14 — At Cimarron-Memorial, senior running back Samuel Turner rushed for 139 yards and three touchdowns on just 14 carries, and teammate Amorey Foster supplied TD runs of 46 and 45 yards to power the Longhorns past the Spartans.
Turner had TD rushes of 16, 26 and 10 yards — all in the second quarter — to give the Longhorns (6-2, 3-2 Northwest) a 29-0 lead at the half.
Foster found daylight down the left sideline on a wildcat formation for a 46-yard TD scamper on Legacy's opening drive of the first quarter, and added a 45-yard TD rush on Legacy's opening drive of the second half to make it 35-0.
Cimarron quarterback George Tribble was held to 60 yards passing, going 6-for-18, and provided a 1-yard TD plunge and a 6-yard TD pass to Marcus Phillips for the Spartans' two scores in the third quarter.
Legacy's Donovan Washington had a 1-yard rushing score for the game's final margin with 1:36 left to play.
Tyree Riley rushed for 82 yards on 26 attempts for Cimarron (1-7, 0-5), which got an interception on defense from Trevon Williams.
Canyon Springs 35, Rancho 0 — At Rancho, Diamante Burton and Dexter Hammond each took turns at quarterback for the Pioneers, accounting for all five scores as they finished their Northeast League schedule undefeated with a win over the Rams on Thursday.
Hammond finished the Pioneers' opening drive on a 1-yard sneak to get in the end zone. Diamante Burton scored on a 28-yard run on the next drive, and Keyon White brought in a Hammond pass from 13 yards out on the first play of the second quarter to put the Pioneers (8-1, 4-0 Northeast) up 21-0 early.
Burton then started taking snaps at quarterback, eventually leading the Pioneers on a 46-yard touchdown drive that culminated with a 32-yard pass to Lazarus Kyle.
Burton led another touchdown drive on the team's first drive on the second half, connecting with Joseph Haulcy on a 43-yard catch-and-run play.
Haulcy sealed the shutout on the penultimate play of the game, intercepting a Rancho pass in the end zone and returning it into Rams territory.
Gentry Roberts caught five passes for 36 yards, and Jonathan Gunter rushed for 31 yards for the Rams (0-9, 0-4).
Lake Mead 40, Agassi Prep 22 — At Lake Mead, the Eagles returned two fumbles for touchdowns on the way to the win over the Stars, clinching the school's first playoff berth.
Jared Regan rushed for 145 yards and a touchdown for Lake Mead (4-5, 3-3 2A Southern).
Joshua Thorell rushed for 84 yards and threw a touchdown pass to contribute to the Lake Mead win. The Eagles scored on their first possession on a 29-yard run by Regan and followed that with a fumble recovery in the end zone to take a quick 13-0 first-quarter lead.
Agassi Prep (2-5, 2-4) had trouble getting its offense on track as the Eagles intercepted two passes and returned a second fumble for a touchdown on their way to a 40-0 lead after three quarters.
The Stars' bright spot was Zeivaun Ned who alternated between quarterback, running back, and receiver and scored three touchdowns in the fourth quarter. Ned rushed for 145 yards and two touchdowns and also returned a punt 75 yards for a score.
Needles 34, The Meadows 14 — At Needles, California, Derek Wagstaff had 21 carries for 204 yards and three touchdowns Thursday to lead Needles to a victory over The Meadows.
Jayden Yeager ran for a score and completed 4 of 10 passes for 148 yards, and teammate Trey Tsosie had three receptions for 109 yards for Needles (8-1, 5-1 Class 2A Southern).
Jack Berkley completed 8 of 19 passes for 133 yards and a touchdown and also rushed for 64 yards on 18 carries for The Meadows (5-3, 4-2 2A Southern).
Sam Mason caught a 60-yard TD reception for The Meadows' lone score.
Lincoln County 61, Mountain View 6 — At Lincoln County, Derek Matthews ran for 87 yards and three touchdowns on five carries Thursday as the host Lynx routed the Saints, 61-6.
Alex Vincent, Matt Harr and Mason Thornock each added a rushing TD for Lincoln County (8-0, 6-0 Class 2A Southern), which led 36-6 after the first quarter.
Tyrell Brooks, who threw for 214 yards, connected on a 12-yard TD pass to Isiah Johnson for Mountain View's lone score.
Johnson also had a team-high seven tackles, and Kai Grunendike had a fumble recovery for the Saints (0-7, 0-7).
Pahranagat Valley 50, Beatty 14 — Tabor Maxwell completed 12 of 22 passes for 186 yards and three touchdowns and ran for 58 yards and a score Thursday to the Panthers to a win over the visiting Hornets.
Christian Higbee had 10 carries for 166 yards and two TDs, and Ike Taylor added 130 yards rushing and a TD on 15 carries for Pahranagat Valley (9-0, 7-0 Class 1A Southern), which led 28-8 at halftime.
Taylor, Cody Williams and Culen Highbe all had receiving TDs for the Panthers.
Beatty fell to 7-2 and 5-2 in the 1A Southern League.
Tonopah 69, Sandy Valley 28 — At Sandy Valley, the Muckers scored five touchdowns in the first quarter to rout the Sidewinders.
Tyler Kirkland may have only had three catches for Tonopah (6-3, 4-3 Class 1A Southern), but he made them count to the tune of 117 yards and three touchdowns. Tanner Otteson and Vinny Bagarose combined for 282 yards rushing and four touchdowns.
Sandy Valley (1-6, 1-6) outscored Tonoaph in the third quarter 14-8.
Indian Springs 65, Round Mountain 46 — At Indian Springs, Nino Alvarez scored eight touchdowns to lead the Thunderbirds to their first victory since 2013.
Nunez finished with 260 yards and eight TDs on 16 carries. He had TD runs of 15, 1, 25 and 10 yards in the fourth quarter to help Indian Springs rally for the win.
Nunez also had first-half TD runs of 45 and 60 yards. He added a 60-yard touchdown run and an 85-yard touchdown run in the third quarter.
The eight rushing touchdowns is an eight-man state record according to the Nevada Interscholastic Activities Association record book.
The previous eight-man record was seven, set by Tonopah's Scott Thimbodaux (2008) and Coleville's Matt Hussman (1993).
Box score: