Gorman's No. 1 ranking least of Reed's concerns
December 6, 2014 - 12:09 am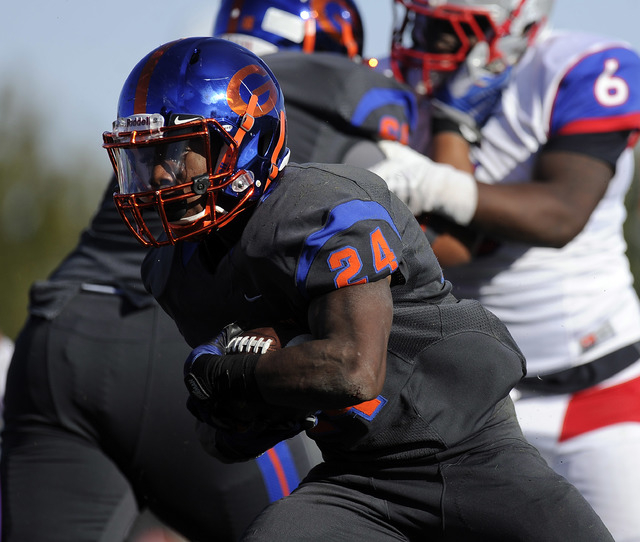 Reed football coach Ernie Howren hasn't spent a lot of time thinking about Bishop Gorman's No. 1 national ranking.
He's more worried about the team's talent.
"It's not something we're concerned about," Howren said. "We're concerned about how good they are as a team. It really doesn't matter what ranking comes with it. They're that good a football team."
The Raiders (11-3) face the Gaels (14-0) for the Division I state title at 12:10 p.m. Saturday at Damonte Ranch High in Reno. Gorman is going for its sixth consecutive state title, and the Gaels, ranked No. 1 in the nation by USA Today, also have mythical national title aspirations.
Howren and the Raiders know a bit about going up against Gorman. The Gaels beat Reed 48-14 in last year's state title game. This will be the fifth time the teams have met in the postseason in the past six years. Gorman has won each of the four previous meetings by at least 25 points.
"You respect it for what it is," Howren said of going up against the No. 1 team. "They are one of the best teams in the nation, and this particular year they happen to be ranked No. 1. We have such respect for what they do there at Gorman. We've been here before, and it's a great opportunity and that's what you take it for."
Gorman also sounds focused on the opponent, not the ranking.
"It's no different than if we were preparing for any other game," Gorman senior lineman Jackson Perry said. "We didn't do anything different; we don't do anything different. We have that goal in mind, but as of right now we're just focused on winning state and then we'll see what happens with the national championship when we beat Reed."
Howren said the strength of his team has been the play of the offensive and defensive lines, which are anchored by three-year starters Cody Dehaan (6 feet 3 inches, 260 pounds), Cody Carr (6-3, 300) and Alden Giang (6-3, 282).
"The biggest thing that they have are their defensive linemen," Perry said. "They return three of them, they're very good, very chippy, very fiery. What we have to do is stay focused, play our assignments, stay in it and do what we do."
The Raiders continue to run a high-tempo, no-huddle offense, that can force defenses to match that pace.
Gorman coach Tony Sanchez said he wants his offense to help out the defense by extending drives and not going three-and-out. That means running the football, something the Gaels have done successfully all season. Gorman has averaged 233.8 rushing yards and 8.3 yards per carry this season. Senior Russell Booze has led the way, with 1,559 yards and 21 touchdowns while averaging 9.9 yards per carry.
"Really, we have to control the game by the way we run the football," Sanchez said. "If we can run the football, let our defense rest, any time you play a no-huddle (team) that's important. You want to score quick, but not too quick. You want your defense to be able to rest and make adjustments on the sidelines. So you do that by being able to run the football."
Howren echoed that sentiment. He said the Raiders have leaned on the running game more this season, led by junior Jorden Carter, who has rushed for 1,460 yards and 19 TDs. Quarterback Matt Denn has added 962 rushing yards and 17 scores.
"We're probably a little more run-oriented this season, and really kind of grinding it out that way and creating first downs that way," Howren said. "That'll be key going into this game. Which one do you want to face, Gorman's offense or defense? They're both as talented as the other one. But if you can keep your offense on the field and keep the other team from having the opportunity to score, you're going to put yourself in position to win a ballgame."
The Raiders opened the season against consecutive out-of-state teams, losing both games. But Howren said that hasn't necessarily prepared his squad for Gorman.
"I don't think you can prepare fore an Alize Jones or the (Tate) Martell kid," Howren said. "Those are two of the most talented players I've seen in a long time."
Howren probably won't have to worry about Jones (41 catches, 930 yards), who Sanchez said is doubtful with an ankle injury. But Martell (2,337 passing yards, 34 TDs) and the rest of Gorman's receiving corps still will pose problems. Jones didn't catch a pass in a 50-0 win over Liberty in the state semifinal game.
"Alize's a really good player, but if you remember the Servite game when I came in, that's when Alize came out when he was injured," Martell said. "And we scored six touchdowns straight. I think we'll be fine."
Contact reporter Damon Seiters at dseiters@reviewjournal.com or 702-380-4587. Follow him on Twitter: @DamonSeiters.