Jaguars roll past Del Sol in playoff opener
October 28, 2016 - 12:54 am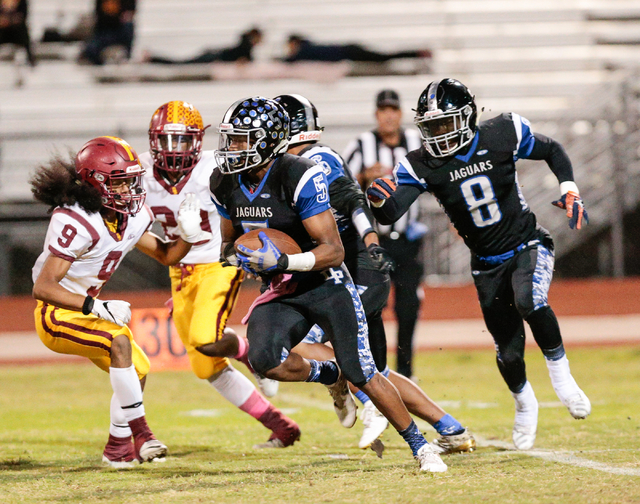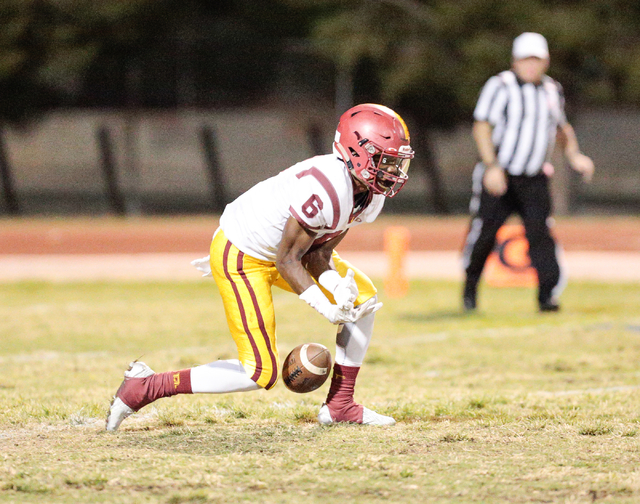 All three phases of the game are clicking for Desert Pines.
A good omen now that playoff football is in full swing.
The No. 5 Jaguars raced out to a 21-point lead after the opening quarter and never looked back in a 42-7 win over the Dragons in a Class 3A Southern Regional quarterfinal.
Desert Pines star running back Isaiah Morris didn't disappoint and had 101 yards and three touchdowns in the first half to set the tone for the Jaguars.
He opened the contest with a 9-yard score on the game's opening drive to cap a six-play, 52-yard march.
"It's a great feeling to play the way we did tonight," Desert Pines coach Tico Rodriguez said. "At this time of the year, you want to come out and set the tone early. Running the football is always important."
On the next possession, it was the Jaguar special teams unit that produced point as Eddie Heckard fielded a punt and raced 63 yards for a score and a 14-0 lead.
Tony Fields, who has committed to Arizona, picked up a fumble about a minute later and went 7 yards for a touchdown and a 21-point advantage.
So by the time the Desert Pines offense began its second series, the Jaguars had a three-touchdown cushion.
"Its important to play all three phases of the game," said Rodriguez. "We were able to get plenty of players into the game and also were able to rest some people. Its great to be healthy this time of the season."
Desert Pines' first quarter buffet certainly took the steam out of the proverbial battle between Morris and Flowers of Del Sol. Flowers, who had rushed for 1,265 yards during the regular season, was held to negative-1 yard on 10 carries.
In all, the Dragons (4-6), whose only score came on defense when Chris Williams recovered a Randal Grimes fumble in the end zone, managed just 74 total yards.
"Our defense was outstanding," said Rodriguez. "They work very hard and they love to populate to the football. Its' a very aggressive and athletic unit."
Grimes completed all five of his passes for 71 yards for Desert Pines (9-1), and tossed a four-yard score to DeAundre Newsome.
The Jaguars finished with 283 yards, 213 coming in the first half.
Box score: