NOTES: Centennial QB Evans accepts UNR welcome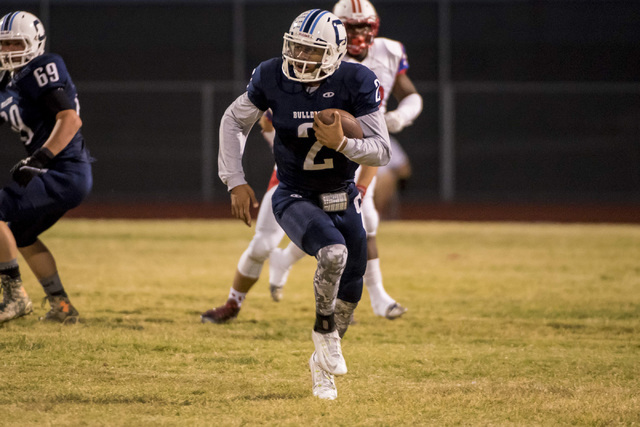 Three local quarterbacks have signed letters of intent with Football Bowl Subdivision schools since 2009.
That total is expected to double next season.
Centennial rising senior Jamaal Evans became the second area QB to make an oral commitment for 2017 when he recently pledged to UNR.
He joins Desert Pines' Marckell Grayson (UNLV) and four-star recruit Tate Martell of Bishop Gorman, who decommitted from Texas A&M this month, to form one of the best quarterback classes the area has seen in years.
Evans' commitment is nonbinding, and the first day he can sign is Feb. 1. UNR's coaches cannot comment until then.
"It's still all new to me, but I really like that school and it's the right fit for me and where I want to go," Evans said. "They're big on family relationships, so it was very comfortable and (I felt) very welcome when I was there."
Evans, who has grown to 6 feet 3 inches and 215 pounds, was a first-team All-Northwest League pick and honorable mention all-state as a junior.
The dual threat passed for 1,807 yards and 20 touchdowns and rushed for 565 yards and 16 TDs to help the Bulldogs advance to the Division I Sunset Region semifinals.
The valley is not known for producing high-end quarterback talent, which will make the 2016 season unique. Hasaan Henderson (UNR), Kai Nacua (Brigham Young) and Anu Solomon (Arizona) signed as prep quarterbacks in recent years, and only Solomon plays the position in college.
Evans is rated a two-star recruit by Scout.com and 247sports.com. He also had scholarship offers from Adams State (Colorado), Idaho and UNLV.
Evans said he is a good fit for the read-option offensive scheme run by new Wolf Pack offensive coordinator Tim Cramsey, a Chip Kelly disciple.
"His system is very my style, so it will be right where I left off," Evans said.
RECENT COMMITMENTS — Basic seniors Trever Berg, Ethen Ryan, Christian Santillanes and J.J. Smith to Colorado Northwestern College, and Chaparral senior Mark O'Connor to Taft College (California) for baseball. … Bishop Gorman senior Byron Frohnen to Texas-San Antonio, The Meadows senior Max Hisatake to Illinois Institute of Technology, Canyon Springs senior Darion Jackson to Pierce College (Washington), Silverado senior Tyric Johnson to Skagit Valley College (Washington), Cheyenne senior William Moore to Tacoma Community College (Washington) and Mojave senior Chrishawn Thomas to Blue Mountain College (Oregon) for men's basketball.
Arbor View senior Katrina Nordstrom to Wenatchee Valley College (Washington), Cimarron-Memorial senior Ashli Tyus to the University of Montevallo (Alabama) and Silverado senior Monet Salazar to Grays Harbor College (Washington) for women's basketball. … Faith Lutheran senior Brenden Joyce to Missouri Valley College and Rancho senior Luc Scott to Air Force for football. … Spring Valley senior Kelsey Adams to Grays Harbor College and Shadow Ridge senior Samaiya Montgomery to Grays Harbor College for softball. … Green Valley senior Carolina Vasquez to College of Southern Nevada for women's soccer. … Desert Pines senior Amari Calvillo-Tatum to Southern University (Louisiana) for men's track and field.
TRACK COACHES HONORED — Centennial's Roy Session, who led the Bulldogs to their sixth straight girls Division I state track and field title on Saturday, was named Sunset Region coach of the year for the girls and boys.
Silverado's Jerry Oliver was the Sunrise Region coach of the year after the Skyhawks claimed their first boys Division I state track and field title since 2011. Rancho's Prudence Jackson was the girls coach of the year.
In Division I-A, Desert Pines' Dwayne Walker was the boys coach of the year as the Jaguars earned their first state title in school history. Dan Kober of Faith Lutheran was the girls coach of the year.
Lacie Pearson of Lincoln County and Justin Locke of White Pine were the Division III coaches of the year for boys and girls, respectively.
Beatty's Ellice Dunsterville was named boys and girls coach of the year in Division IV.
WRESTLING CAMP — Chaparral will host a youth and high school wrestling camp June 14 to 16 at the school. Cost is $50 per wrestler if registered by June 10.
The camp will feature clinician Ethen Lofthouse, a Utah Valley assistant coach and two-time All America at Iowa.
For more information, visit www.chaparralwrestling.net.
Contact reporter David Schoen at dschoen@reviewjournal.com or 702-387-5203. Follow him on Twitter: @DavidSchoenLVRJ