Notes: Desert Pines' Cameron Wiley seeks spectacular senior season
August 28, 2018 - 9:16 pm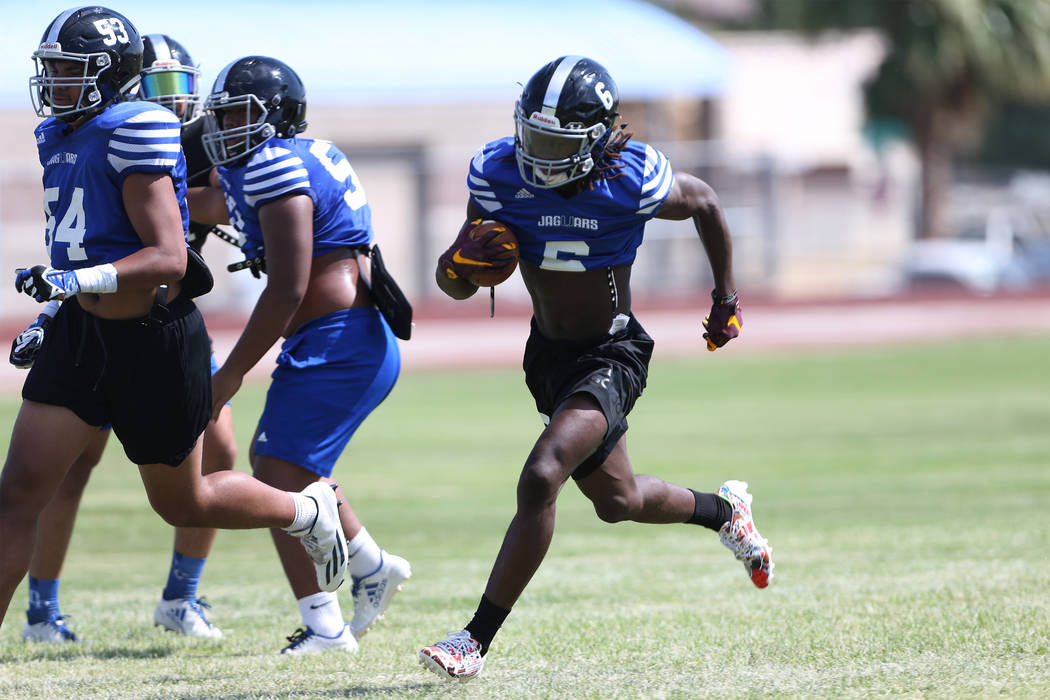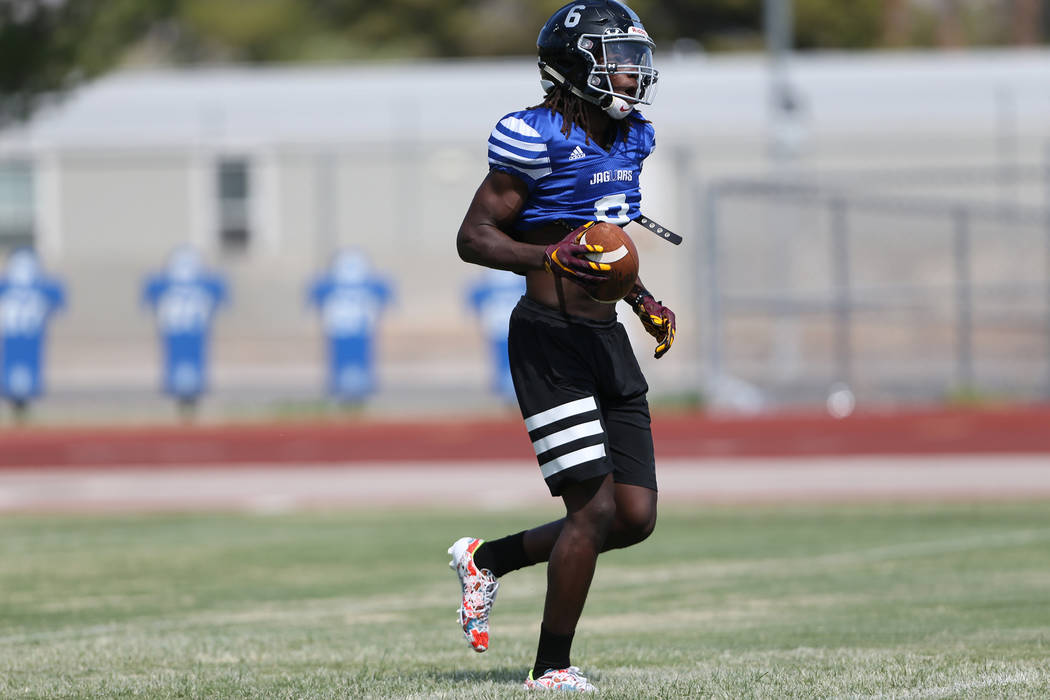 Desert Pines senior Cameron Wiley skips the conventional pregame music playlists in favor of motivational speech videos from the likes of Ray Lewis.
As if he needs more motivation.
Wiley, a 6-foot-2-inch, 195-pound tailback, has started his quest to prove he's one of the state's best runners after sitting out the 2017 football season as a transfer from Silverado.
He toured colleges across the country in the summer before committing to Minnesota in mid-July. And though he rushed for a modest 70 yards in the Jaguars' 12-6 victory over Durango in their season opener Friday, the chiseled Wiley thinks he has more in store for the Las Vegas Valley.
"If I'm feeling it … I think I can get about 20 yards every carry," he said. "I've got to showcase everything. … I want to do everything for the team. Showcase my speed, my strength, my agility, and just come hard."
Wiley, who grew up in Las Vegas, began playing running back at 9 and developed his virile frame through hundreds of hours of rigorous strength training.
He left the Skyhawks for Desert Pines after a sophomore season in which he played wide receiver and formed a strong relationship with Jaguars running backs coach David Hill, one of the area's most well-connected assistants.
"He told me that people hadn't given him a chance and that he wanted to be the best running back in the country," Hill said. "I know what a good running back looks like. … I'd seen that if he put in the time, work and effort, he could be (that)."
Wiley's recruitment wasn't slowed by his year of inactivity mandated by the NIAA's transfer rules. He practiced with Desert Pines last season and focused on adding speed to his powerful frame.
"Being that big, being that athletic … It's very different," Hill said. "You don't see people that big and fast being able to run the ball like that."
Wiley power cleans 275 pounds, bench presses 285 and squats 485, and he runs a 4.4-second 40-yard dash. He selected Minnesota from a pool of 13 scholarship offers — several Power Five offers among them — and eyes a spot in the backfield next season.
But first, senior year and the expectations that come with it.
"He still was a little rusty getting back and reading the holes, but that will come in time," Desert Pines coach Tico Rodriguez said. "He ran hard. He did a good job. All that other stuff, we'll fix."
Faith Lutheran LB ranked
Faith Lutheran sophomore Ma'a Gaoteote is the No. 21 player overall and the top-ranked outside linebacker in the 2021 class, per 247 Sports, which unveiled its rankings last week. Gaoteote is committed to Southern California. His older brother, Palaie, was the No. 1 linebacker in the country at Bishop Gorman and is a freshman for the Trojans.
Gorman star commits
Bishop Gorman junior outfielder Carson Wells announced his commitment to USC on Twitter on Monday night. It won't be official until he signs a letter of intent as a senior.
Wells hit .412 for the Gaels last season. His older brother, Austin, is a freshman baseball player at Arizona.
Contact reporter Sam Gordon at sgordon@reviewjournal.com. Follow @BySamGordon on Twitter.