NOTES: Proposal to add signing periods splits local coaches
October 25, 2016 - 9:54 pm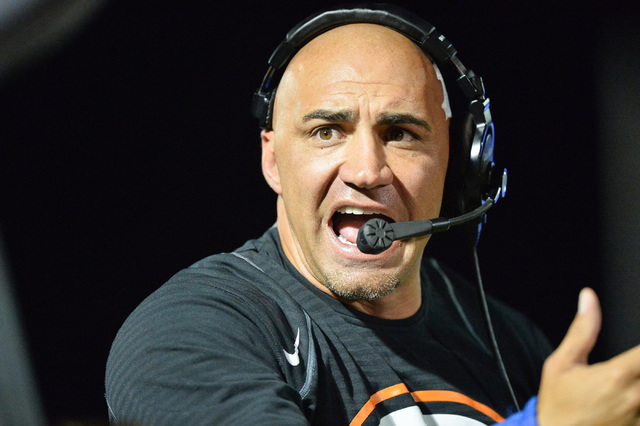 The NCAA's proposal this month to add two early signing periods for football recruits drew mixed reaction from college coaches.
Local high school coaches also were split, seeing pros and cons to the possible changes.
"There's a lot of variables that go into it," Bishop Gorman coach Kenny Sanchez said this week. "I'd have to see what all the details were, but I don't see a whole lot of issues."
The addition of the early signing periods is part of the NCAA Division I Council's proposed changes to football recruiting.
If adopted in April, players would be able to sign a binding National Letter of Intent during two 72-hour windows — in late June before their senior year and mid-December — in addition to the traditional football signing period that runs from February to April.
The changes would go into effect for the 2017-18 recruiting window.
"For the kid, I think it makes things easier to get it done, get it situated," Sanchez said. "It takes more stuff off his plate."
Desert Pines has five players who made nonbinding oral commitments before the season, and Jaguars coach Tico Rodriguez said an early signing period would benefit the ones who are finished with the recruiting process.
"Some kids don't want to have 10, 15 coaches calling them every week," Rodriguez said. "They just want to be done with it. They know where they want to go, and they want the coaches to know that they're committed somewhere and they want to sign."
Sanchez noted the early signing periods could negatively impact players who are "bubble guys either athletically or grade-wise."
But the biggest drawback appears to be what happens if a university or college changes coaches after a player signs his letter of intent. That scenario is not addressed in the NCAA proposal.
"It's a pretty rough process," Liberty coach Rich Muraco said. "I think that the best way is the way it is now, in my opinion, because it allows you to see their full body of work. … Either way, we'll adjust to it."
LINDSEY OUT
Bishop Gorman senior Tyjon Lindsey will miss the remainder of the season because of a torn meniscus in his right knee, the wide receiver announced last week.
Lindsey, an Ohio State commit, was injured during the Gaels' victory over Spring Valley on Oct. 7. He missed the first four games and had five catches for 125 yards and two touchdowns in three games before the injury.
LESCENSKI HONORED
Faith Lutheran senior soccer player Rebekah Lescenski won the girls state Wendy's High School Heisman and is eligible to be chosen as one of 10 national finalists for the award.
Lescenski, a goalkeeper for the Crusaders, was selected from a group of 20 finalists and received a $1,000 college scholarship. Reno wrestler Andrew Berreyesa was the boys' winner.
The national winner will be announced Dec 9 in New York City.
RECENT COMMITMENTS
■ Green Valley senior A.J. Amelburu and Silverado senior Kevin Pindel to College of Southern Nevada for baseball.
■ Green Valley junior Emberly Sevilla to UNLV for women's soccer after decommitting from Boise State.
■ Clark senior Eyker Millan to McPherson College (Kansas) for women's soccer.
Contact reporter David Schoen at dschoen@reviewjournal.com or 702-387-5203. Follow @DavidSchoenLVRJ on Twitter.