Patriots confident in more versatile offense
December 3, 2015 - 9:19 pm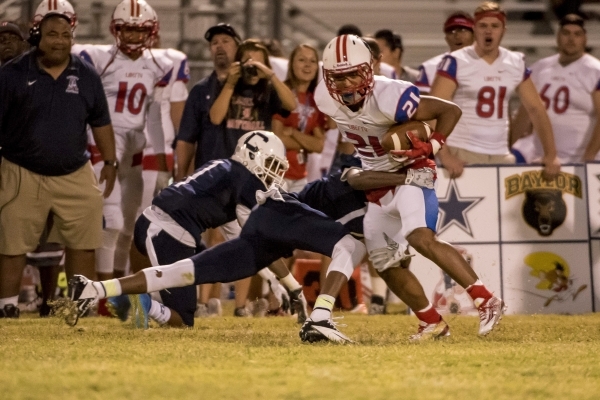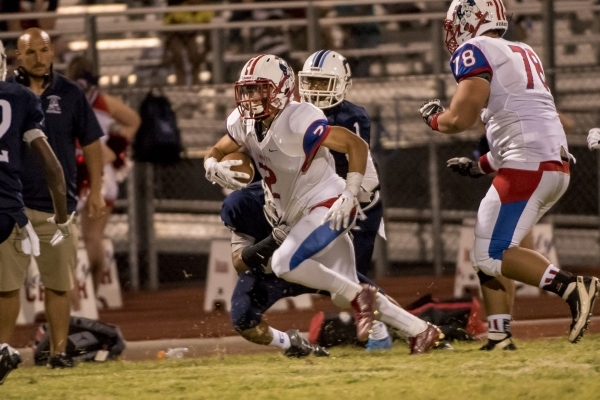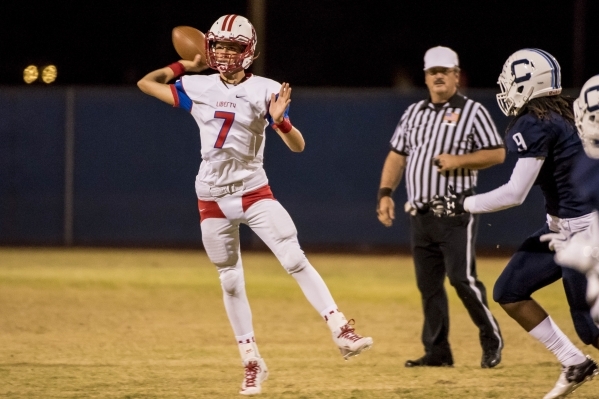 If Liberty's Ethan Dedeaux had just three touches and no touchdowns in a key game last season, it might have spelled doom for the Patriots.
But when that happened in last week's Sunrise Region championship game, all Liberty did was score 62 points anyway.
That's how much the team's offense has changed this season, and it's a big reason for the squad's optimism as they prepare to play six-time defending state champion Bishop Gorman (14-0) in the Division I state title game at noon Saturday at Sam Boyd Stadium.
"We're just versatile," junior receiver Darion Acohido said. "Everybody on our team offensively can take the ball 80 yards on a 5-yard hitch. It's fun playing on this team. We have so many weapons."
While Dedeaux still leads the team with 14 TDs this year, six other players have scored at least five, and running backs Stephon Stowers and Marquell James have combined to score 21.
The Patriots (11-1) scored on six plays of 44 or more yards in the 62-29 win over Basic last week. Five players scored for Liberty in the game.
"They don't have one guy that's good, they've got three or four guys that can catch the ball and go, and they've got a solid run game," Gorman coach Kenny Sanchez said.
That wasn't necessarily the case last season when Liberty lost 50-0 to Gorman in the state semifinals. The Patriots moved Dedeaux all over the field in that game, desperately trying to get the ball to their playmaker.
"We maybe played a little more conservatively and just tried to get the ball in Ethan's hands and let him make things happen," Liberty coach Rich Muraco said. "And Gorman has great athletes just like Ethan is, so they were able to match him up and kind of take that away from us. This year, I feel like we're more explosive, we're more dynamic offensively and we can do more things. We can run the ball better and throw the ball better."
Muraco said much of the improvement on offense has come from a more mature Kenyon Oblad at quarterback. Oblad was thrust into the starting role as a freshman last season, and looks like an entirely different player this year.
"The maturity that he's shown from the end of last season to the spring was huge, and all that game-time experience he was able to have under his belt last year has really paid off for him this year," Muraco said. "He's super smart, and we put a lot on his shoulders. And when our offense is clicking, it's mostly because he's making the right reads and right decisions."
Oblad has completed 63.2 percent of his passes for 2,947 yards and 31 TDs this season with nine interceptions.
Acohido leads the team with 53 catches for 779 yards and six scores, and Dedeaux has caught 32 passes for 724 yards and eight TDs. Gavin Caci and Bryan Roland each have caught more than 20 passes and have five TD catches.
Muraco also credited an improved offensive line, which is not only big, but also more active.
"We had some big kids last year, but they weren't very athletic and they couldn't really move," Muraco said. "So teams that pressured us and did twists and stunts gave us problems. This year, our offensive line is 10 times better than it was last year."
Massive 6-foot-6-inch, 365-pound left guard Malaesala Aumavae-Laulu certainly stands out, but isn't the only big boy up front. Tackles Nick Tapuala (6-3, 280) and William Brewer (6-3, 275), center Alex Epstein (6-2, 270) and right guard Tyus Toomalatai (6-0, 302) bring plenty of size.
"It's improved tremendously," senior Calvin Tubbs said of the line. "And that's what we lean on. Hopefully they're ready for it. This is the only game they've been waiting for all year. So hopefully they come out and bang."
Muraco knows that Gorman's high-powered offense will be difficult to stop, so he's counting on his offense to put points on the board. And he knows that also won't be easy against a team that is allowing an average of 10.3 points.
"I told the offense and the defense that we're going to have to probably score 30 or 40 points to win this game," Muraco said. "And Gorman's defense is one of the best in the country, and that's a tall tale to do."
But Liberty's players don't seem intimidated by the Gaels, who have won 76 straight against Nevada teams.
"A lot of people say we're the underdogs, but I know everyone on this team, they know we're going to win this game," Epstein said.
Contact prep sports editor Damon Seiters at 702-380-4587 or dseiters@reviewjournal.com. Follow him on Twitter: @DamonSeiters