Something different in the air in Palo Verde win
August 28, 2015 - 11:30 pm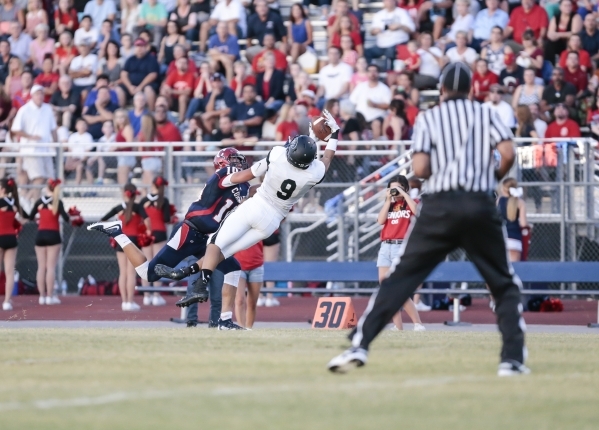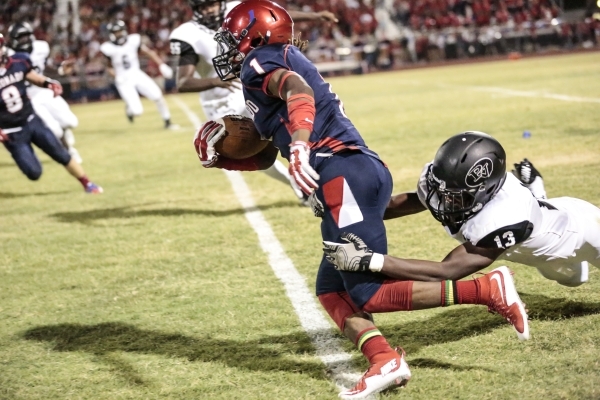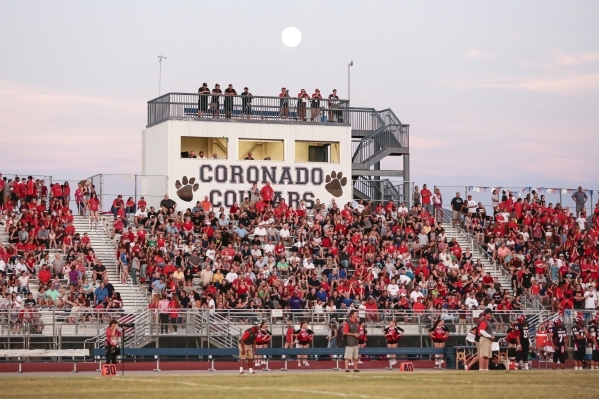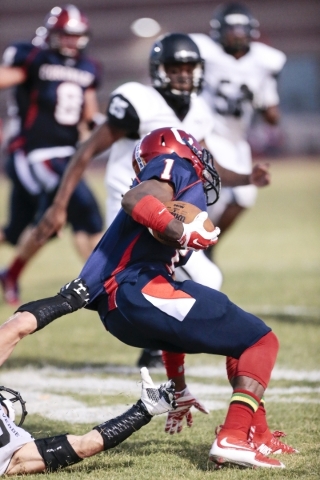 Joe Aznarez promised there wouldn't be many changes to the Palo Verde football program when he took over as coach.
He wasn't entirely truthful.
The traditionally conservative Panthers connected on two long passes that set up Christian Bell touchdown runs Friday and earned a 27-20 victory over host Coronado in Aznarez's debut.
Aznarez took over for Darwin Rost, who went 154-50 as the only coach in school history before retiring after 19 seasons.
"It's kind of all sinking in right now a little bit," Aznarez said. We're just happy for our team and for our coaches. We work real hard, and it's something that I'll always remember, but it's a team thing. It's not really about me."
The Panthers (1-0) still use a variation of the double-wing offense they were known for under Rost and rushed for 225 yards against Coronado. But it was the passing game that came up big Friday.
On third-and-6 from the Cougars' 26-yard line, Palo Verde quarterback Logan Hutchison connected with tight end Pearson Schroll for a 22-yard gain. Bell scored from 4 yards two plays later to put Palo Verde on top 19-14 with 6:45 remaining in the third quarter.
The duo also hooked up late in the first quarter for a 32-yard gain as Aznarez went for it on fourth-and 5 from the Coronado 41. Hutchison lofted a perfect ball for Schroll down the middle of the field, and Bell scored on a 9-yard run on the next play to give the Panthers a 13-7 lead.
"We only threw it (five) times," Aznarez said. "I don't know how conservative (Rost) was compared to that. The kids made good plays, and we wanted them to do that. We're just happy as a team."
Thaddeus Wiley led Palo Verde with 91 yards rushing, including a 50-yard touchdown run on his team's first play from scrimmage. T.J. Webb added a 57-yard TD run that gave Palo Verde a 27-14 lead late in the third quarter.
"Offense really decided to kind of set the tone the second half," Aznarez said. "Our kids came out with a mindset that we were going to march the ball down the field and pound it within our tackles. That's our bread and butter, our run game."
Jordan Patterson had 82 yards and a touchdown on 12 carries, and Travis Boman finished with six receptions for 80 yards and a TD for Coronado (0-1).
The Cougars put together a 15-play, 76-yard drive that took more than nine minutes off the clock to pull within 27-20 in the fourth quarter. Quarterback Landen Rowland scored on a 1-yard run, but Palo Verde ran out the remaining 4:23 on the clock.
"It's a team win," Aznarez said. "Our kids stepped up when they needed to, made some plays. The last drive was pretty good."
The Cougars led 14-13 at halftime after DaQu'an Davis' 41-yard punt return set up Coronado deep in Panthers' territory. On the final play of the half, Rowland floated a ball for Boman in the corner of the end zone, and the 6-foot-5-inch receiver leaped along with Palo Verde defensive back Tyler Thornton.
Officials ruled Boman and Thornton had simultaneous possession, and the touchdown gave Coronado a one-point lead.
Contact reporter David Schoen at dschoen@reviewjournal.com or 702-387-5203. Follow him on Twitter: @DavidSchoenLVRJ.
Box score: