Southeast League: Silverado learns lessons from loss
August 27, 2008 - 9:21 pm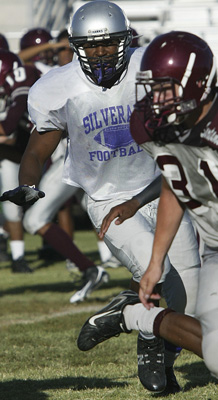 Losses are an interesting thing.
They can be devastating and, at the same time, serve to motivate and enlighten.
Just ask Silverado's football team, which saw its perfect season end with a 12-7 loss to Las Vegas in the Sunrise Region semifinals last season.
That loss pointed out the team's offensive deficiencies and, perhaps more important, gave the team something to strive for this season.
"I know in the past they looked at certain games, like the Foothill game, with that being the big game," Silverado coach Andy Ostolaza said. "I think after losing to Vegas last year, they want to see something bigger."
That extra motivation could be bad news for the rest of the Southeast League and the entire Sunrise Region. The Skyhawks (10-1, 6-0 Southeast) return two first-team all-state players, have some talented newcomers and boast more depth than most teams in the valley.
"Everybody has high intensity," said defensive end Keenan Graham, who Ostolaza said has more than 30 scholarship offers. "Everybody is excited to be out here, and we have high hopes for our first game and our whole season."
Graham is one of the reasons for those high hopes. The 6-foot-3-inch, 231-pounder had 13½ sacks last season in earning all-state honors.
He returns on defense, along with All-Sunrise Region linebacker T.J. Alofipo, who has orally committed to Hawaii, and defensive back Mike Wadsworth, a first-team all-state pick as a kick returner. Ostolaza said Wadsworth has offers from Hawaii and Arizona.
"It's good to have a real good kid at each level of the defense," Ostolaza said.
Those three lead a defense that could be stronger than last year, despite the graduation of middle linebacker and Sunrise Region
Defensive Player of the Year Kolton Villa. The Skyhawks allowed an average of 15.5 points a year ago.
"We had a pretty good defense, and with six returners, that made us feel a little bit better," Ostolaza said. "It just so happens we picked up two key move-ins that will help us out on the defensive side of the ball."
Linebacker Terrel Betts moved from South Carolina and lineman Darren Dehart came from Utah to help bolster the defensive unit.
Junior Marcus Mata'u, who didn't play on the varsity last season, is expected to step in for Villa at middle linebacker.
"Because he transferred here late from Hawaii, we weren't able to use him on varsity," Ostolaza said. "He's a real legit player. He's real special."
On offense, the Skyhawks must replace their top two offensive performers — all-state running back Telvin McMillian (1,765 yards rushing) and Villa (629 yards rushing).
Terran Madu-Jules, who ran for 523 yards and seven touchdowns backing up McMillian, will take over as the team's primary rusher. Madu-Jules played defensive back last year but, with Silverado's added depth, will play only on offense this season. Ostolaza said he won't have anyone playing both ways to start the season.
"Madu, he's our strongest kid pound for pound on the team," Ostolaza said of the 189-pounder. "Having him just being able to run the ball, that's going to be the key."
Madu-Jules' cousin, Trenton Tipton, is expected to take over at quarterback, giving the team a different look this season with his ability to run and throw.
"(Teams) will see another dimension because of Tipton being as fast as he is," Ostolaza said. "The team's I've been on haven't had that type of athlete at that position."
That ability could be key for a team that struggled to move the ball when teams such as Las Vegas crowded the line to stop the running game a year ago.
"The offense is looking good, too. A lot better than last season," Graham said. "We're going to be able to pass the ball a lot more this season."
But the biggest lesson learned from last year's season-ending loss might be that nothing will be handed to the team.
"You've just got to play with heart," Alofipo said. "You can't come out expecting things. You've got to work for it."